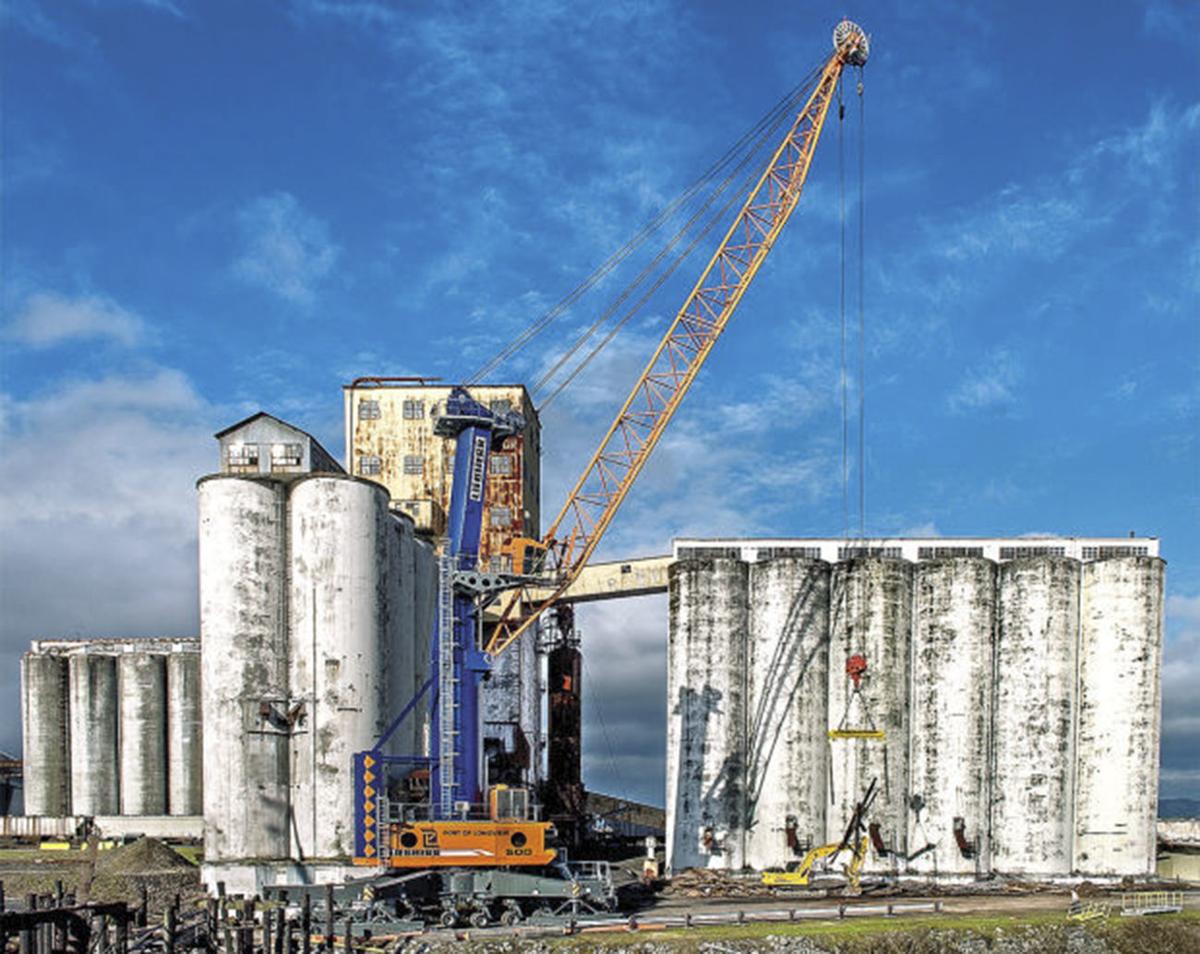 The Port of Longview is facing a legal threat over a major export project that would replace the port's decrepit Berth 4 deepwater grain terminal.
The port agreed on Dec. 14 to negotiate exclusively with Ciner Enterprises to develop a soda ash export terminal that would cost at least $125 million. The project would create a significant number of construction jobs and up to 20 permanent jobs, according to preliminary estimates.
However, the American Natural Soda Ash Company — a group that first started negotiating with the port in late 2016 to build a similar terminal — is claiming the port and Ciner Enterprises were barred from signing an exclusivity agreement.
The port had previously negotiated with ANSAC throughout 2017 to develop a project proposal and design concepts, but the port terminated discussions with ANSAC on Dec. 19 after signing its agreement with Ciner.
ANSAC now claims the port either knew or should have known the agreement was "improper and illegal" because Ciner Enterprise's Atlanta-based subsidiary — Ciner Resources, Inc. — is a participating ANSAC member and bound by its membership rules, according to documents obtained by The Daily News.
In a March 12 letter, a lawyer for ANSAC warned the port that the group may pursue a number of legal claims, including interference with a business contract; civil conspiracy; breach of good faith and fair dealing; and breach of a non-disclosure agreement.
"ANSAC is truly shocked and deeply disappointed with the port's conduct," attorney James Greenfield wrote.
At the same time, ANSAC is asking the port to terminate its agreement with Ciner Enterprises and resume negotiations.
The port denied any wrongdoing in a statement to The Daily News on Thursday.
"The port has handled negotiations with both ANSAC and Ciner appropriately, and will not comment further in light of ANSAC's threatened litigation," Port of Longview CEO Norm Krehbiel said.
According to the port's standard project application form, the port can reserve the right to undertake discussions with other prospective tenants at any time.
Ciner Enterprises said Friday that the company believes it is on sound legal footing.
"After careful review and consultation with our lawyers, we are confident that Ciner Enterprises has the legal right to independently negotiate and agree with the Port of Longview for the distribution of soda ash," the company said in a statement to The Daily News. "We have been in regular contact with both ANSAC and the Port of Longview and continue to hope that the parties can resolve this matter amicably and in the best interests of the Longview community."
As one of three ANSAC members, Ciner accounts for 40 percent of the joint venture's exports. Together the companies export approximately 4.5 million short tons of natural soda ash annually, making ANSAC the largest natural soda ash exporter in the world.
The port began separate negotiations with two senior Ciner representatives who also sit on ANSAC's board in August 2017, according to records.
"Ciner Resources is a significant U.S. producer of soda ash and a participating member of ANSAC, but Ciner Resources is not a counterparty to the exclusivity agreement with the Port of Longview," Ciner Enterprises (the subsidiary's parent company) said in its statement to The Daily news.
ANSAC, meanwhile, is arguing that its membership rules require Ciner Resources to use the group exclusively for its soda ash export and supply chain logistics. The group is also arguing that "affiliated" companies, such as Ciner Enterprises, must "work with ANSAC" to achieve its stated goal of functioning as an open and transparent joint venture.
Ciner Resources' membership in ANSAC is set to run through at least December 31, 2020. It's unclear when ANSAC's current lease agreement for its soda ash export operation at the Port of Portland expires, but the group says it needs to make a decision on a new location by the middle of this year. Both ANSAC and Ciner appear to be pursuing plans to relocate to a port that can help meet an increasing global demand for soda ash.
U.S. soda ash exports have increased 45 percent over the last decade, up from 5.6 million short tons in 2007 to 8.2 million short tons in 2017, according to the U.S. Geological Survey.
(Soda ash is similar to baking soda. It occurs naturally in vast quantities in Green River, Wyo., and is used in the manufacturing of glass, detergents and other industrial products.)
An early project application estimated Ciner's completed terminal would export an average of nearly 5 million short tons of soda ash annually.
But Krehbiel, the port's CEO, indicated at a Feb. 28 commissioners meeting that Ciner intends to build a terminal capable of shipping 8.8 million short tons per year.
"This number is difficult to believe when you consider that it is not only twice the export volume that ANSAC shipped from its (Portland) terminal in 2017, but also three times the total Green River, Wy. soda ash production that Ciner reported in its 2017 financial results," ANSAC President Chris Douville wrote in a letter to Krehbiel on March 2.
In contrast, ANSAC said it was looking to build build a 6.6 million ton terminal.
"We continue to believe that ANSAC provides the best value proposition for the Port of Longview and the citizens of the Longview community," Douville wrote.
For its part, Ciner also says its project would boost the local economy.
"Ciner Enterprises has made significant investments for the development of this (terminal) and continues to negotiate with the Port of Longview to this end, all of which will hasten the realization of economic benefits to Cowlitz County," the company told The Daily News.
While the Ciner project would create dozens of temporary construction jobs, completed export terminals are not especially labor-intensive. The terminal would employ up to 20 permanent employees, according to the company's draft project description.
However, the port could use millions in revenue from docking and wharfage fees for other job-creating initiatives.
The Longview-based International Longshoremen and Warehouse Union Local 21 does not have an official position on the project yet.
At full buildout, the Ciner terminal would be served by approximately two to three 1.5-mile-long unit trains per day. The railcars would dump soda ash loads into a pit roughly 28 feet below grade, and the commodity would be stored in two large storage buildings capable of holding 40,000 tons.
Approximately one marine vessel a day would be loaded at Berth 4 through chutes extending from 200-foot high shiploaders.