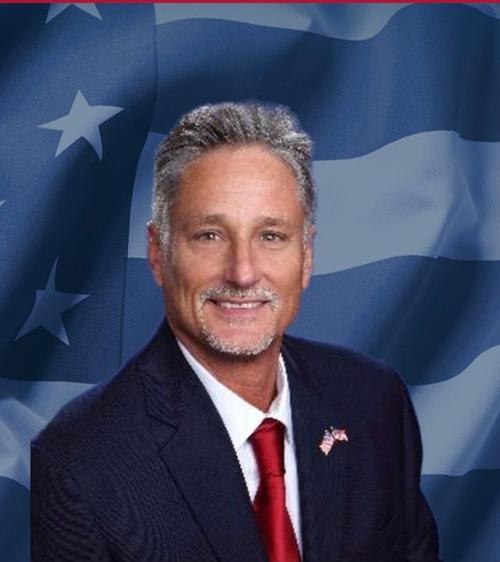 Port of Longview Commissioner Jeff Wilson announced this week he plans to run as a Republican for the 19th District state Senate seat currently held by Longview Democrat Dean Takko.
Wilson, who has served as port commissioner since 2015, said his top priorities are opposing income taxes and "other restrictive legislation," such as gun-rights restrictions. He also wants to stop "ghost bills," which are introduced with only a title and then the body of the text is added much later.
He said lawmakers in Olympia have overlooked the 19th District, which includes a large part of Cowlitz County, all of Pacific and Wahkiakum counties and parts of Grays Harbor and Lewis counties.
"What we've seen the last two years is we've simply seen the majority in the Legislature spend away when times are good, and then comes a global crisis called coronavirus and now a Legislature that went on recklessly spending money now has to reel that in," Wilson said.
Wilson, 59, has lived in Longview most of his life and has owned multiple environmental and sanitation businesses, including Cowlitz Clean Sweep. He and his wife, Trisha, have two adult children.
He has been active in numerous community groups, including among others, the Longview 23 Club, the 100 Men/Women Who Care Lower Columbia, Extreme Machines and the Housing Task Force. He also spearheaded efforts to restore the Shay Locomotive.
As a port commissioner, Wilson said he has worked to reduce taxes and increase transparency. He said he is proud of the work and the team at the port, but "my services are needed more than ever in Olympia."
The port commission is the first elected position Wilson has held. If he is elected to the state Senate, Wilson said he could continue to serve the remainder of his term as port commissioner, which ends in 2021.
"All I've done (as commissioner) was apply my common sense that I have learned throughout the years," he said. "That creates good policy. Next thing you know, these are the ingredients for success."
Wilson said he wants to serve in the Senate because he could get more done during the four-year term than during a two-year term in the state House of Representatives.
"I don't want to challenge Dean Takko. I want to replace him," Wilson said. "My goal is to replace him and immediately get to work on good policies. That may mean undoing some of his efforts."
His primary criticism was that Democrats have spent too much money. But he declined to provide specific policy disagreements with Takko, saying he will roll those out in the coming months.
Takko responded that lawmakers ended the legislative session last month with about $3 billion in reserves between the rainy day fund and the ending fund balance, which is "a pretty good cushion."
In response to claims that the 19th District has been overlooked in recent years, Takko said he has worked hard to secure money from transportation and capital budgets for recent major projects in this area.
"Do I take 100% credit? No, but that's one thing I really work on is making sure when budgets are put together, the 19th District is not forgotten," he said.
Also in the race is Grays Harbor County Commissioner Wes Cormier, an Elma Republican, who announced in January that he is running for the Senate seat.
Get local news delivered to your inbox!
Subscribe to our Daily Headlines newsletter.