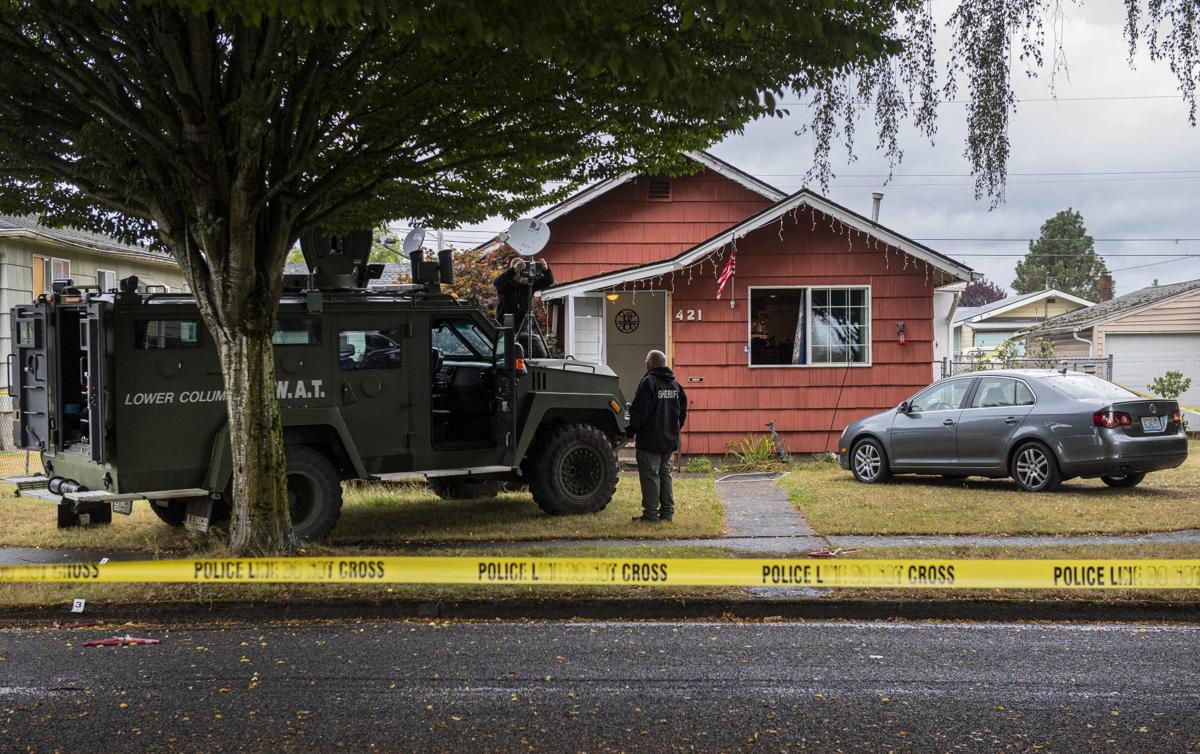 An autopsy Tuesday night concluded that 51-year old Christopher P. Johnson, the Longview man shot following a two-hour confrontation with police Sunday night, died from multiple gunshot wounds to the chest, according to the Cowlitz County Coroner's Office.
And the Longview Police Department Wednesday identified the two officers involved in the shooting as Chris Angel and Jordan Sanders. Both were called to the scene as members of the Lower Columbia SWAT team, according to a police press release.
Angel has been with the Longview Police Department for 18 years and Sanders has been with the agency eight years. Neither officer was injured during the confrontation, according to police.
Coroner Tim Davidson ruled the death a homicide, but he emphasized that the determination is a medical finding and in no way establishes criminal intent. A homicide ruling merely means Johnson died at someone else's hand.
Davidson expects to get the results of standard toxicology tests in a week to 10 days and still is waiting to obtain Johnson's medical records. Davidson said his office is withholding further details of Johnson's fatal wounds at this time.
Johnson was shot after police responded to a report of a suicidal man at 421 18th Ave. in the St. Helens addition of Longview. After arriving around 7:20 p.m., officers reported seeing Johnson with a weapon and hearing a gunshot. Lower Columbia SWAT was then called out and nearby neighbors were evacuated, according to the press release.
Police have not released details of Johnson's confrontation with officers and SWAT team members, but neighbors reported that Johnson's wife had left the house crying and that at one point her husband shouted expletives at officers.
Angel and Sanders have been placed on paid administrative leave, a standard procedure in officer involved shootings.
"Our thoughts are with Christopher Johnson's family as well as our officers at this difficult time," LPD said in the release.
Davidson said his office has been unable to contact Johnson's wife, Shannon. The Johnsons have two children. Neighbors described Chris Johnson as a "very nice" and said they were shocked he got into a confrontation with police.
The Clark County Regional Major Crimes Unit is investigating the shooting. It is standard practice for an outside agency to investigate police shootings.
Get local news delivered to your inbox!
Subscribe to our Daily Headlines newsletter.