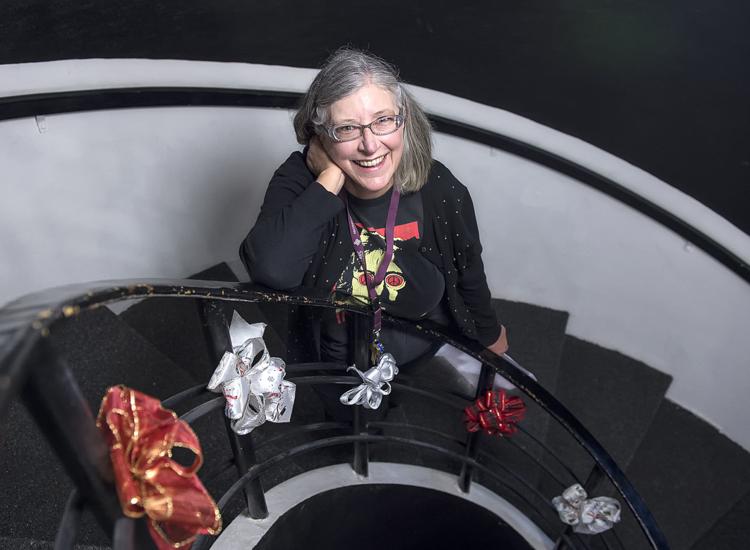 Leslie Slape, 62, has been intrigued by Ben Holmes, the first Cowlitz County sheriff to hang a man, ever since she wrote a 2009 article about the county's "long line of top cops."
What stood out most about Holmes, Slape said, was how he spent eight months in the 1890s guarding that murderer while he was pursued by a lynch mob, attempted suicide and ultimately awaited execution. Holmes refused to run for re-election after the hanging.
"I've talked to deputies who say sometimes you can make very quick connections (with criminals) and they say, 'If we were on the same side, we would be friends,' " said Slape, a Rainier resident who was a proofreader, obituary writer and reporter for The Daily News from 1979 to 2013. "They do forge a connection, and I thought it would make a fascinating play."
Holmes' story set Slape — then a crime and courts reporter for TDN and a longtime participant in local theater — down the path to writing her own play. In 2012, she started researching and writing "The Harder Courage," a quasi-historical recount of the friendship that formed between Holmes and his prisoner, Robert Day.
Though she had acted, directed and stage managed several plays since she became "seriously involved" in theater in 1979, Holmes' story is Slape's first attempt to write a play.
Now, her two-act drama will premiere Saturday in an online podcast, joining 15 others on a website launched this November that allows directors to sample new plays as audio recordings. (See sidebar to learn how to listen to Slape's play).
"To think of my play being heard as a podcast, to me, is just perfect. It's almost radio theater ... and this website is going to let people hear the play and then decide if they want to (produce) it," Slape said.
James Pagliasotti, director of the website, selected Slape's piece as one of the site's pilot plays after she submitted it to the Ashland New Plays Festival in Oregon in August 2017. Pagliasotti was the president of the festival's board of directors at the time.
"The Harder Courage" finished in the top 15 of entries of about 400 total submissions, but it did not earn one of the four spots in the "winner's circle," Slape said.
But Pagliasotti said Slape's play was worthy of consideration by potential directors nonetheless.
"I thought it was a beautiful, beautiful story, and everyone who read it just raved about it," Pagliasotti said. "We are just thrilled to do what we can to help her along and just to bring that beautiful story to people who might not have a chance to hear it."
Most playwrights get their works in front of directors by mailing the scripts directly to them, but this isn't a surefire way to get the play to the stage, Pagliasotti said.
"People are well-intended, and they mean to read it, but it gets tossed in a pile and pretty soon five more get put on top of it," Pagliasotti said. "If we put them in a format where people can access them when they are in the car or a train ... we think they are much more likely to be heard."
You have free articles remaining.
He started the site with eight new plays, and he will add eight more on Saturday, including Slape's. Pagliasotti expects to add two new plays every month thereafter for a total of 40 plays by December 2019.
Each play is recorded by actors from the Oregon Shakespeare Festival in Ashland, and a narrator orally provides stage directions, as needed.
"I've been listening to the other plays that are up right now, and it's great," Slape said. "It's like listening to a really good radio program, the old-style radio programs where you got to visualize the play."
Slape said it's "a great thrill" to have her work included among the initial plays rolling out on the site.
The online premiere of "The Harder Courage" will bring to life the last five years of Slape's research. Slape uncovered Holmes' history through newspaper articles, genealogical records, court documents and other research materials. She also looked deeply into the Day's background.
"I did a huge timeline starting from the parents of my two guys all the way through their children's lives and everything that was going on in history around them all through that time," Slape said. "I did that because I wanted to make sure I got my history right."
"I can't stop being a reporter, and I like to be accurate. I hate having questions that I can't answer, so I'm always digging to find answers," she said.
If she couldn't find information in the documents, Slape said she "looked outside of the play" for similar historic situations and "created the rest of the story between the lines with my imagination."
For example, she based Holmes' character partially on the life of U.S. President Grover Cleveland, who also as a sheriff hanged a man.
In 2013, Stageworks Northwest Theatre hosted a reading of a one-act version of "The Harder Courage," but Slape continued to expand upon the idea. In 2014, she enrolled as an English major at Portland State University and used several of her classes to workshop the play and flesh out its characters.
"As soon as I graduated in 2016, I went right into 'The Harder Courage' with just a will, and I wrote furiously," Slape said. She finished the play that December and began submitting it to competitions soon after.
The play follows Holmes and Day from Oct. 9, 1891, when Day is first arrested for murdering another man, to June 3, 1892, when Holmes hangs him for that crime. An unlikely friendship emerges between the two men as they "help each other find the courage to go through with the hanging," according to the synopsis.
"The real success is that I didn't just wish to make a play, I've made it happen," Slape said, adding, "I'm so stoked to hear it. I'll be hearing it for the first time on Dec. 1 when it gets uploaded, so I am anxious. It's like waiting for opening night."