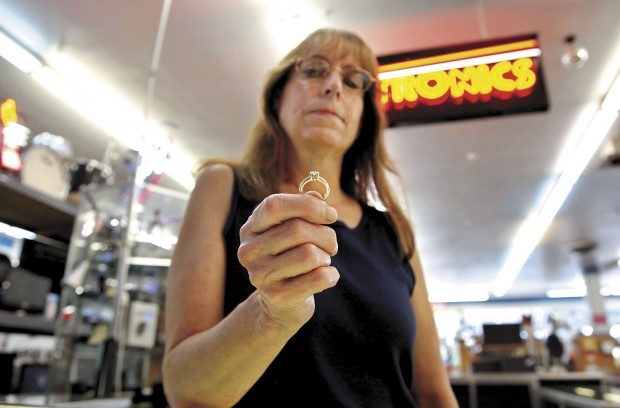 When a college student reported her laptop was stolen in an Olympia vehicle prowl earlier this year, Olympia Police Detective Sgt. Aaron Jelcick punched the computer's serial number into LeadsOnline.
The online investigation software eventually hit a match when a woman pawned the laptop at a King County pawnshop, which was required to upload the transaction into LeadsOnline. Although police didn't find the car prowler — the woman said she'd bought the laptop in a casino parking lot — the victim was reunited with her laptop.
"We may not have made a prosecutable case out of that, but a victim who's not able to afford a new laptop computer got her property back," Jelcick said Friday.
More than 1,900 law enforcement agencies use LeadsOnline, including more than a dozen north of Longview.
Longview Police want to join their ranks and have asked the City Council to approve the $4,500 annual fee for the software and database access.
"It certainly makes you more efficient, particularly in times of budget cuts when we're cutting employees," Jelcick said.
Longview police say a more efficient tracking system would help them identify potential crime trends and find criminals selling stolen property. So far this year, $667,000 worth of unrecovered property has been reported stolen in Longview, according to police. Last year, Longview's top property crime was theft, with 42.16 incidents per 1,000 residents.
In jurisdictions that use LeadsOnline, pawn shops, second-hand stores, gold buyers and scrap metal recyclers must upload information about each transaction with a customer. The system automatically checks all items with serial numbers sold in local pawn and second-hand stores against state and national databases and reports items reported as stolen to the local police agency.
The technology would be a huge improvement over the Longview Police Department's current purchase tracking method, which Capt. Debbie Johnson told the City Council on Thursday is "very laborious and convoluted to use."
"We would just like to come into the 21st century," she told a reporter earlier that day.
Currently, some local pawn shops report their daily transactions on an electronic spreadsheet, which police convert to File Maker Pro. The other pawn businesses, including gold buyers, either provide a printout or a paper carbon copy of every transaction, which volunteers enter into the police system by hand. The volunteers cross-check every firearms transaction and as many other transactions over $250 as possible against the stolen property databases. Waste Control and two other metal recyclers are not required to report their transactions at this time, but they would if the city began using LeadsOnline, Johnson said.
Because the process is so time consuming, there is a three- to- four-week backlog of items to be entered into File Maker Pro, Johnson said. Guns occasionally pass through the shops and are gone by the time police realize they were stolen, she said.
Another problem is that the system's search capacity is severely limited. All searches must exactly duplicate how the volunteer entered the data, including any misspellings or alternate descriptions.
With LeadsOnline, police can search by entering a person's name or partial name, product serial numbers, model numbers, dollar amounts, transaction dates and more. Police also can use the system to track sellers' information on eBay.
Last year, 2,282 reports were filed in Longview for burglaries, vehicle prowls and thefts. The amount of unrecovered property reported to Longview police in 2011 was valued at $1.5 million. Across Cowlitz County, $3.15 million in unrecovered property was reported last year, Johnson said.
Longview's property crime rate in 2011 was 58.28 crimes per 1,000. That includes burglaries, theft, motor vehicle theft and arson. The Washington state average property crime rate last year was 35.4 crimes per 1,000.
Citizens can register their personal property on LeadsOnline by uploading photos and serial numbers so if those items are stolen or lost, police can instantly scan the databases for them.
"It's a natural crime deterrent because now people know we're watching and monitoring that," Johnson said.
If the City Council decides to approve the police department's request, it must at the same time update a city ordinance that deals with pawn laws and second-hand dealers. Police would like to add a requirement for dealers to photograph each customer's ID card and each item sold or pawned for more than $100.
Scott Vydra, manager of Pets, Pawns & Instruments at 1438 Commerce Ave. in Longview, said he's in favor of Longview getting the LeadsOnline system. The company provides all the software and cameras without charge to businesses required to use it.
"I think it will assist the police in doing their job quicker," he said.
However, he doesn't see pawn shops having nearly as large a problem with stolen goods as do gold dealers, Craigslist and eBay. Rather than buying items, the biggest part of pawn shops' business is loaning money to people who bring in items for collateral, he said.
This year, he said, his shop has helped police recover seven stolen items from six people, which works out to .001 percent of all transactions.
If eBay and Craiglist were required to upload all transactions onto LeadsOnline, "it could get interesting," Vydra said. "If you truly want to cut out the loopholes, then make everybody comply."