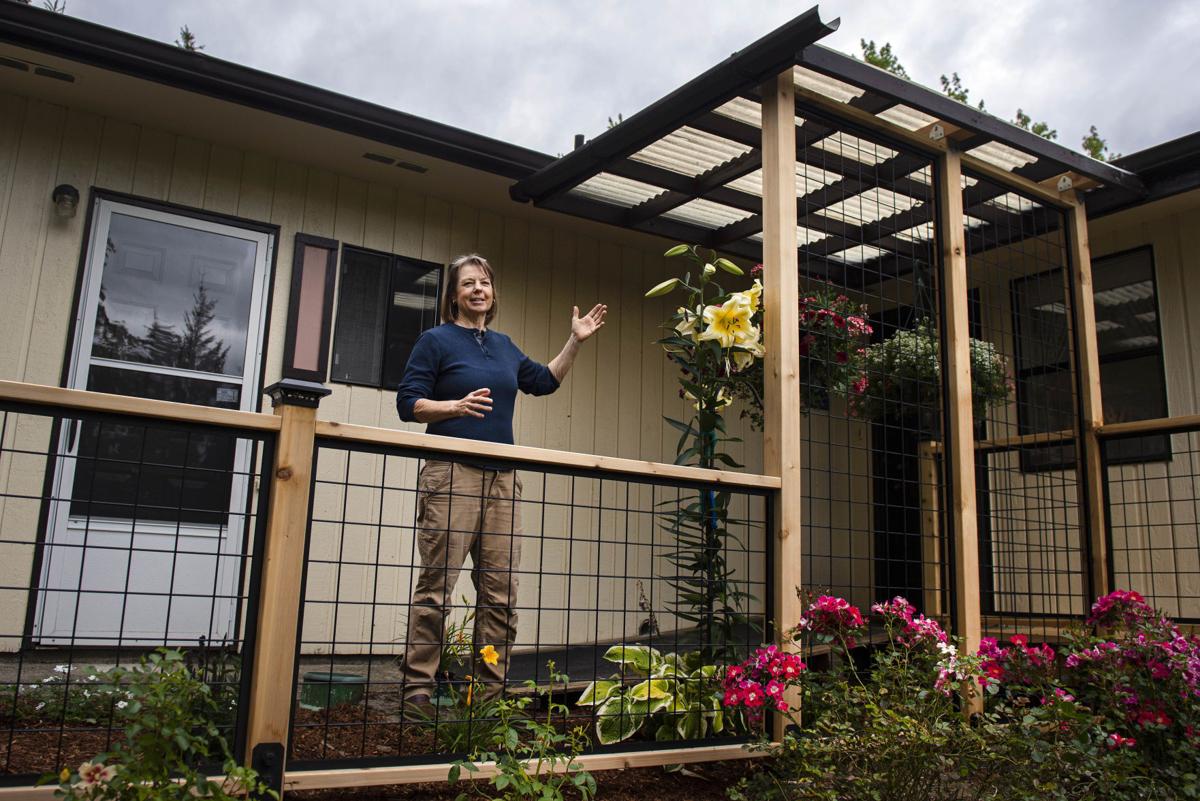 Pam Sterling already had a soul for home improvement, interior design and building beautiful things, but the last few months gave her a special project to tackle.
Since moving to live with her parents on their 3.5-acre Blauser Road property in Castle Rock about six years ago, Sterling has worked from home as an online life coach for business owners. In the meantime, she's remodeled the downstairs, set up a gym and sun room and taken on other projects around the house.
But the pandemic restrictions mean her mom and dad, ages 88 and 90, who were usually active at the local senior center, are now spending most of their time at home. The house has a front deck that leads to a catwalk which is as old as the 35-year-old house, and her mom usually goes out there to wash windows.
The catwalk had become so rotted that it was getting unsafe, Sterling said, and with her parents spending more time at home, fixing it became the perfect project: "I told her, you're not allowed out here until I fix this thing," Sterling said.
So Sterling and her parents remade the space, building a new deck with cedar and "wild hog" (a type of railing). They added solar lights and redid the garden area to highlight her mom's hanging flower baskets.
"It just felt like the gift I could give them to beautify the house," Sterling said. "From a design perspective, I just believe that the home is meant to be a sanctuary for our souls."
She isn't the only one taking advantage of time at home to work on projects. Home improvement stores like The Home Depot, Lowes and WalMart have seen big boosts in sales, according to a report from The Washington Post. While spending dropped across the country in May, Home Depot's sales were up by more than 8%.
Sterling is one of a handful of people who shared their adventures and experiments with home improvement and crafting projects over the last five months with TDN. A Bank of America poll in June found more than 70% of Americans had decided to take on home improvement projects, which are growing in popularity as people stuck at home under COVID-19 restrictions look for productive and fulfilling ways to pass the time.
Sterling ran an interior design showroom when she lived in California, and has always been "redoing something" wherever she's lived. It's her "happy place," where she loses track of time and space.
"There was always a saw buzzing in the background of my life growing up," Sterling, 64 said. "My dad and grandfather were always building something."
In the last few weeks, she tackled another challenge inspired by COVID-19: Building her next project using only materials on hand rather than going out shopping.
She used a collection of planks in her shop, deck boards from the deck she'd built a year before and leftover fence boards and screws to make a coffee table for the sun room.
When it was done, she'd constructed "The Quarantine Coffee Table."
"It's unique," Sterling said. "It has a story behind it, and a meaning."
While furniture and outdoor spaces are a natural pick for home projects, few can say they've constructed their own musical instrument.
But faced with newfound time in his workshop in the last few months, Kelso resident — and former City Councilmember and retired computer programmer — Dan Myers recently finished building a cart for his hand-made, hand-cranked street organ.
Myers, 77, built the organ a few years ago after seeing a similar design in a YouTube video. Rather than pay the $60 for blueprints he found on the internet, Myers decided to build and design the instrument as he went along.
Two bellows pump air through the 20 pipes — made from a Ikea futon frame Myers found in an alley — that produce the notes. Myers used roller link chains salvaged from a copier and second-hand store parts to drive the crank wheel, counting revolutions on a video of a similar instrument to figure out the gear ratio.
Toilet rail rods, a sink drain knob, a cut-off Allen wrench and other parts helped finish the mechanisms of the instrument.
"I have played with things all my life," Myers said. "I built model airplanes when i was a boy. If I see something I want to build, I can usually build it."
Myers has finished a few other projects around the house too, like creating 14 decorative "bullseyes" for doorway trims he installed three decades ago.
"That project languished for many years," Myers said. "I looked at my time and figured I'd be home for a while."
The pandemic has also spurred a new hobby for Longview resident Oliver Black and his wife Céline, both teachers at Three Rivers Christian School. With a new baby and three more children to take care of at their Olympic West home, they've been keeping busy with "lots and lots" of online school, Black said.
Near the beginning of the COVID-19 lockdown orders, they started a small homemade vegetable garden—just two 6-foot by 3-foot raised beds. It's already helped the busy family learn some skills, cut back on a few grocery trips and cook new meals, Black, 30, said.
"We thought it would be nice to have a few less reasons to go to the store," Black said. "It's not a ton of vegetables, but it's nice to have (them) home grown. … (And) they do taste a lot better."
They've planted vegetables including tomatoes, zucchini, squash, peppers and cucumbers. They've already harvested lettuce and a few herbs, and recently started getting in zucchini and tomatoes, too.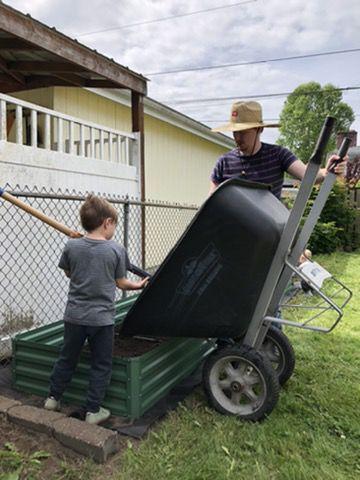 Gardening has been a fulfilling hobby for the family, and something for the kids to do besides school, Black said.
"We wanted to have a tiny bit more self-sustenance," he said. "It's something that was fun and creative but also useful for the family."
After getting a late start on the growing season this year, Black said they plan to go bigger next year.
"We're already planning for next year to buy a couple more raised beds."
Get local news delivered to your inbox!
Subscribe to our Daily Headlines newsletter.