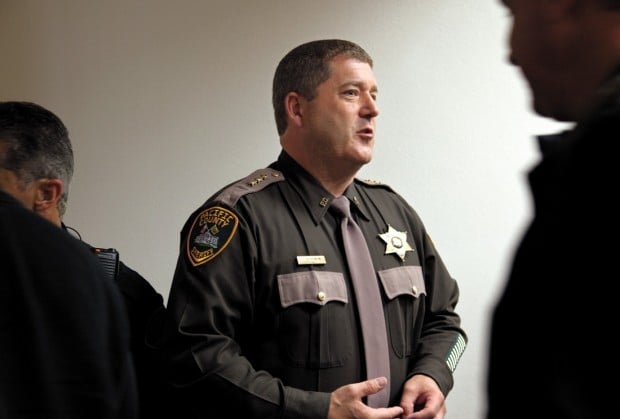 Lying on the ground with blood pouring from the back of his head and fearing he would die, Washington State Trooper Scott Johnson didn't think, he reacted. Just as he'd been trained to do.
He couldn't hear and was disoriented, but somehow Johnson was able to take cover behind a tow truck and get his weapon out. And when Martin Arthur Jones returned to "finish the job," Johnson managed to fire off two shots that scared Jones away.
Those two shots — and the training behind them — saved his life, Johnson said Wednesday after watching Jones be sentenced to 50 years in prison for attempted murder which took place near Long Beach.
"It's just instinct," Johnson said standing outside the Pierce County courtroom. "I don't even remember taking cover."
It was sheer luck that Johnson lived Feb. 13, 2010 — the low-caliber bullet struck the thickest part of his skull and shattered.
And then, Johnson said, the firearms training he'd just had a refresher course on kicked in.
"Because of the training that had been pounded into my head, it was just natural instinct to take cover, return fire and ID the shooter," he said.
Johnson, 48, said he was pleased with the verdict and glad that Jones likely will spend the rest of his life in jail. Yet Johnson said he doesn't hate Jones for what he did and he's glad that his bullets missed Jones that fateful night.
"No one wants to live with having to kill someone," Johnson said. "I shot to kill him. He's fortunate I missed, and I'm glad I didn't hit him."
Johnson was elected Pacific County sheriff in November and took office at the begining of the year.
He has been in law enforcement since he was a teenager, and said he always planned on running for sheriff and that the shooting wasn't a factor in his decision to switch jobs. His one regret is his injries preveted him from returning the state patrol before becoming sheriff.
Once in office, though, Johnson said he focused on the day-to-day aspects of the job and let the lawyers deal with the trial. He said he expects Jones to appeal the conviction and knows it could be years before the case is finally settled. Johnson said he's confident Jones will be held accountable.
"I'm satisfied, not happy," he said after the sentencing. "It's sad all the way around. I feel bad for the Jones family. I know it's tough on them. No one ever wants to believe one of their own did something bad."
Jones still claims that he isn't the shooter. Johnson says that's just not true.
"I looked him in the eye both before I shot him and after. Of course he's going to try to get out of this, but I'm confident it was him," Johnson said. "There was absolutely no doubt it was Mr. Jones."
While much of his job is now administrative with "lots of meetings" Sheriff Johnson still patrols.
"I don't want to lose my touch with the people on the street," he said.
The first car he pulled over after returning to work was a couple of blocks away from the shooting and at roughly the same time of night.
"It was difficult," he said. "(The shooting) was definitely running through my mind."
But being a police officer is what he's done his entire adult life. So Johnson said he just keeps going despite the memories and the headaches and backaches and bullet fragments still in his neck. Prosecutors said he's expected to have pain for the rest of his life.
"I'm better," he told reporters about his medical condition Wednesday. "And I'm standing here today talking to you and I'm happy about that."
Wednesday he was planning for a storm expected to hit the county Thursday, preparing for a crime prevention meeting this morning and making sure he had tickets to the Pacific County Democratic Party annual Crab Feed — tasks he prefers to being in a courtroom. Johnson said he has more compassion for what victims go through at trial now, adding he hopes he's never in that position again.
Johnson also hopes to find a way to send his deputies to the training he says saved his life.
"(My case) just reinforces how important training is for police officers," he said. "There's no money in the budget this year for training, but I'm going to fight for it next year."
Johnson said he was always aware of the dangers of the job. He had been discussing the fatal shootings of four officers in Lakewood earlier in his shift on the night he was shot.
Still, since the shooting, Johnson admits the danger is more real.
"It makes me more careful and vigilant and alert," he said "Even though I always thought I was."