WILLAPA BAY — As an oyster farmer of more than 40 years, Dick Wilson knows well the havoc that burrowing shrimp can cause in oyster beds.
Wilson, a former geology professor and the owner of Bay Center Mariculture Co., has thoroughly documented the shrimp's effect on the mudflats in photo and research albums online.
Between conference calls and lunch last week, Wilson scrolled through his photos of Willapa Bay's soupy, pockmarked mudflats. Nothing else can thrive on these shrimp-infested grounds, he explains, because the shrimp kill off the microscopic organisms that are integral to the food chain. Plus, their burrowing makes the ground so soft that oysters sink into the mud and suffocate.
The bay has lost almost 10,000 acres of viable oyster farming ground to the shrimp so far, he said.
"The bay is already crippled, and it's going to get worse if we don't treat the shrimp," Wilson said.
The growers say it just didn't pay to fight in court anymore, and it's better to work collaboratively with the state agencies that blocked the pesticide to find an agreed-upon solution. The association and state Department of Ecology will start a work group to find an integrated pest management solution that doesn't use Imidacloprid. The plan could include another chemical control, but the goal is to "minimize chemical use," according to court documents.
Oyster farmers have battled political pressure and permit denials over pesticides since at least the early 2000s, when the state banned use of Carbaryl to kill the burrowing shrimp. They've been struggling to find a viable replacement ever since, putting the industry — and the nearly 1,500 Pacific County jobs it supports — at risk of extinction.
"Our options are to either give up or to be hopeful we will find something (else)," said Marilyn Sheldon, owner of Northern Oyster Co. in Ocean Park.
"Although it feels like we may have lost one tool, at least we are moving together forward to find a new one. If we were still tied up in litigation, that would not be happening," she said.
A good part of Southwest Washington's coastal economy is riding on the outcome of these talks. And so is a way of life, because oyster growing and harvesting is one of the region's oldest pursuits.
'More impacts than we could allow'
Native populations of burrowing shrimp, also known as ghost shrimp, began exploding in the early 1960s. Scientists and farmers aren't able to definitively pinpoint the cause, Wilson said, but humans almost certainly played a hand.
Leading theories include the loss of its natural predator, the sturgeon, due to over-fishing, or a decrease in fresh water flow to the bay due to the Columbia River dams.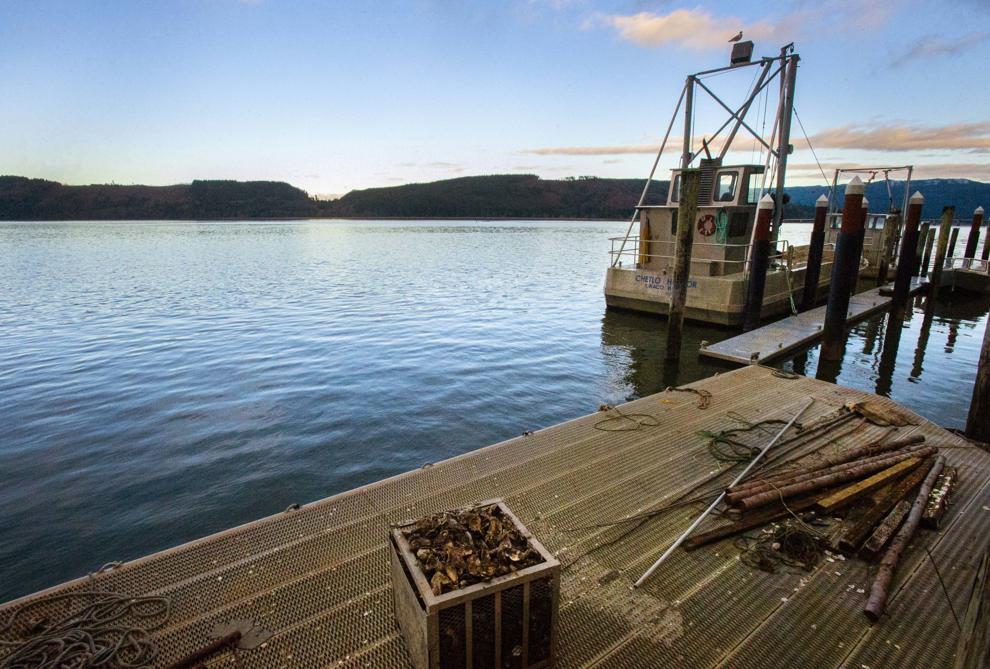 Carbaryl, another chemical pesticide, kept the shrimp at bay for several decades until environmentalists objected about 20 years ago.
"Carbaryl was very effective at killing shrimp," said Rich Doenges, Ecology's southwest regional director. "But it was also effective at killing anything it comes in contact with."
Oyster growers agreed to stop using Carbaryl by 2012 "with the understanding we'd have something to replace it," said John Herrold, second-generation owner of Herrold Fish and Oyster Co. in Ilwaco. Research ultimately led them to Imidacloprid, which Ecology approved in 2015.
However, almost immediate backlash from environmentalists caused oyster growers to voluntarily cancel their spray permits, Doenges said.
"Here in Washington State, there was a number of people, restaurants and sellers who said they would not buy oysters and other shellfish from Willapa Bay … if they used this pesticide," he said.
One year later the farmers tried again. They submitted a new application to Ecology, this time covering fewer acres and without the helicopter spraying practices spurned by environmentalists. Ecology denied the permit, citing new concern about the chemical's impacts to other invertebrates in the bay.
For example, further research suggested that even at low concentrations, Imidacloprid could persist for months in the water and sediment. And the chemical negatively affected other animals, including juvenile worms, crustaceans and benthic invertebrates (small organisms that live on the bottom of a water body or in the sand).
"We were just in a condition where there would be more impacts to the environment than we could allow for," Doenges said.
'Everything has been tried'
Oyster farmers and scientists have researched non-chemical options to manage shrimp populations, such as harrowing the mudflats, crushing shrimp borrows or electrocuting the shrimp. Many farmers doubt a non-chemical solution will work.
"Everything has been tried," said Herrold, the Ilwaco farmer. "I think some things work on a small scale, but you can't ramp it up for the acreage" like you can a pesticide.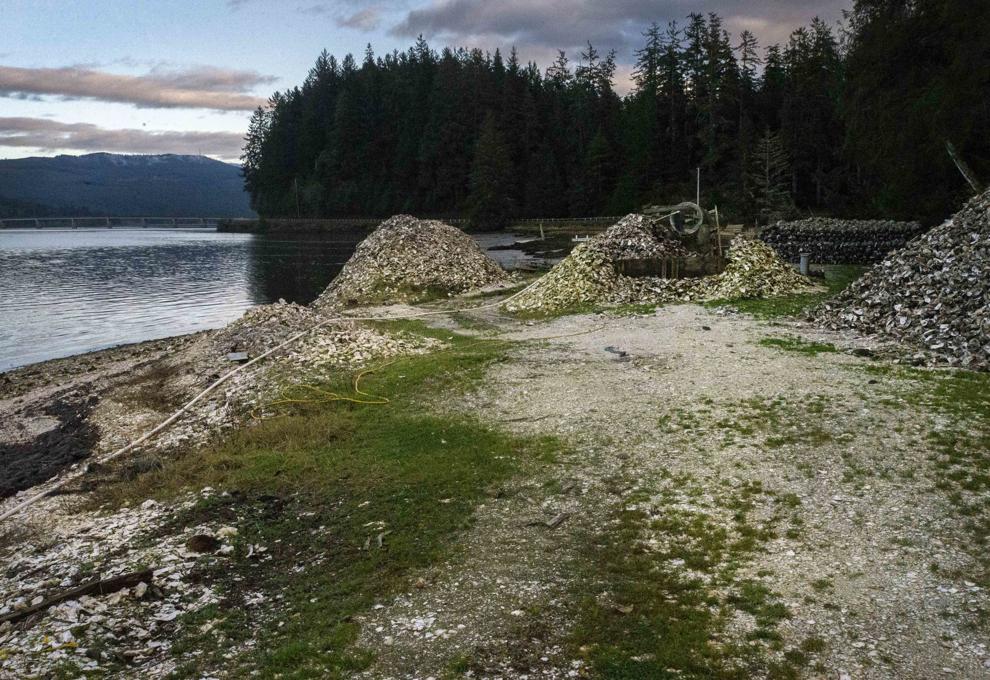 Wilson's research suggests that using pesticides to control shrimp restores oyster beds quickly and benefits other animals in the bay. Even though it can kill benthic invertebrates, they eventually repopulate because the pesticide helps diatoms (single celled, algae-like organisms that form the base of the food chain) return to the mudflat with less threat from shrimp. The return of other animals, like oysters, native eel grass and shorebirds, follows soon after.
One of Wilson's studies shows diatoms and native eel grass returning by September to a site treated in April that same year.
"We aren't just treating the bay and trying to get rid of ghost shrimp to grow oysters," Wilson said. "It's for the whole health of the bay."
Mechanical control strategies like deep harrowing might work to kill off some of the shrimp, but they damage the mudflat and disturb the top layer of sediment.
"When you remove that top layer, it makes it very difficult to grow oysters in that area," said Kathleen Nisbet-Moncy, chief operating officer for Goose Point Oyster Co. in Bay Center. "Disrupting the sediment is something you try not to do."
With that in mind, Wilson said the control tool "has to be something that behaves as a chemical. You can't go out and mechanically destroy the mudflat and expect it to come back."
Pacific County's largest employer threatened
Without a tool to control the shrimp, oyster growers could lose their livelihoods and lifestyles, Herrold said. The shrimp would likely take over the bay, leaving little, if any, viable oyster ground.
Herrold said his ground "hasn't been affected too much, to tell you the truth." But Sheldon estimates that her Northern Oyster Co. has lost hundreds of acres to the shrimp in the last five years. This year she planted 40% fewer oysters on her bay acreage than in 2014 because of it, she said.
"The production levels on our farm have suffered greatly," she said.
Costs to run a farm, such as moorage fees and insurance, are fixed whether the farm scales back production or not, she said. She's had to "significantly reduce" staff because farm productivity and revenue are down.
"With the shellfish industry being the largest private employer in Pacific County, when family farms like ours have to reduce our payroll … that has a big impact on our community."
According to a 2015 Washington Sea Grant study, Pacific County was the most aquaculture-depending county in the state. Almost 20% of its economy relied on shellfish farmers that year, the study found. (More recent data was unavailable.)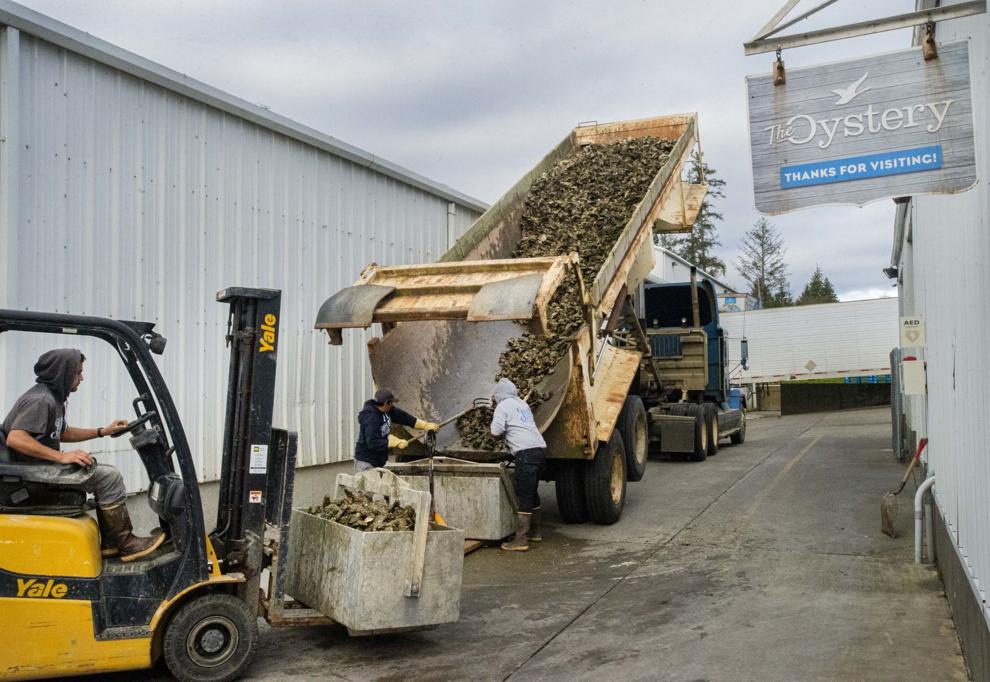 A 2013 study by the Pacific Shellfish Institute found that the shellfish industry in Pacific County accounted for 1,580 jobs, or almost 60% of the state's shellfish-related employment. It produced an estimated $45 million in labor income.
Willapa Bay produced about a quarter of the shellfish in the state, or $15.5 million worth of product.
No other industry could replace jobs and revenue lost to oyster farming, Herrold said.
"Personally, I could retire. But my daughter is in it now. She's started a processing plant and she wants to carry on. She would have to possibly move and find a different occupation" if the industry collapsed.
'Slowly being put out of business'
Some oyster growers estimated in 2015 they would have about 10 more years of productive business without a pest control tool, Nisbet-Moncy said. The timeline is uncertain, though, because shrimp populations fluctuate with environmental and biological factors beyond farmers' control.
When Carbaryl was in use, farms were treated on a cyclical basis every five to seven years. Most oyster beds have gone untreated for at least five years now, so the farms are past due for another round of treatment, if it were allowed.
"The industry down here, I don't think it's ever gone five years with no viable chemical control tool since the early 1960s. ... There's always been something in place or something promising on the horizon," Sheldon said. "Right now, we are in a place where we don't have either of those things."
Nisbet-Moncy said oyster growers are "slowly being put out of business" as the shrimp destroy more and more ground each year.
"If we had a tool we could use in the interim, that would be great because our businesses could at least continue to survive until something comes up," she said. For now "you will see a slow deterioration of our businesses, the environment and the community in the next five to six years."