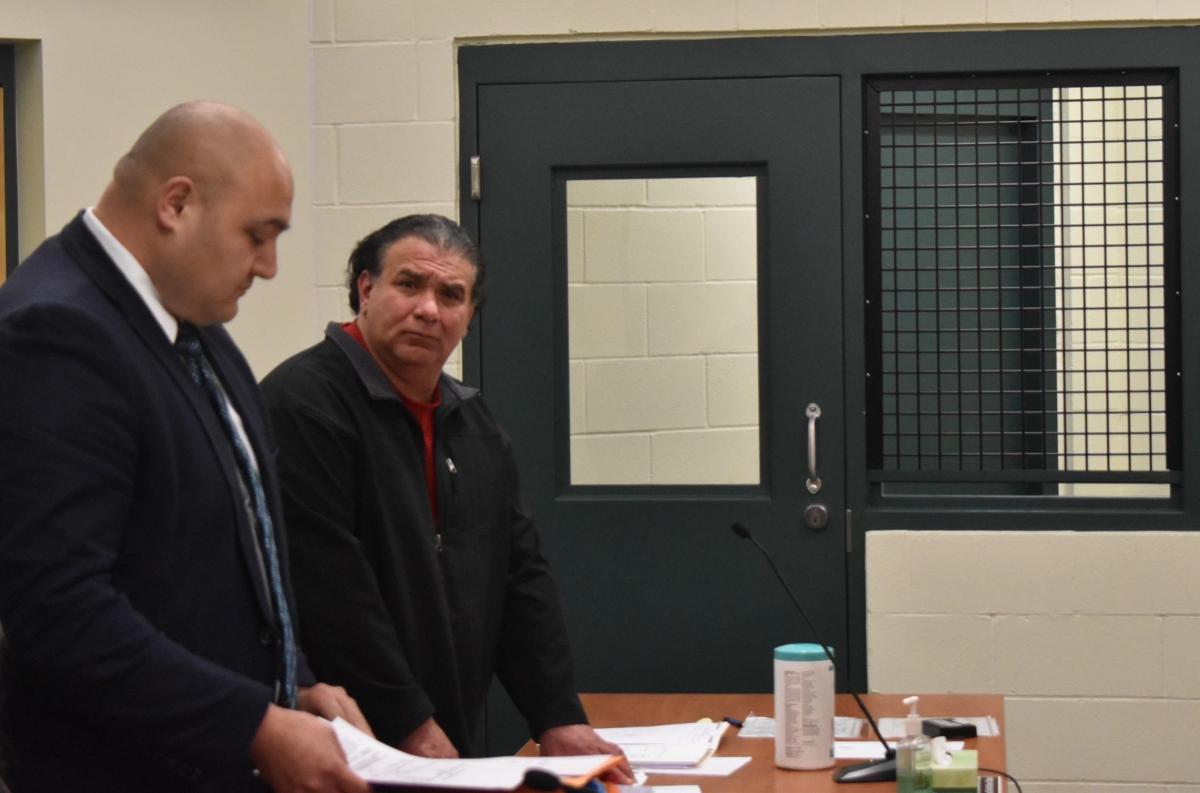 An Oregon man who extorted more than $40,000 from a Kelso man and threatened him and his attorney was sentenced to a suspended year in jail Tuesday, in a plea deal that the judge at first questioned.
Michael Habib Nimeh, 47, had already served nine days in jail during his extradition to Cowlitz County, and prosecutors and defense attorneys agreed to not seek any more. Nevertheless, Superior Court Judge Michael Evans asked prosecutors why they did not seek additional penalties.
"Is the message that we're sending, 'Hey, you can call and threaten people, ask for collection of monies and threaten bodily harm ... and you just walk out with zero jail time?' ... I just want to understand better," the judge said.
The sentence is agreeable to the victims, prosecutors responded, and Nimeh stopped contacting the victim soon after police became involved. Attorneys on both sides said the defendant and victims just want to move on.
Evans accepted those explanations in accepting the jointly-recommended sentence: "I think it is important that once contacted by the authorities, (Nimeh) stopped."
The victim's attorney, Jamie Imboden, became a Cowlitz County District Court judge last year. He said he could not speak to specific details of the five-year-old case due to attorney-client privilege laws.
"I was retained by (the victim) to negotiate what he said was a debt that was allegedly owed," Imboden told The Daily News. "I negotiated (twice) for him to pay an amount. He tendered that payment, the defendant then came back and demanded additional money, which (the victim) declined to tender to him, at which time the gentlemen began making threats on (the victim) as well as myself and our families. … I advised (the victim) to report to the police, which he did."
Reached by phone, the victim in the case said he was never repaid any money. He said he was satisfied with just moving on from the entire ordeal.
According to court documents, Nimeh threatened and demanded money from the victim and Imboden in 2015. Nimeh claimed the victim owed him gambling debts, which the victim denied, according to a police report.
The victim received at least a dozen voicemails in May 2015 from a man who self-identified as "Mickey," and who called the victim "garbage," used racially- and expletive-laden insults and told the victim he was "going to get hurt bad."
Cowlitz County Prosecutor Ryan Jurvakainen said "Mickey" and Nimeh are believed to be the same person.
Documents show that Imboden brokered a deal for the victim to pay $27,500 to Nimeh several days after. That was supposed to settle the matter, but Nimeh soon asked the victim for a $9,000 loan. When he refused, Nimeh demanded an additional $12,500 and threatened him directly and through his mother-in-law and Imboden. Imboden ended up brokering another payment for $13,200, according to the police report.
Cowlitz County sheriff's deputies began investigating in June 2015, according to the police report. The victim told deputies he did not owe anyone any debts.
According to the investigating deputy's report, Nimeh, when asked about his statements to the victim told a deputy: "That's how you deal with people like him." 
Deputies obtained an arrest warrant for Nimeh in October 2016. He was initially charged with nine counts of extortion, eight counts of money laundering and a single count of cyber stalking.
He pleaded guilty to reduced charges on Tuesday as part of his plea deal: Two counts of coercion and two counts of telephone harassment for his May 2015 harassment of the victim and Imboden. The charges carried a 0 to 364 day jail standard sentencing range.
Nimeh does not appear to have any prior felony convictions in Washington.
Imboden said he's "perfectly happy" with the case's outcome. All he wanted was for Nimeh to stop contacting him and the other victim, Imboden said 
"Any time someone is making threats to you as well as your minor child and wife … (that is) obviously disturbing, concerning," Imboden said.
The sentence includes no contact orders protecting both Imboden and his client.
"With all due respect to my client, he's a bit of a hothead," defense attorney Shoshanah Epstein said at sentencing. "I don't think he actually intended to cause harm or fear. He got overly excited in his language ... He sometimes speaks in a manner that puts people off, and he appreciates that now."
"I apologize for everything," Nimeh said at sentencing. "Basically, there was a disagreement, a misunderstanding, and I've moved on from this and those nine days in jail really made me understand that this is not me."
Get local news delivered to your inbox!
Subscribe to our Daily Headlines newsletter.