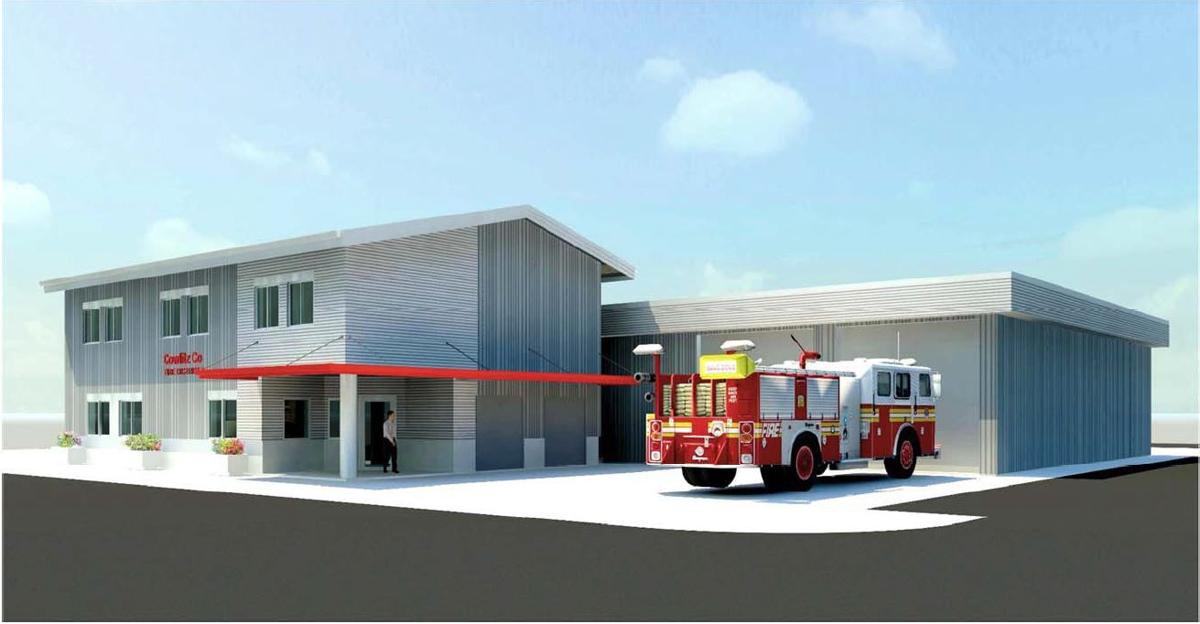 Northwest Innovation Works would make a $1 million, one-time grant to upgrade Kalama-area fire facilities under an agreement reached this month with Cowlitz Fire District 5.
The agreement hinges on the Northwest Innovation getting all permits to build the $1.8 billion project. The company would also pay a still-to-be determined amount for firefighter training.
$1 million is a big chunk of money for the fire district, which doesn't receive money from any special, voter-approved levies. The district expects to receive $1.59 million this year from its regular property levy, according to the Cowlitz County Assessor's Office. The $1 million Northwest Innovation money could be used to replace the district's 20-year-old fire engines or contribute to the cost of remodeling the downtown Kalama fire station.
"We wanted to give them a boost on the front end so they can build their infrastructure," said Vee Godley, Northwest Innovation Works president. "Which doesn't imply that they are not currently ready to support us as needed. But as more people move into this community, it gives (the district) the opportunity to support my business and every other (part of the district)."
The fire station remodeling plan calls for adding another floor to the existing station to expand office space, three additional dorm rooms and three additional workspaces, among other changes.
"If this facility goes through, if the funding comes through … then we feel confident (in) our ability to expand without impacting the pocketbook of our citizens, which nets them a larger department and staffing, and delivery of services is nothing but a net positive," said District 5 chief Vic Leatzow.
Under the agreement, Northwest Innovation would pay for Cowlitz 5 firefighters to receive additional training at schools in Texas. The district would supplement Northwest Innovation Works' onsite fire station and fire brigade, made up of workers who would receive the same training as Cowlitz 5 officials.
Leatzow said he also wants to double the fire department's paid staff, from six firefighters to 12, using the increased property taxes as the tax base expands with construction of the methanol plant. (Currently the department has 20 volunteer firefighters.)
Right now, it's not clear how much the total property tax base will increase as a result of the methanol project, said Terry McLaughlin, Cowlitz County Assessor. That's because the assessor still doesn't know what the plant's exact property value will be. However, assuming the property is worth $1 billion, it would generate an additional $1.4 million in taxes for the fire district annually, McLaughlin said.
The expanded staffing and upgraded station would help the district respond to population growth in Kalama expected as a result of the Cowlitz Tribe's Ilani casino near La Center and the proposed methanol project, Leatzow said.
The mitigation agreement requires the site to have automatic alarm systems to provide early warnings and give firefighters precise locations of fires. The pact also requires the plant to give firefighters detailed site maps and emergency vehicle access, among other measures.
Northwest Innovation works said it would take a number of on-site fire safety measures, such as installing high-volume sprinkler systems; an integrated foaming system for fire suppression; and a various monitoring systems to detect for gas, thermal and other changes.
Opponents to the project have questioned whether local emergency officials have the right training and resources to respond to fires or possible explosions from the methanol plant.
But Leatzow likened the project to other industrial sites, such as Emerald Kalama Chemical and Kalama's two grain terminals, where fire officials work with what companies' already have onsite to squash fires.
"We have some depth when it comes to industrial (fires) as it is already … Ethanol, sulfur dioxide, anhydrous ammonia, taline — those products are shipped on a daily basis (through Kalama) either on the freeway, by rail or by ship. So, you know, we've had exposure to that," Leatzow said.
Thirteen firefighters in the department have received training for fighting Bakken crude oil fires, which involve many of the same methods used for methanol fires, Leatzow said. Some of his staff also are trained to attack fires on ships.
"What Northwest Innovation Works is proposing is not new to us. It's been in operation for well, I can honestly say, for the 26 years I've been here. So to think that we're going to have everything for everything is just incorrect," Leatzow said. "(But) with what (all the local industrial) facilities have, and what we have, we're extremely comfortable and confident of being able to deal with situations."