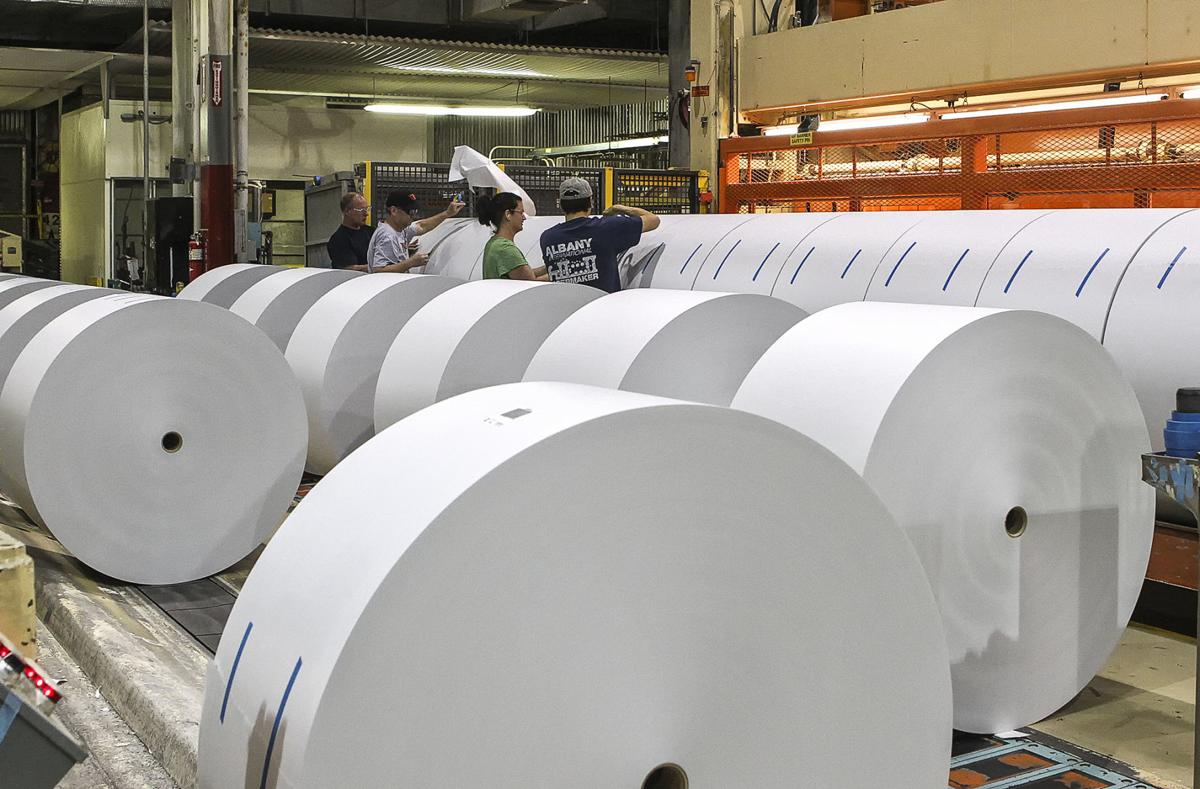 Amid a national outcry from newspaper publishers, Norpac announced Tuesday that the Longview paper mill will hire 50 new full- and part-time employees as tariffs on Canadian newsprint set in.
The mill will also restart a paper machine that was idled last October after Norpac filed a trade complaint against Canadian newsprint producers with the U.S. Department of Commerce.
The hiring initiative will include operations, maintenance, engineering and logistics positions.
The idled paper machine — which can produce enough paper daily to stretch from Longview to Los Angeles — will be restarted on a limited basis as the newsprint market continues to settle, the company said.
A majority of the jobs will initially be part-time, but a spokesman said the company hopes to make the positions full-time soon. The mill directly employs about 300 non-union workers.
Norpac announced a round of layoffs shortly after alleging last August that Canadian papermakers benefit from 65 different government subsidies that amount to "hundreds of millions of dollars." A preliminary U.S. Commerce Department investigation found Canadian newsprint producers have benefited from 34 different subsidy programs, including raw materials at below-market costs and cheap subsidized electricity.
As a result, Commerce instructed border officials in January to start collecting tariffs on newsprint imports ranging from 4 percent to 9 percent.
Norpac also accused Canadian manufacturers of selling paper at prices 16 percent to 65 percent lower than what the paper would normally sell for.
After conducting a preliminary anti-dumping investigation, Commerce announced in mid-March that it had found some Canadian producers have been selling newsprint for up to 22 percent less than fair value.
Combined duties on Canadian newsprint ranging from less than 1 percent to 32 percent have roiled the U.S. newsprint market by causing wild price variances.
Norpac's trade petition has thrust the Longview paper mill into the national spotlight, and newspaper publishers have railed against the painful new border taxes in a steady drumbeat of editorials since they were enacted.
A coalition including the News Media Alliance, which represents nearly 2,000 different media organizations in the United States and Canada, formed in late March to lobby against the tariffs.
(Full disclosure: The Daily News buys its newsprint from Norpac. The newspaper is owned by Lee Enterprises, whose vice president and chief operating officer, Kevin Mowbray, is on the board of directors of the News Media Alliance.)
The Longview paper mill has also come under scrutiny in stories by CNN Money, NPR and The Columbia Journalism Review.
Many publishers have argued the tariffs are part of a scheme to increase the profits of OneRock Capital, a New York hedge fund ownership group that purchased Norpac from Weyerhaeuser Co. and Nippon in 2016.
But Norpac CEO Craig Anneberg has maintained that trade remedies are needed to correct unfair competition from Canada.
"Norpac has a world-class facility that can compete with anyone in the world on a level playing field," Anneberg said in a press release Tuesday.
The release noted that 10 American newsprint mills have closed since 2012, resulting in the loss of approximately 2,150 jobs. Since then, the U.S. groundwood paper industry's production capacity has fallen by nearly 70 percent.
However, critics argue the new tariffs are short-sighted.
Canada now satisfies about two-thirds of U.S. demand, and a sudden increase in the cost of newsprint — newspapers' second-biggest expense after payroll — could threaten tens of thousands of jobs. The publishing industry employs about 600,000 people nationwide.
The cost of newsprint has steadily increased since Norpac filed its trade petition last summer. A short ton of 30-pound newsprint jumped from $560 on average in August to $662 in April, according to a Pulp and Paper Weekly index. Prices on all grades of newsprint are up roughly 18 percent year-over-year. Norpac has followed competitors' price increases with price hikes of its own — no more and no less than the industrywide average.
At full capacity, Norpac produced almost 800,000 tons of paper and packing annually, including nearly 50 percent of all U.S.-made newsprint.
Norpac spokesman David Richey said the company has increased its sales as domestic newsprint has become more competitive with Canadian products, although he was unable to say exactly how much more paper Norpac has sold.
Meanwhile, the publisher of the Tampa Bay Times in Florida announced in mid-April that the paper is cutting approximately 50 of its own jobs as a direct result of the new tariffs.
"While Norpac also understands that the newspaper industry faces a challenging marketplace, we strongly disagree with the notion that the industry requires low-priced subsidized newsprint from Canada to sustain its business model," Richey said in a phone interview Tuesday evening.
The International Trade Commission is also conducting its own investigation into Norpac's claims, with a public hearing scheduled for July 17.
A final decision from the commission is expected in September, while a final anti-dumping decision from Commerce is due around Aug. 2. Both agencies will need to agree the tariffs are necessary for them to become permanent.