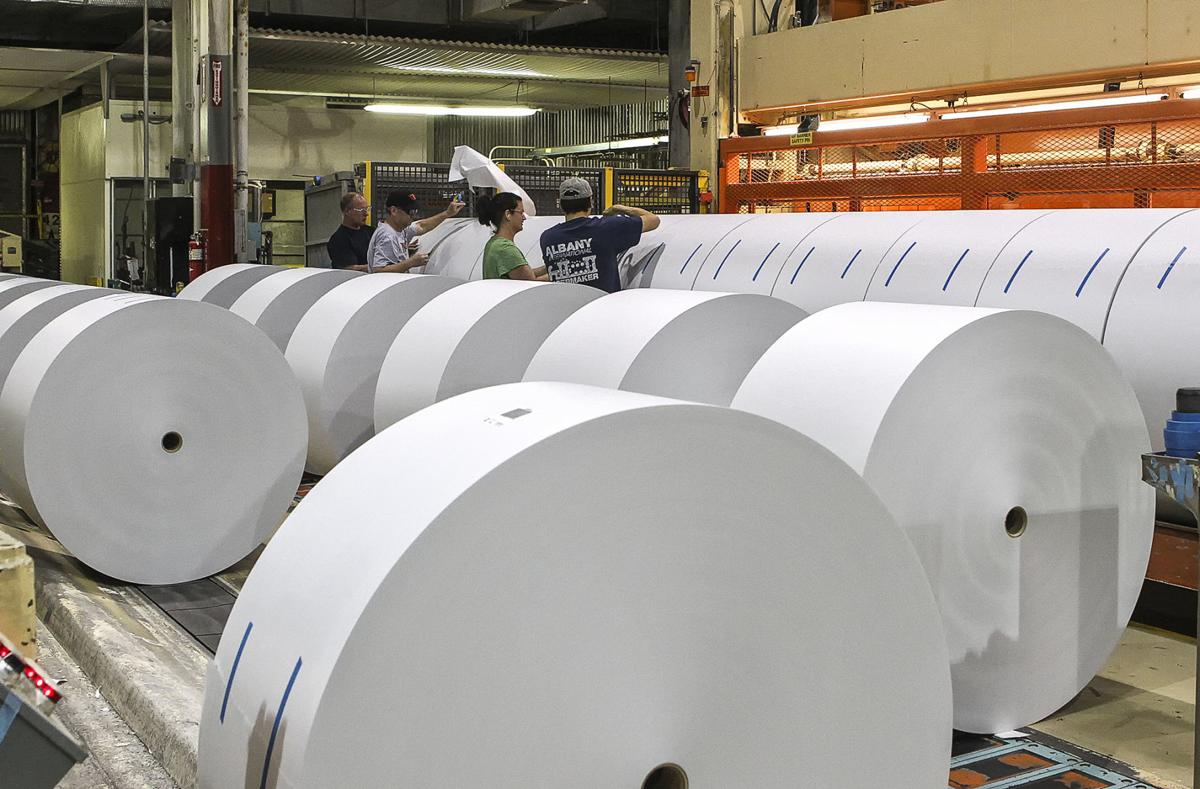 The U.S. Commerce Department's decision last month to slap tariffs on Canadian papermakers has thrust Norpac's Longview paper mill into the national spotlight.
The mill — and its New York-based hedge fund owners — have drawn the ire of publishers throughout the country who have traditionally relied upon uncoated groundwood paper from Canada. Uncoated groundwood paper is used in a wide range of everyday products including newspapers, books and mailers.
Commerce's preliminary decision on Jan. 9 to levy border taxes on Canadian paper imports threatens thousands of jobs associated with the U.S. newspaper and commercial printing industries, publishers argue.
Late last month, a coalition of publishers formed the STOPP Coalition (Stop Tariffs on Print and Publishers), a group dedicated to fighting the tariffs. Members include the Printing Industries Association, Association of American Publishers, Book Manufacturers Institute and the News Media Alliance, a group that represents nearly 2,000 U.S. news organizations.
The group has a meeting with Commerce officials scheduled for Feb. 22. (Full disclosure: The Daily News buys its newsprint from Norpac. The newspaper is owned by Lee Enterprises, whose vice president and chief operating officer, Kevin Mowbray, is on the board of directors of the News Media Alliance.)
Norpac maintains that the company is simply seeking a level playing field.
"It's important to look at the actual findings of the U.S. Department of Commerce's preliminary determination," Norpac spokesman David Richey said in a statement.
Richey noted that the Commerce investigation found Canadian newsprint producers have benefited from 34 different subsidy programs. Commerce also is continuing to investigate another 28 potential subsidies, which include several alleged subsidies identified by Norpac.
Still, the duties have publishers across the U.S. howling. While the tariffs will hurt big newspapers like The New York Times and Wall Street Journal, they will hit smaller local newspapers — already reeling from falling print ad revenue — the hardest.
The price of one metric ton of newsprint on the West Coast has already increased from $545 in August — when Norpac filed its petition — to $605 last month, according to a Pulp and Paper Weekly index. Prices on the East Coast have jumped from $575 to $635 per ton in the same span.
Newsprint is a major cost for newspapers: Lee Enterprises, for example, says every $10 per ton increase would cost the company $365,000, according to the company's 2017 tax filings. At that rate, the recent price spike would cost the company about $2.2 million. (Lee publishes 46 daily newspapers in 21 states and more than 300 weekly, classified, and specialty publications.)
Publishers located in the Northeast near the Canadian border will be hit especially hard because they can't simply pivot to domestic suppliers, a recent 1,500-word piece in the Columbia Journalism Review noted. U.S.-based production capacity can only supply roughly one-third of domestic newsprint demand while Canadian producers support the balance.
Canada has 25 mills that still make newsprint, but there are only five such mills — including the 300-employee Norpac facility in Longview — left in the U.S.
Industry observers say some of that price increase is due a recent alignment between supply and demand, which has allowed domestic producers to raise prices. But the tariffs against Canadian producers have given U.S. mills cover to charge even more, they say.
In the long-term, the price increases could actually have a perverse impact on the cost of newsprint by driving down demand, said Paul Boyle, vice president of public policy for the News Media Alliance.
"It's ironic because you've got a mill that's petitioning for protectionism and trade remedies," he said in an interview. "What happens is there are potential countermoves that newspapers and other printers will have to make that might impact newsprint demand."
Half of all newspaper jobs have disappeared over the past 15 years, according to the Bureau of Labor Statistics, and papers are projected to continue shedding workers in the coming years.
"While Norpac understands the concerns recently surfaced by some newspaper publishers, which also face a challenging marketplace, we strongly disagree with the notion that their industry requires low-priced, subsidized newsprint from Canada to sustain its own business model," Richey said.
Richey also noted that more than 10 newsprint mills have closed in the U.S. since 2012, resulting in the loss of approximately 2,150 jobs. Since then, the U.S. share of the North American market has plummeted from 55 percent to 32 percent.
"It's Norpac's hope to reverse this trend by leveling the playing field for American producers, workers and their families who have been the victims of unfair Canadian trade practices for too long," Richey said.
But in a December letter to Commerce Secretary Wilbur Ross, 34 members of the U.S. House of Representatives called Norpac an "outlier" — pursing protectionist tariffs alone without backing from the rest of the paper industry.
Formerly a joint venture of Weyerhaeuser Co. and Nippon Paper Industries Co., Norpac was acquired in November 2016 by One Rock Capital Partners. One Rock is a hedge fund that specializes in acquiring older "mature" businesses and driving them to bigger profits.
The mill is "owned by a New York hedge fund operator, with no additional pulp or paper operations in the United State or globally," the letter said.
Lawmakers also noted that the American Forest and Paper Association — the national trade association for the paper industry — opposes Norpac's petition.
Nevertheless, Commerce determined that Norpac represented a sufficient portion of the industry to investigate its claims.
Commerce is expected to release its decision on additional anti-dumping duties in early March, and the department is scheduled to announce its final determination in its countervailing duties investigation in late May. The International Trade Commission will make a final injury determination in its own investigation in August 2018.
Get local news delivered to your inbox!
Subscribe to our Daily Headlines newsletter.