For the second day in a row, demonstrators took to Longview's streets Tuesday to protest inequality across the nation and peacefully show support for George Floyd, the black man who died at the hands of Minneapolis police on May 25.
Roughly 70 people waved signs and chanted in the area of the Civic Circle and City Hall. It was a younger crowd, and many had attended Monday's hour-long demonstration that drew 130 to 150 people to the City Hall parking lot to kneel silently for nine minutes in honor of Floyd.
Jordan Gaynor, a black 26-year-old Longview woman who attended the demonstration Monday, said that as she was crossing the street during the protest that day, someone yelled the N-word at her out of a car window.
"I was in shock. I was in disbelief. And I kind of laughed," Gaynor said. "What time am I in? I felt like I was slapped with 80 years in the past. I didn't expect, in 2020, to ever be called that way. I grew up in the South ... I didn't think, here, of all places, that we would have that."
But only minutes later, the demonstrators took a knee — and "I felt like people were really trying to understand. The human race was trying to get its humanity back," Gaynor said during Tuesday's gathering.
On Tuesday, Gaynor described the "swirl of emotions" she was feeling while watching the crowd again chant "Black Lives Matter."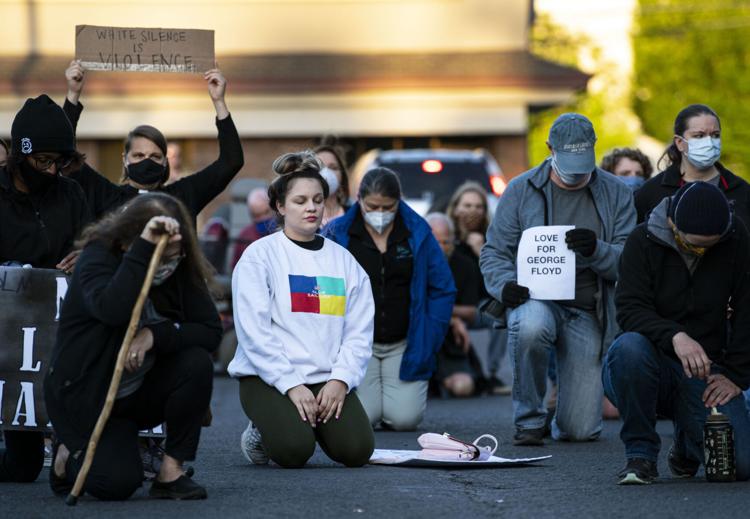 "I'm feeling an overwhelming amount of emotion," Gaynor said. "Happiness, because finally people are standing up for justice. But I also feel disappointed, because at yesterday's protest I got to see a lot of the shadows that are hiding."
Gaynor's mother, Lisa Gaynor, said the racial insult made her daughter feel horrible.
"It brought me back to when I heard it the first time," said Gaynor, 59. "She didn't even want to come out today, but I told her if she doesn't, then they win."
Carlos Rodriguez, an 18-year-old Longview man, dropped off water bottles and snacks for his fellow demonstrators. He said he was inspired by people at protests in Portland who offered first aid and water to him and others. Rodriguez said he was one of the demonstrators who suggested having an event earlier in the day.
"I feel like in the night time, all the gangs like to come out and fight people just for show. That's not what we want. We don't want to invoke violence. We want to keep it as peaceful as we possibly can."
Not all cops are bad, Rodriguez said, but he said there are enough to make protests like these necessary.
Tensions had grown Monday night after the demonstration as the sun set and other groups, with at least one person carrying a rifle and several identifying with the far-right "Proud Boys," stood watch at parking lots across 15th Avenue and Broadway. No such counter-presence was apparent Tuesday.
In interviews Monday, members of both of the loosely defined "sides" said they wanted the same thing: for protesters to protest peacefully and head home, without a repeat of the sporadic violence and vandalism reported Saturday night after a peaceful march at the Longview Civic Center earlier that evening.
In an email Tuesday morning, Longview Police Detective Sgt. Chris Blanchard said: "There isn't anything to report. We did not take any enforcement action regarding protests or related issues. Nothing stood out as far as any criminal activities."
Monday's protest was primarily organized by members of the Religion of Arts, Theatre and Science (R.A.T.S.) Jon-Erik Hegstad and Jeni Quiriconi. R.A.T.S., which is an incorporated religion, is a pro-science, pro-equality group, Hegstad said.
Demonstrators began assembling well before the stated 8 p.m. gathering time on Monday, waving signs reading "Black Lives Matter" and "End the Brutality" and chanting "Say his name! George Floyd!" Many passing motorists honked or cheered in support; some revved engines loudly, and a few shouted harsh words.
At about 8:20, the group began kneeling. Some went to the ground on their stomachs with their hands on their backs, mirroring the handcuffed position Floyd was held in while the officer put his knee to his neck.
Aside from occasional honking, engine revving, and an unrelated amber alert that pinged across cell phones in the middle of the demonstration, the City Hall parking lot was silent for those nine minutes.
Elle Couto, a Kelso woman and practicing attorney in Longview, grew emotional in explaining the importance of coming out Monday night.
"My father's Asian, and he's lived through a lot of this stuff. My sister's engaged to a black guy. They're afraid to go out of the house. … We can't be silent. We need to speak out."
Sala Clark Fagalilo, a 25-year-old Longview man, said he came out to demonstrate peaceful protest against injustice in the U.S., not just for George Floyd.
"I don't think Longview would have done this 10 years ago, I'll tell you that," Clark Fagalilo said as a rush of honking cars passed by. "I just hope that everybody can see life through a person of color's eyes, and try to recognize the differences. I just want everybody to be able to love each other."
While she said she doesn't personally condone those who riot, Marinda Strine, a 20-year-old Kelso woman, said she understood why they do.
"The morning I woke up and watched the George Floyd video, I cried, and I understood in that moment why people wanted to go out and light stuff on fire and destroy things. Because it's just outrageous. How could you have any kind of heart inside you, and see that video, and not want to stand up in some way?"
Jnova Trusclair, a 27-year-old Longview man, said he's recently finished a prison stint and saw similarities between his life story and that of Floyd, who according to media reports had served several years in prison beginning in 2009 for an armed robbery.
"I changed my life," Trusclair said. "He got out, and he got his s—- together, and now he's subject to be brutalized in front of a crowd of people."
Trusclair, who's lived in Longview for two years and previously lived in Tacoma, called Monday's demonstration "absolutely amazing."
"We would call this 'the sticks' where I'm from," Trusclair said. "This town is way out. But the fact that this means this much to the people out here, it's amazing. I never thought in a million years. I felt like the only black guy out here. And now I'm seeing a whole bunch of people showing so much love and support."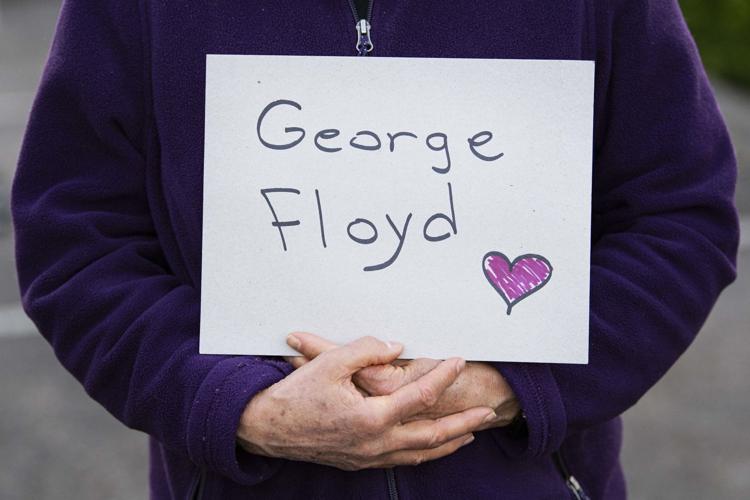 Around 9 p.m. Monday, a group of young people gathered near the U.S. Bank parking lot across the street from City Hall, and several scattered groups — some wearing tactical vests or carrying firearms — parked and stood in other parking lots nearby.
Most of the group of young people declined to give their names, but they said they'd come out to deter any vandalism or other unruly behavior. One man said his car was vandalized in earlier protests, and another said his friend's car window was shattered by a piece of concrete while that man tried to protect a store from vandals.
The group said they'd be out until the other demonstrators left.
"We're making sure no buildings get damaged. We're just watching people," one man said. "Keeping the peace."
On police brutality: "They (the protesters) need to understand not all cops are corrupt. There's a lot of good cops, and in Longview, we're super lucky," he said.
But they criticized other protesters who they believe were responsible for starting fights or inciting some of the damage done over the weekend. Some said they believed the trouble-starters were mostly bored teenagers.
"It can be" interpreted as intimidation that at least one man carried a rifle, one of the group members said, "but at the same time, it's an open carry state. Any day they can be doing that. If I was of age to open carry right now, I would, because it would help keep people from breaking into buildings."
"I think George Floyd was murdered," said TJ Peterson, a self-identified Proud Boy from Rose Valley who showed up to the demonstration armed.
"I'm here for their right to protest and to prevent small pockets of aggressive people who are going to break businesses," Peterson said of why he came to the demonstration Monday. "I'm here to protect entrepreneurs, small business owners, the community."
The Southern Poverty Law Center lists the Proud Boys as a hate group, and "Yes, they're going to be disgruntled, they're not going to like us," Peterson said of the demonstrators. However, he expressed happiness at the peaceful resolution of the demonstration: "This is perfect."
The idea that the folks across the streets were simply keeping the peace rung hollow for Hollie Kero, a 37-year-old Longview woman who was helping move demonstrators along and out of the area after the kneel. Kero said the other group's presence was unnerving, and she was initially afraid that some of the younger demonstrators would get provoked.
"Honestly, it's scary," Kero said. "If you look out here right now (at the demonstrators), it's a younger crowd. I feel like they've surrounded us with lots of bulletproof vests and assault rifles … It's more of an intimidation factor than a protection factor on their part. … What I'd like to see right now is everyone go home. I think we proved our point. We can be the bigger people and walk away peacefully without any rioting, looting, spray-painting."
Get local news delivered to your inbox!
Subscribe to our Daily Headlines newsletter.