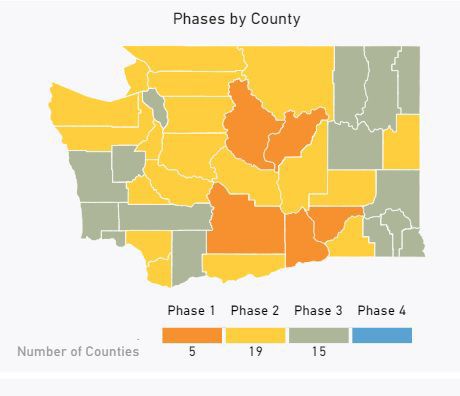 For the second time since mid-May, Cowlitz County has gone nearly a week without a new reported COVID-19 case, leaving its total at 73.
The county's last case was reported on Tuesday, May 26. But health officials caution that it's too early to say whether the virus remains at bay now that the county has entered Phase 2 of Gov. Jay Inslee's four-stage economic recovery plan. The county entered Phase 2 on May 23, and scientists say the incubation period for the coronavirus can be up to two weeks.
In another development Monday, the state Secretary of Health approved Klickitat County's application to enter Phase 2. Now, 27 of the state's 39 counties have been approved for Phase 2, including Cowlitz, Wahkiakum, Skamania, Lewis and other surrounding counties.
Phase 2 allows gatherings of up to five people outside of immediate family; restaurant, tavern and retail businesses to open with occupancy limits; and resumption of personal services businesses, with protections in place. Masks are not required in public, but health officials strongly recommend them.
Clark County's Phase 2 application is still on hold after an outbreak at a Vancouver food processor a little over a week ago. The total number of cases linked to the Firestone Pacific Foods outbreak is 124, up from 120 on Friday, according to Clark County Public Health. That includes 77 employees and 47 close contacts.
Gov. Inslee Friday announced a county-by-county reopening approach, along with new guidelines for moving to Phase 2 and a modified Phase 1 option. It's unclear how this will affect Clark County's application, according to the Public Health press release.
Each county can now apply for the next phase at least three weeks after entering its current phase. This means the earliest Cowlitz County could start Phase 3 is on or around June 13.
The state will evaluate each application on a variety of measures, including if the number of new cases are 25 or fewer per 100,000 residents over 14 days, flat or decreasing hospitalizations, healthcare system readiness, testing capability, case and contact investigations, and the number of outbreaks.
The state Department of Health Monday also began sending out testing supplies, personal protective equipment and return shipping materials as part of its effort to test residents and staff at long-term care facilities.
Residents and staff in nursing homes will be tested within about two weeks, and those in assisted living facilities with a memory care unit will be tested within about four weeks. Information about other facilities is forthcoming, according to a Department of Health press release.
Cowlitz County has three nursing homes, five supported living facilities and eight assisted living facilities, according to the county's Phase 2 application.
Concerned about COVID-19?
Sign up now to get the most recent coronavirus headlines and other important local and national news sent to your email inbox daily.