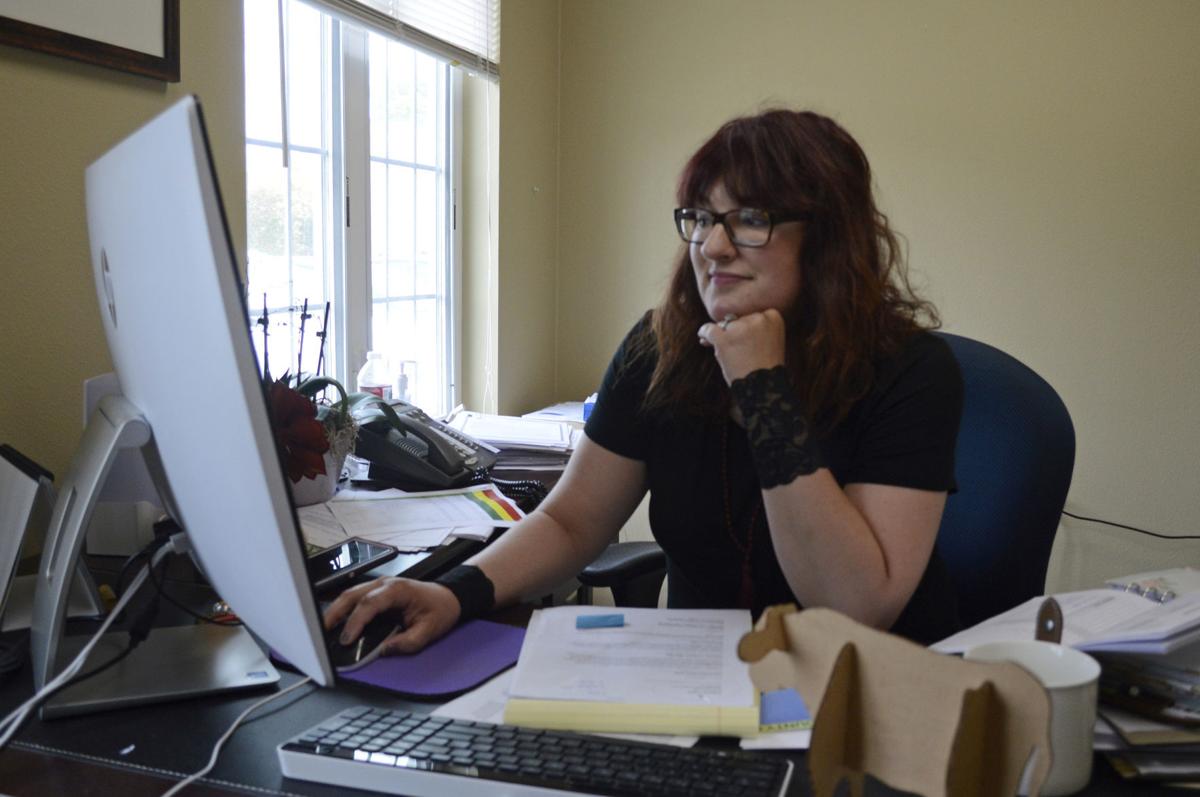 Corie Dow-Kramer didn't realize how much she loved being a part of the community until she moved away, but getting hired as the executive director of Youth and Family Link gave her the perfect chance to return to working in and for Cowlitz County.
"When the opportunity for this job came up it seemed really timely," she said. "I'm excited to be back and focusing on Cowlitz County."
Youth and Family Link provides free programs to county residents, including after school programs, mentoring, child wellness programs and drug prevention. It is also home to a community gymnasium.
Dow-Kramer joined the organization about six months ago after long-time executive director Steve Watters retired. Watters helped create the organization from the Toutle River Ranch, a group home for troubled boys that closed in 1997.
Watters stayed on for a couple months to help Dow-Kramer move into the director position. The transition allowed Dow-Kramer to take ownership of the agency while ensuring the continuation of all that Watters built over the years, she said.
"I'm honored Steve has trusted me with it," Dow-Kramer said. "It's hard to hand off something you put your heart and soul into."
A Longview native, Dow-Kramer, 44, graduated from Mark Morris High School and went on to get her bachelor's degree in psychology from University of Washington. She then moved to upstate New York and worked at a residential treatment program.
About seven years later, Dow-Kramer moved to Everett in 2000 and got her master's degree at Antioch University Seattle. She worked for a family transitional housing program then with pregnant and parenting women with substance abuse problems before returning to Longview in 2006.
Back in her hometown, Dow-Kramer was director of the Cowlitz County Court Appointed Special Advocate (CASA) program for more than 10 years.
In 2017, she took a job with the state's CASA program, but said she realized she loved being part of the Cowlitz County community and missed it.
So when the Link executive director position opened up, she said it was the perfect opportunity to come back to Longview.
Phil Schlecht, Link board president, said Dow-Kramer's prior experience as an executive director of a local nonprofit agency — as well as her skills — made her the best candidate for the job.
"I think one of the challenges she faces now is our funding model depends a lot on donations and grant work, but she's come up to speed quickly on grants and the grant process," he said. "I'm glad she's on board."
You have free articles remaining.
Dow-Kramer said Link's willingness to grow and change what programs and services it offers based on the needs of the community stems from it's creation more than 20 years ago.
"Link exemplifies the best parts of Cowlitz County," Dow-Kramer said. "Community members saw something needed in the community and created it."
A challenge for any agency is keeping an eye on the future while running current programs, Dow-Kramer said. But Link staff are always encouraged to be creative and consider how their programs can grow and change, she said.
Link will soon offer a support group for parents with new babies, Dow-Kramer said. The agency's outreach and engagement staff are being trained to run the meetings through the state's Strengthening Families program, she said.
One of Link's major efforts is supporting children with behavioral health problems and their families, Dow-Kramer said. A new service Link will hopefully offer soon is a support group for those families, she said.
"It's important for people to connect with each other," Dow-Kramer said. "Being a part of a healthy community, at the base, is spending time and getting to know each other."
Dow-Kramer said Link is working to establish resources in Kelso to reach more of those who can't easily make it to Longview.
Emiley Siters, Link community program coordinator, works closely with Dow-Kramer and said she is adapting well to the position and confidently taking it all on. Dow-Kramer's involvement in the community is an asset to her position, Siters said.
"Link helps connect people in the community, and she knows all the resources the community offers," Siters said. "So when we have clients that need something she knows how to answer their questions because she's so involved in the community."
The organization is fortunate to get support from the River Ranch and Lake guilds that help run the Youth and Family Link Thrift Shop, she said. Link also has many long-time supporters and board members.
"Link is truly community-based," she said. "Being a part of that is incredible."
Dow-Kramer said the number of people who have a connection with Link or the Toutle River Ranch has been surprising. However, she said while a lot of people may know about the one part of Link they have interacted with, most don't know about all of the services and programs Link offers.
Even Dow-Kramer said before she began working for Link she mostly knew the agency as a resource for low-income families, like those she was working with through CASA.
"But it's really a resource for everyone in the community... which reinforces bringing the community together."
Get local news delivered to your inbox!
Subscribe to our Daily Headlines newsletter.