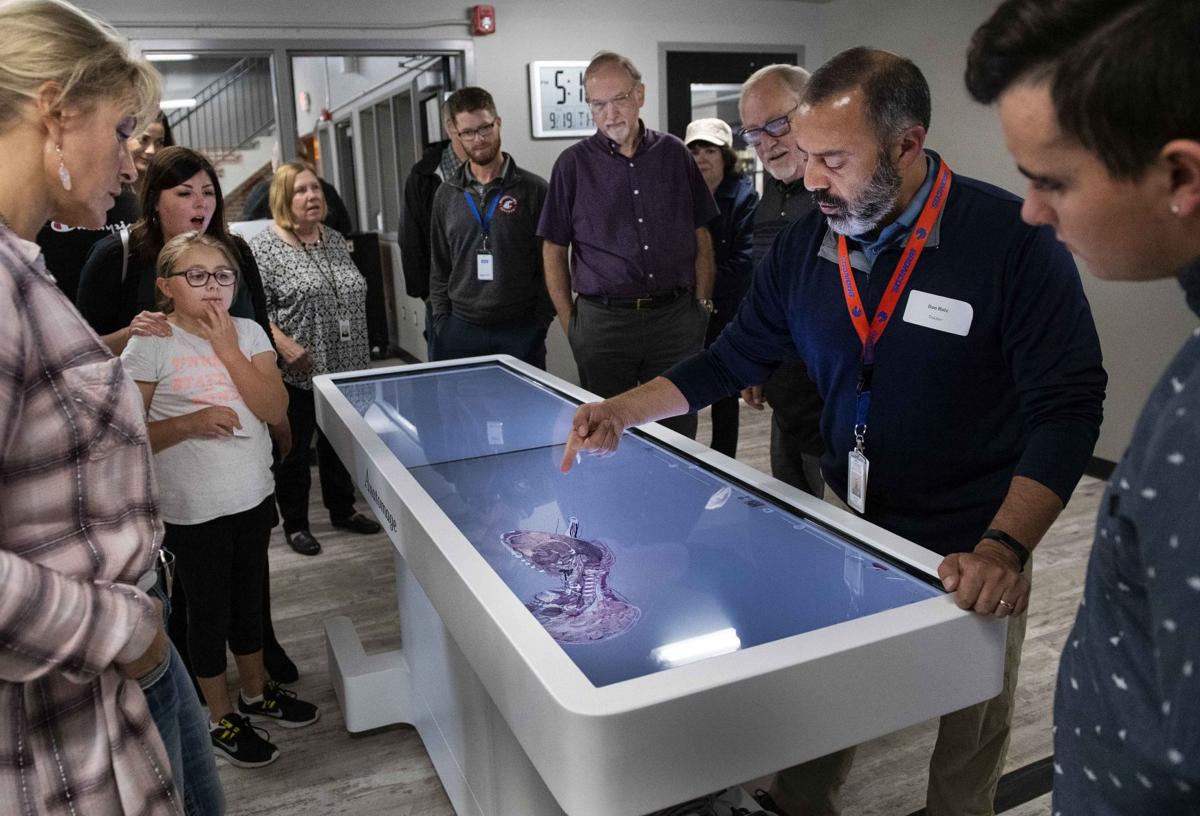 If the carpenters trained in the old R.A. Long wood shop returned there today, they might think they'd been caught in a time warp.
Gone are the band saws, vice benches and sawdust. In their places are drones, robots and a futuristic table that allows students to do "virtual dissections" in a way few high schools can facilitate.
After a summer of renovation, the old wood shop space at R.A. Long High School is now a cutting-edge science, technology, engineering and math lab, with professional-grade equipment and versatile space for students to work in. It opened at the start of this school year, and Thursday the district held a grand opening event for the community.
The $1.1 million grant-funded STEM lab focuses on medicine, robotics and drone technology, said Jill Diehl, executive director of student services. It replaces an out-of-code wood shop that the district shut down several years ago.
Diehl said the lab will provide the district's students with more opportunities in science and technology fields after high school.
"We want our students to be as competitive for these jobs as students in Clark County," Diehl said.
The new equipment includes drones, robots that look like small four-wheelers, ample space for lab experiments and an "Anamotage Table" which allows for "virtual dissections."
The long table has a screen as a table top and has detailed scans of human bodies that can be studied in depth. Students can "remove" layers of the bodies to isolate bones, vital organs or the circulatory system. The table shows how the blood actually moves through the body.
As community members watched a demonstration at Thursday's open house, several gasped as the digitally rendered layers of skin and muscle were stripped away from the "cadaver" on the table, exposing lifelike bone, fat and muscle.
Margaret Lapic said she had never seen anything like the technology in the lab.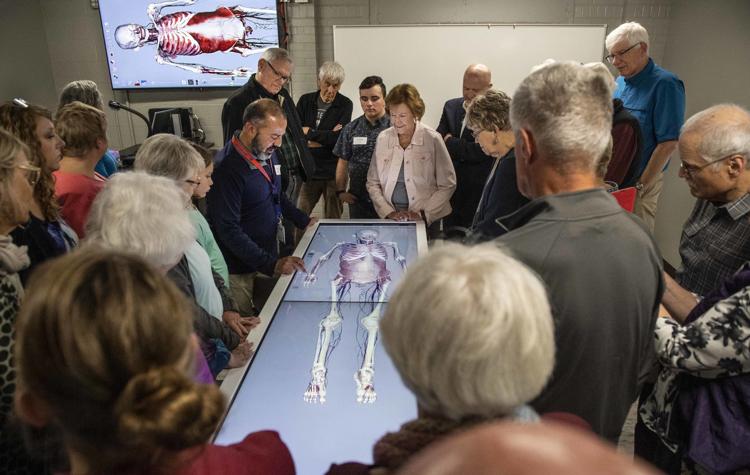 "I've just been standing by the table for the past 10 minutes and I am so impressed to see what it could do," Lapic said. "It sure beats dissecting a frog. That's what I did in high school."
Overall, Lapic said she was impressed by the lab and the work the district was doing to help students succeed.
"I was really excited to hear that little old Longview got such a fantastic lab," said Lapic, a longtime Longview social worker and advocate for the disabled.
The Anamotage table in particular places Longview on the leading edge of education. According to Diehl, fewer than 100 high schools in the United States have such a table, and most of those are magnet or specialized schools.
Dan Ruiz, who is teaching in the new lab, said the extra space is especially useful for teaching hands-on skills like CPR, as the furniture can be rearranged and students can watch an instructional video and perform the skill at the same time.
"It's a different perspective of what a facility could look like," Ruiz said. "It's not like a normal high school classroom."
The district has ordered lab coats, Diehl said, to reinforce the feel of a professional work environment and better prepare students for post-graduation jobs.
R.A. Long junior Diesel Potter said the space certainly felt different than a normal classroom. Potter is taking classes in robotics.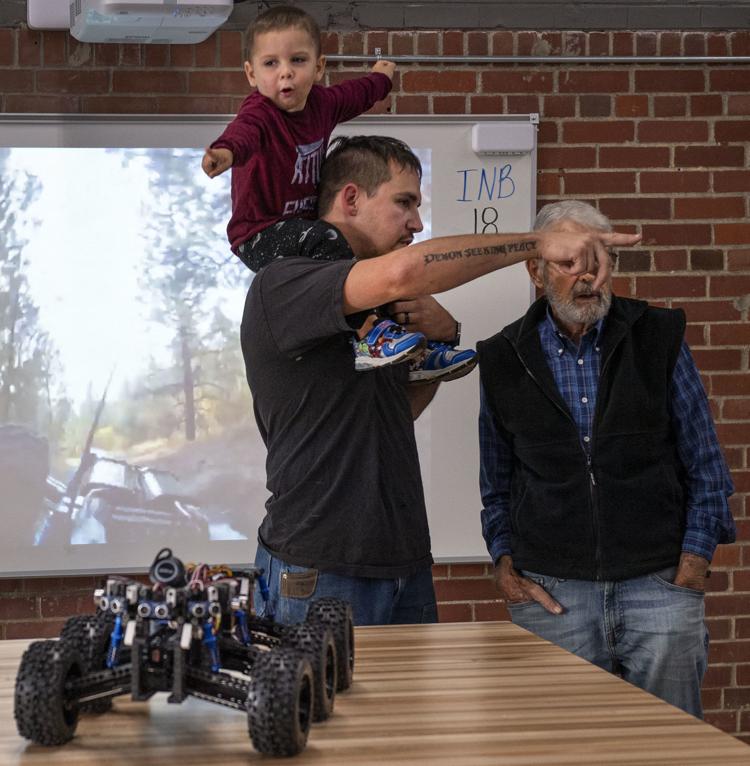 "We haven't started to build (the robots) yet," Potter said. "We're just getting familiar with the classroom expectations, because it's a professional space."
With his eye on a career in software engineering, Potter said the opportunity isn't something he expected to get in high school, but it's one he's excited about.
"Otherwise, I wouldn't be able to get familiar with it until college, so I wouldn't know if I liked it or not," Potter said.
Don Wiitala, Longview School Board member, said he was excited about both the new lab and the new space for Longview's pre-apprenticeship program at Mark Morris, as they both provide more pathways for students.
"To have this kind of a program in Longview is like an incubator," Wiitala said. "It's preparing kids to work in the jobs that are out there right now."
The ability to do virtual dissections was especially appreciated by Mark Morris senior Travis Hotten, who said it would help him succeed as he moves on to college. Hotten wants to practice internal medicine.
"It will definitely build a foundational knowledge of anatomy before I enter any medical program, which is really useful," Hotten said. "I'll have this foundation and be able to excel in this environment in the future."
R.A. Long principal Rich Reeves said he was proud to have the lab at R.A. Long, and the response so far by students and staff and has been overwhelmingly positive.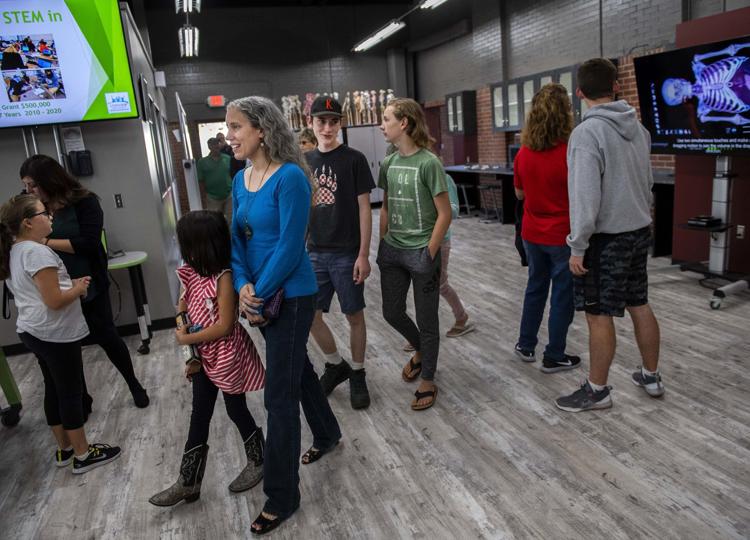 "It moves our education forward in the district," Reeves said.
He credits Diehl for the "lion's share" of the work and vision, saying she applied for the grant and then did a lot of research to choose the technology that would be the best fit.
Diehl's vision doesn't stop at this lab. She said it's a glimpse of what the district's $119 million capital bond funding, if voters pass it in November, could provide for the students. The bond would include money to upgrade STEM and vocational training.
"It's an exciting thing for the whole community," Diehl said. "The use and design of the space is different than anything we've had before. It really shows us what we can do."
Get local news delivered to your inbox!
Subscribe to our Daily Headlines newsletter.