KALAMA — Once the word got out about the subdivision Brad Hoggatt has been preparing for the last 10 months, requests to purchase the lots have become a near daily occurrence. They are selling for $89,000 to $109,000, and one woman even whipped out her checkbook and offered to buy one on the spot, he said.
"It's needed," Hoggatt said Tuesday. "As far as downtown, there are no lots left in Kalama. This is it."
The 65-lot Sunset Terrace Subdivision — and three other housing developments in the works for the Kalama area — are a response to demand for housing along the Interstate 5 corridor caused by high prices and limited supply in Vancouver and Portland. This pressure is swelling the populations of Kalama and other small Southwest Washington communities from Kalama to the Portland Metro area.
Kalama's population increased 17.3 percent from 2010 to 2018, according to the state Office of Financial Management. From 2017 to 2018, the population jumped 5 percent, adding 130 people for at total of 2,750. The population of Ridgefield, located 15 miles north of Vancouver, has increased 62 percent over the last 10 years, according to the state. Woodland grew 12.6 percent in the same period of time.
"Prices up here are cheaper than down there and you get a lot more bang for your buck," said Cole Blackburn, RE/MAX Results associate in Kalama.
Home prices in Kalama increased about 50 percent over the last few years, Blackburn said, but are leveling off. About half the buyers looking north of Portland or Vancouver for a more affordable home are only willing to go as far as Kalama, he said. The other half will move up to Kelso or Longview, but only if they are close to I-5.
"Kalama is becoming desirable, more so than Woodland and Kelso/Longview," Blackburn said, citing improvements to the downtown and Port of Kalama, new businesses and easy access to the highway. "From what I've seen a lot of people want to live in Kalama."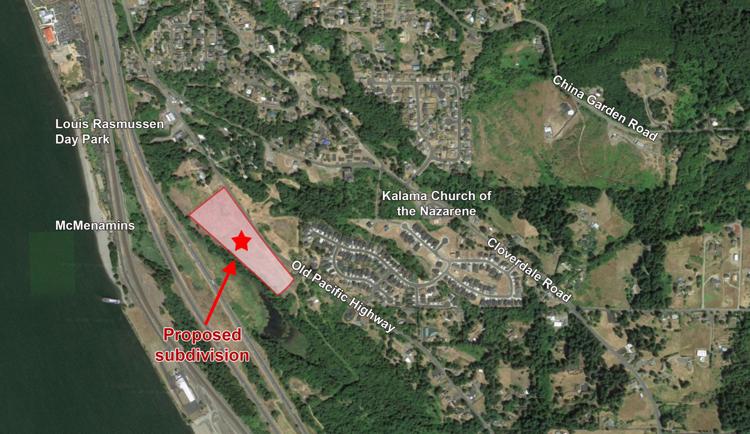 Hoggatt said he expects up to 80 percent of those who will live in Sunset Terrace Subdivision to commute to work. Most of the people who've approached him about the project are from Vancouver and Portland, he said. Data from the state Employment Security Department shows that in 2015, 17 percent of Kalama workers were employed in Longview, about 15 percent in Vancouver and Portland and 6.5 percent in Kalama.
The subdivision is on the south end of town, between I-5 and Old Pacific Highway South. It will house about 146 people, with 38 single-family home lots and 27 townhome lots, Hoggatt said. Lot sizes for homes will range from 8,000 to 13,000 square feet and the townhomes will be around 1,700.
"There's nothing like (the townhomes) in Kalama and nothing like it in the area," he said.
Hoggatt said construction of roads and other infrastructure for the subdivision should begin in the next two weeks. He said he hopes to quickly complete the work, get final approval from the City Council, and begin selling lots and building homes so people can move in by late summer or early fall.
"The city has been over the top easy to work with," Hoggatt said. "They want it as bad as I do."
Sunset Terrace is the farthest along of four subdivision developments in the works in Kalama. It will likely be followed by Cedar Springs, located just across Old Pacific Highway. The development will have about 34 single-family home lots and should appear on the Planning Commission's agenda in February, City Administrator Adam Smee said.
A developer is also working on a plan for a "different flavor" of subdivision up the hill on China Garden Road, Smee said. The development would feature bigger lots with higher-priced homes and sweeping views, he said.
The fourth development has been in the works since 2006. Columbia Point is about 19 acres between Waters Watch Subdivision and Spencer Creek Road on the north end of town. The city gave the project preliminary approval about 13 years ago but the developer never built because of the economic downturn, Smee said. The city is working with the developer on the project again, but he said if construction doesn't begin within the next year and a half, the council will likely rescind their approval.
Pent-up demand
Smee said although these projects will be a welcome addition to Kalama's housing market, there hasn't been enough development of affordable and multi-family housing to meet the city's need.
"The nicer, larger homes are good for the tax base, but the other piece is having a market that meets the entire spectrum of demand, not just the higher end," he said.
Rentals of all kinds are scarce. The Revitalization Study states that Kalama has the lowest rental rate of area communities. About 63 percent of rentals in Kalama are single-family homes and only 6 percent of rentals are apartments. Castle Rock has nearly triple the amount of apartments with 17 percent.
The apartments and other rentals go fast. The rental vacancy rate was 2 percent in 2015.
Blackburn said an apartment complex or more townhomes would be good additions to the city. Kalama has some room to spread out, but increasing the density of housing within the city limits or upgrading existing apartments would be "great," he said.
Smee said he would like to see a multi-family developer take on a project in Kalama, but national developers typically want to build 100-unit complexes, which wouldn't fit well in the community. A smaller or local developer would be more likely to work on a smaller development, he said. The planning commission is also working on a proposal to change the city's height requirement to encourage downtown development.
"We're looking at ways to maintain the character of Kalama while creating an opportunity for developers," Smee said.