Born and raised in Longview, Jen Evans has always loved The Merk, and she hopes her new cafe can help bring more people to the historic building.
"We want people to be part of downtown again," she said. "I want to have people do that here, to hang out and have coffee in The Merk."
Eclipse Cafe opened about two weeks ago and held its grand opening on Saturday.
The shop on the Broadway side of the building offers coffee, espresso drinks, loose-leaf tea, bubble tea and smoothies. Eclipse also offers pastries from The Sugar Pearl Dessert Co., a neighboring shop in The Merk. The menu includes smoothies without added sugar and a variety of milk alternatives.
Evans, 25, said she has worked in the food service industry for six-and-a-half years. About three months ago, she started the "crazy, but fun" process of opening her own cafe.
"It's something I've loved doing," she said. "I love The Merk. The downtown environment makes me happy. I wanted to be a part of it."
The Mark Morris grad said her years of barista experience, along with advice from her former bosses from Cassava, helped prepare her to open her own business.
"They're awesome," she said of her now-mentors. "I don't think I could have done it without them."
Although Cassava is just down the block, Evans said not many customers were coming in from the shopping center or vice versa. She said she wanted to offer a more accessible place for Merk customers to get coffee and other drinks.
You have free articles remaining.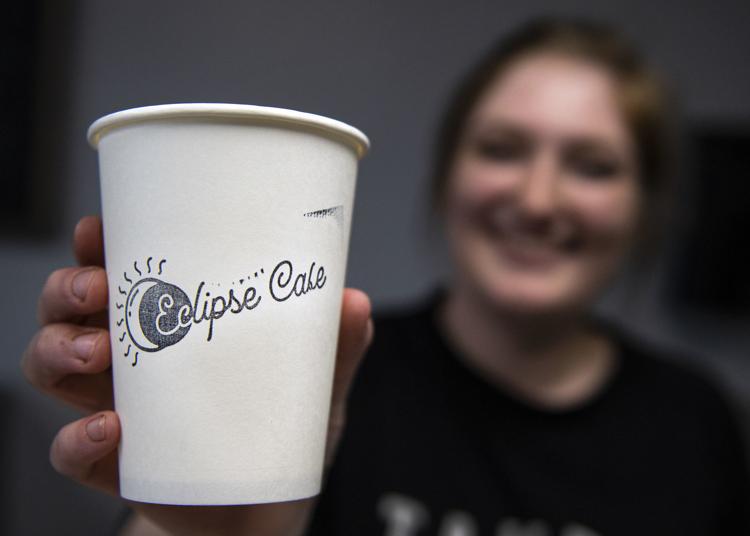 Evans said she knows the owner of the building, Barry Isenhart, who was looking for someone to open a coffee shop in The Merk. He remodeled the shop, previously A Wild Hair salon, and added window seating.
Evans is the cafe's only employee and works there six days a week.
"It's a lot of hard work, but it's really rewarding," she said. "You never work harder than for yourself."
The other Merk tenants are "great," Evans said, and many direct their customers to the cafe.
"I didn't expect to have support I have throughout The Merk," Evans said. "All the neighbors been supportive. ... It's kind of surprising."
Evans said she looks forward to seeing how the "downtown culture" evolves as more new businesses open up.
"I'm really excited to be open," she said. "I get to do what I love for a living."