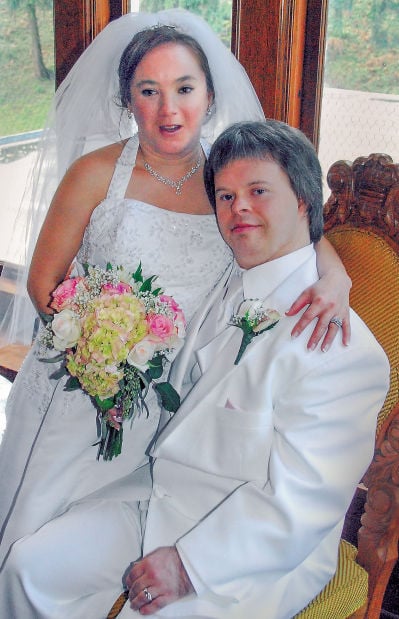 In many respects, Longview residents Dustin Bean and his new bride, Katie Bean, are like many other newlyweds.
They play Wii bowling together. They work out at the YMCA. They watch the "Twilight" movies and playfully call each other Bella and Edward. They have pet fish and talk about getting a dog. They're eager to show off their new wedding rings to visitors.
But the Beans, who got married Feb. 1 at the Rutherglen Mansion, aren't your typical couple. Dustin's mother accompanied them on their honeymoon, and they live at Dustin's mother's house in the apartment downstairs. The Beans don't cook — their stove is off-limits, and they join Dustin's mother, Toni Wainwright, upstairs for dinner. When they don't see eye to eye, Wainwright steps in as mediator.
Dustin Bean, 34, has Down Syndrome, a chromosomal error that results in diminished mental and physical abilities. Thirty-two-year-old Katie Bean, who was adopted at birth, has fetal alcohol syndrome, a condition resulting from exposure to alcohol during the mother's pregnancy. How the condition affects people varies, but in the case of energetic, fun-loving Katie, she is slow to process what people are saying, verbalizes all her thoughts, has trouble with concepts such as math, money and time, and has difficulty with problem solving and perceiving consequences, according to her mother, Gail Burgoyne of Longview.
Neither has a job, and both collect disability payments. Despite their impairments, they're clearly devoted to one another — but their march to the wedding aisle wasn't a quick one.
Katie and Dustin first met in 2005 at a bowling event at LifeWorks, a local nonprofit agency that provides services and recreation activities for people with disabilities. The former competitive swimmers hit it off right away.
"My instincts told me there's something clicking with it, and it feels right," recalled Katie, a small-framed woman with glasses and a ponytail. "He probably would say the same thing."
They dated for a couple of years, and Dustin even gave Katie a promise ring. They enjoyed each other's companionship — Katie's quick thinking and talkativeness balanced out Dustin's reserved, thoughtful nature. Eventually, however, the relationship didn't work out, and Katie began dating other people.
"It broke Dustin's heart," Wainwright said.
His close-knit family encouraged him to go back to the social club to make other friends, but Dustin refused.
"He'd always say, 'No, I love Katie. She's in my heart. I don't want to meet anybody,' " Wainwright said.
Dustin told his sister, Kelso High School art teacher T.J. Frey, that Katie was the love of his life, and that one day he would marry her. When Frey told him it was good to set goals, Dustin said his three goals were to get his black belt in Kung Fu, marry Katie and be in a movie, Frey recalled.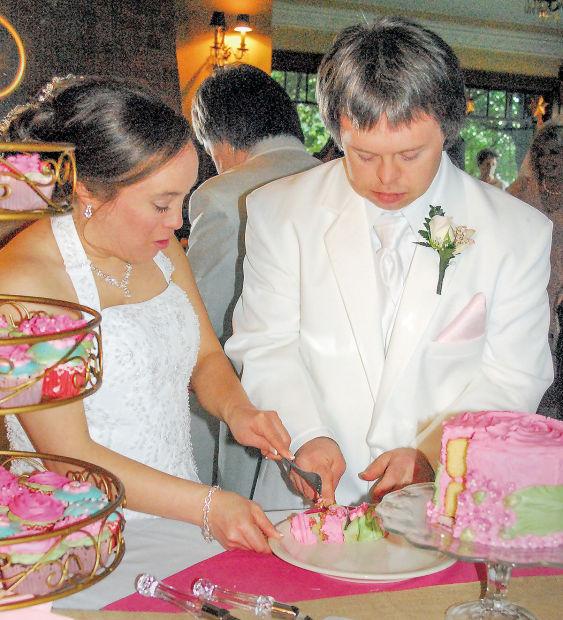 Dustin stayed focused. In April 2012, he passed his black belt exam at The Academy of Kung Fu after 13 years of training. And he was on his way to achieving his second goal — he and Katie had reunited in fall 2011 and were talking about marriage. Wainwright told her son and Katie that if they were serious, they could talk about it again in a few months.
They kept talking about it.
"Katie would say, 'Dusty and I want to get married. Why shouldn't we be happy?" Wainwright said, adding that Dustin was equally determined.
"When he makes up his mind, that's what he's got planned, and it's not going to go any way left or right," she said.
Katie's parents, who live about 4 miles away from the Beans, are thrilled at the match.
"She had a really good companion that I trusted with her," said Gail Burgoyne, whose husband is retired Longview Fire Battalion Chief Ralph Burgoyne.
The family had prayed Katie would find someone she loved who loved her back, and that they would be a couple, Gail Burgoyne said, "and it happened."
"She couldn't have found a nicer guy," she said. "He cares a lot for Katie and wants to protect her and be with her, and she likes that. … I just think it's what was supposed to happen."
Wanting to ensure Dustin and Katie understood what it meant to be married, Wainwright allowed Katie to move in to the "mother-in-law" apartment downstairs, where Dustin's late grandmother had lived. Because Katie and Dustin are church-going Christians, they agreed not to have sex before they were married.
They continued to enjoy each others' company, and wedding plans progressed.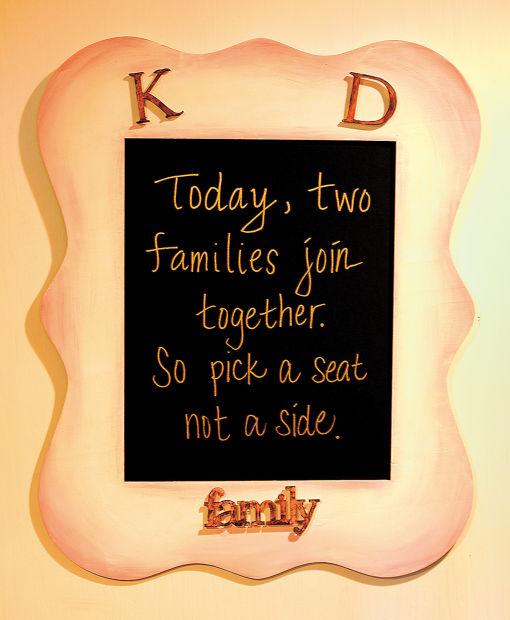 On Feb. 1, Dustin and Katie took their marriage vows before more than 150 guests at Longview's historic Rutherglen Mansion overlooking the Columbia River. Katie wore a pearl-and-lace-embellished white gown with a long train and a tulle veil, and Dustin wore a white tuxedo.
Wedding guests showered them with gift certificates and cash, which the couple will save for a trip to Disneyland. One very special present arrived from Linda Lee Caldwell, widow of Kung Fu master Bruce Lee. Caldwell had visited Dustin in June 2012 after reading The Daily News' story about Dustin's quest to earn his black belt, like his idol, Bruce Lee. Caldwell's gift to the Beans was a 15-inch-tall animatronic Bruce Lee doll, which the Beans plan to display prominently in their apartment with Katie's doll collection.
The newlyweds spent a week honeymooning in Newport, Ore., and now are getting settled into married life at home.
There's no talk of babies. Katie underwent a medical procedure that left her unable to bear children, and most men with Down Syndrome are sterile. Wainwright said if Katie had been fertile, she would have had Dustin tested — and if necessary, he would have to get a vasectomy.
She acknowledged some people might say she wouldn't have the right to prevent her son from fathering children, but she believes it would be the responsible thing to do. Parents of special needs children "need to use a lot of wisdom," she said.
"I know that he wouldn't be able to take care of a baby," said Wainwright, adding knows she would have ended up raising the child.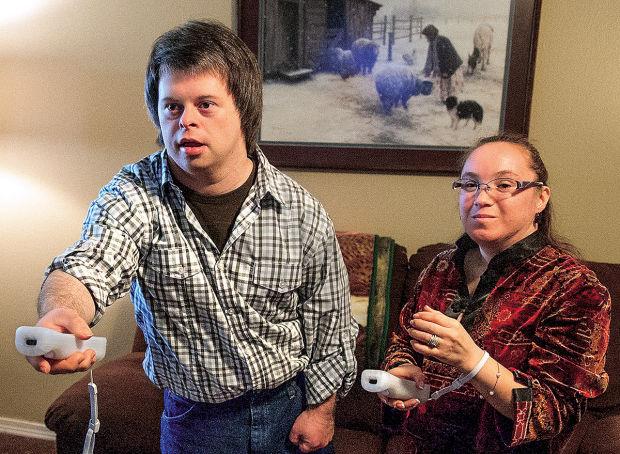 Instead, Dustin and Katie are looking forward to getting more pets. They've already got four small fish, which they've named Candycorn, Sunny, Tiger and Earth.
Wednesday, the couple gave visitors a tour of their apartment, which is decorated with animal figurines, family photos and their Special Olympics swimming medals. Katie spread out their "Twilight" DVD series on the living room rug and talked about how much they get into the movies.
"You watch these shows and it feels like you're in it," she said.
She and Dustin have an easy, affectionate rapport, and they understand each other.
"If I break down crying or if I feel angry, he's nurturing. He's there for me. He's not like any guy I've ever known," Katie said.
He would do anything for her — even hang her clean laundry on hangers, a task he formerly avoided.
"She's special to me," Dustin said simply, taking a Smarties candy out of the wrapper and carefully placing it on her knee. "I know how she feels."
Amy M.E. Fischer covers Longview city government and local retail businesses for The Daily News. ​Reach her at 360-577-2532 or afischer@tdn.com.