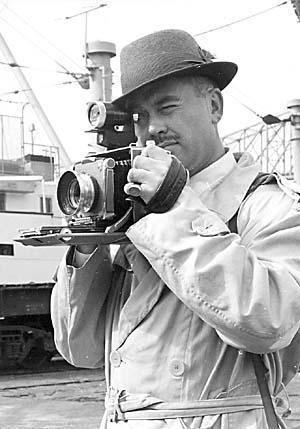 Former Daily News photographer Jan Fardell took tens of thousands of photographs in his lifetime, and some of his family's favorites will be on display Thursday night (Nov. 7) at the Cowlitz County Historical Museum.
Fardell, who died in 2005 at age 85, was born in England and grew up in Ontario, in eastern Canada. He initially trained in photography by the Royal Canadian Air Force and later at the New York Institute of Photography.
He was injured while training for the Battle of Britain in a Halifax bomber. His injuries kept him out of the Battle of Britain, but the mishap may have saved his life. He trained as a coast watch pilot instead.
He and his wife, Gertie, stopped in Longview after the war while on their way to California.  While staying here with friends, he was hired as a photographer by the McClelland family, which then owned The Daily News. He was the newspaper's only photographer for many years and continued working part time until 1987.
After that, the dapper man with the natty mustache continued his freelance work, going up in an airplane to shoot crisp aerial photos of local industries until two weeks before he died.
Fardell's sons Tony and Kim Fardell donated tens of thousands of images from his private collection to the Cowlitz County Historical Museum for preservation and use by historians and writers. They will present their favorites at 7 p.m. at the museum, 400 Allen St. in Kelso.
Contact City Editor Andre Stepankowsky at 360-577-2520.
Get local news delivered to your inbox!
Subscribe to our Daily Headlines newsletter.