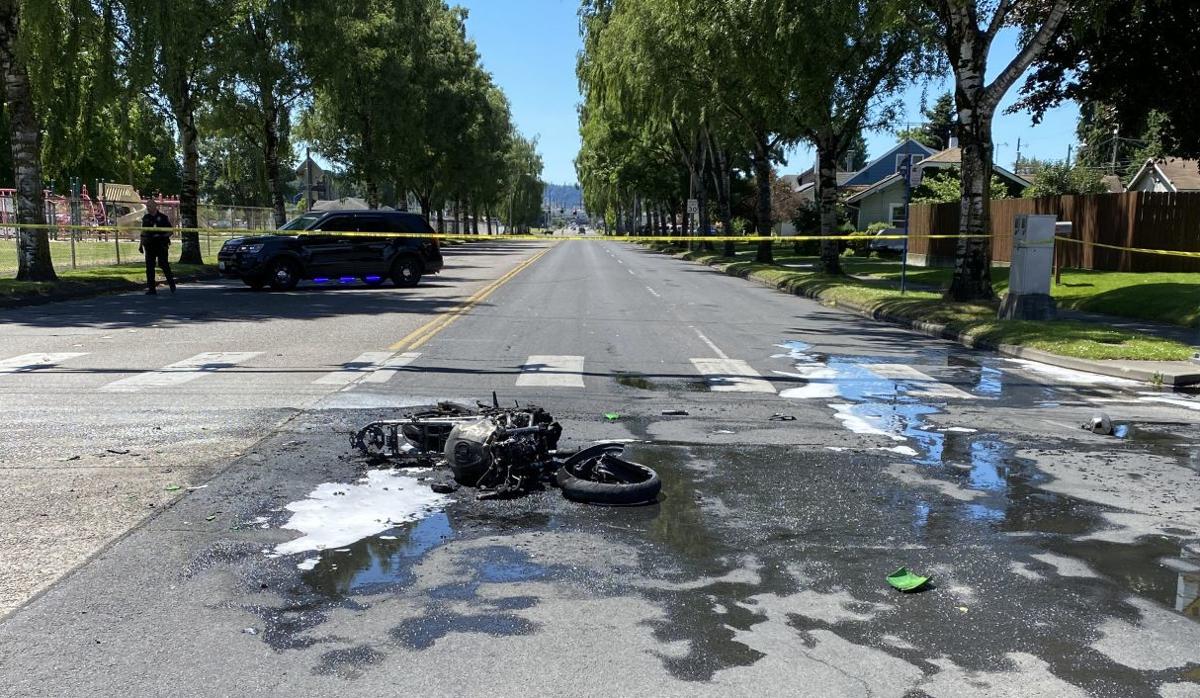 A motorcyclist died Thursday afternoon after colliding with a passenger car at the intersection of Washington Way and 28th Avenue, according to Longview Police and Fire Department officials.
The adult male motorcyclist's identity has not been released yet, pending notification of next of kin.
The driver of the passenger car, identified as a female, was also injured in the collision and taken to St. John Medical Center for treatment. Information on her condition was not immediately available. A passenger in the car was treated for minor injuries related to the airbag deploying, and she was released on scene.
Firefighters received a call at 1:30 p.m. that a motorcycle had struck another vehicle on the driver's side, Longview FD Battalion Chief Eric Koreis said, and soon after 911 callers reported that the motorcycle had caught fire.
Fire units began arriving on scene at 1:35 p.m. Longview police officers were already on scene performing CPR on the motorcyclist, who was unconscious on the ground, Koreis said. The patient died at the scene from traumatic injuries.
The motorcycle, destroyed by the collision and fire, was extinguished by first responders. The passenger car also had extensive damage to its driver's side.
Police closed roads in the area to investigate the collision, and the roadway was re-opened by 3:30 p.m., according to a Longview PD Facebook post.
Koreis couldn't confirm as of late Thursday afternoon who was at fault in the crash, or whether drugs or alcohol were involved. Longview police are investigating the cause and circumstances of the collision.
Witnesses of the collision who have information for investigators are encouraged to contact Longview PD officer Adam Surface at adam.surface@ci.longview.wa.us.