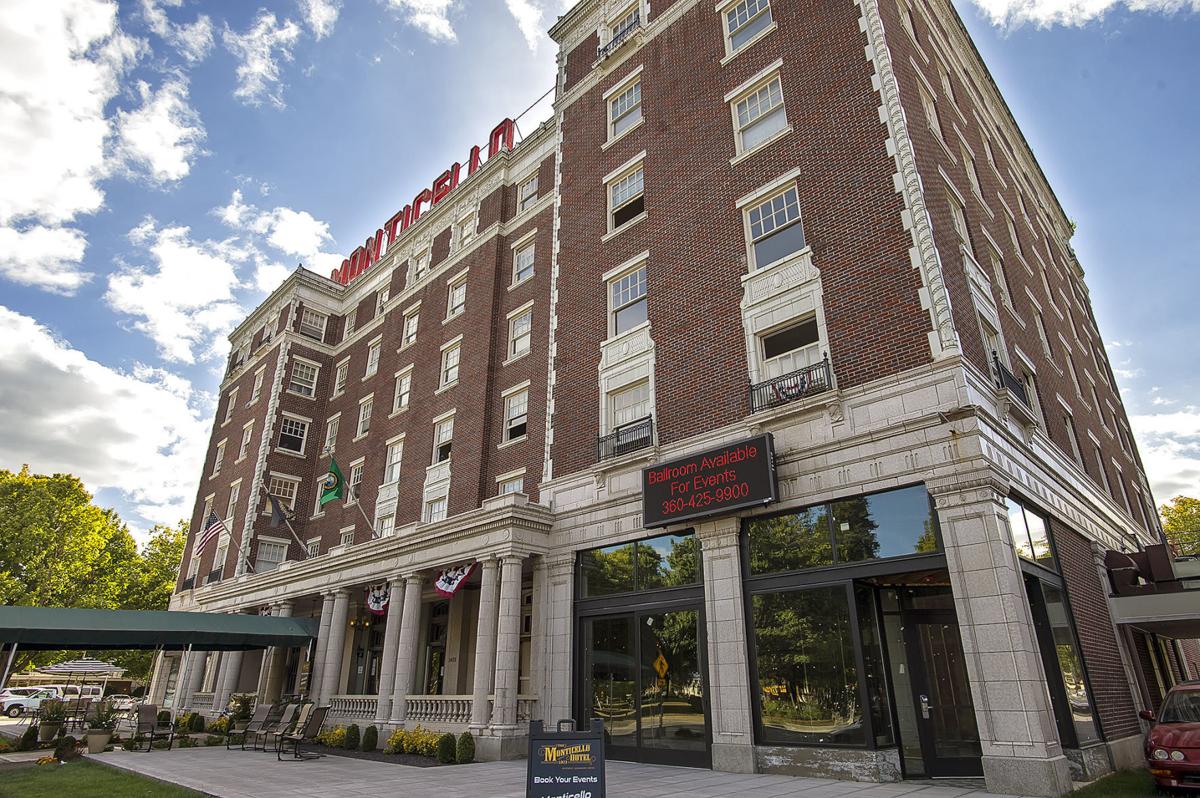 A Kelso property management company has taken over leasing management of the historic Monticello Hotel and will start accepting tenant applications this week for 14 apartments, some of them recently renovated.
Catlin Properties Inc. last week finalized an agreement with the hotel to find tenants for residences above the first floor, Catlin Properties owner Ray Pyle said Monday.
Craig Dieffenbach, who oversees renovations to the Monticello, approached Catlin Properties to be the leasing manager, Pyle said.
"(The hotel) is the crown jewel of Cowlitz County," Pyle said. "It's beautiful. It's historic. And Craig has done a fabulous job of bringing so much of it back. … It's time to get it filled up and get the right tenants in there."
The Monticello Hotel was one of the first major buildings erected in Longview when the town was founded in the early 1920s.
The hotel has 68 units, 14 of which are currently vacant, Catlin Properties Commercial Property Manager Niki Favela said Monday.
Some of the apartments were recently renovated and are "luxury living," whereas others are smaller and weren't recently upgraded but are affordable and "adorable," Favela said.
You have free articles remaining.
The available apartments range from $900 to $1,500 a month. And they range from 750 square feet to 2,000 square feet. Each apartment has a different floor plan and different views, some overlooking R.A. Long Park, Favela said.
Pyle said he expects to have tenants from Vancouver and Portland.
Catlin Properties will not be involved with the restaurants or maintenance and upgrades to the apartment rooms. However, Favela said the company would like to be the property manager some day.
"We partnered with them, and we hope to grow that partnership in the future and work closely with them," Favela said.
A representative of the corporation that owns the Monticello Hotel confirmed in October that the building is listed for sale. At the time, it was listed for $9.25 million — almost $6.5 million more than the corporation bought it for in 2016. The listing on LoopNet, the commercial real estate site marketing the building, was last updated on Jan. 14 and still had the price at $9.25 million.
Previous Daily News articles estimated that the investors spent about $7 million to buy and renovate the building.
Pyle said he didn't know of any prospective buyers at the moment.
"In terms of us, in this business, X-amount of properties are always for sale. It's always fluid. Our goal is to do a super good job so when the new owner comes on, we get to stay on. We're investing in that future," he said.
The website to apply to be a tenant was expected to go live Monday afternoon or Tuesday, Favela said Monday morning. Prospective tenants can visit the Monticello Hotel website, which will then link them to Catlin Properties to apply.