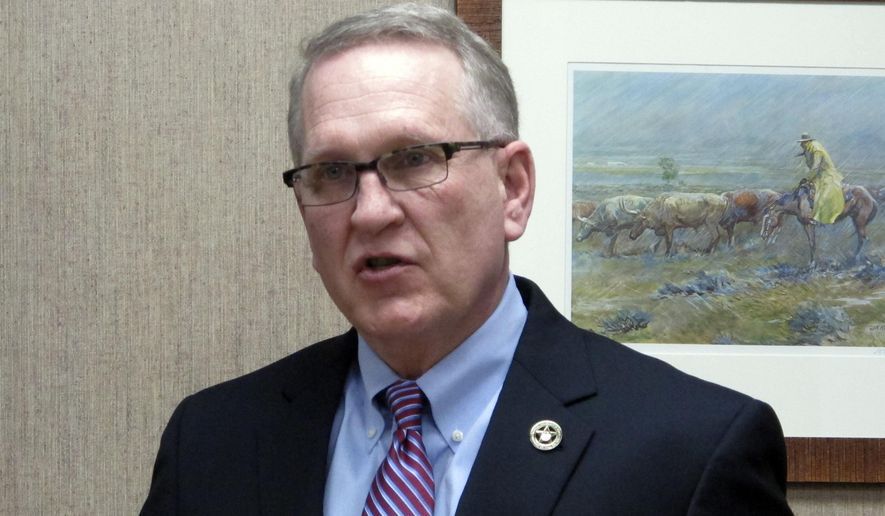 Millennium Bulk Terminals' blocked attempt to build a coal terminal in Longview has made the opinion section of The New York Times.
The nation's biggest newspaper published an online editorial Thursday penned by Montana Attorney General Tim Fox that accuses Washington Gov. Jay Inslee of engaging in "a pattern of discrimination" to prevent the export of coal through Washington.
"This is bad news not only for international trade and the Americans who benefit from it, but also for global efforts to reduce greenhouse gas emissions," Fox argues in the piece.
The high-profile attack on Inslee is yet another reminder that the battle over the Millennium coal terminal is still far from over.
Fox is one of six state attorneys general who filed a joint amicus brief early last month in support of a federal lawsuit against Inslee's administration over the denial of key permits for the Millennium project. Millennium's parent company, Lighthouse Resources Inc., is arguing the permits were arbitrarily denied in violation of the Commerce Clause in the U.S. Constitution.
The company is now seeking a court order that would effectively require state regulators to approve Millenium's permit applications for the proposed $680 million export facility.
At full buildout, the terminal could transport 44 million metric tons of coal from Lighthouse's mines in Montana and Wyoming to Asian markets.
But Inslee's attorneys have argued the permits were appropriately denied because the project's environmental review identified a range of unavoidable adverse impacts.
"The Inslee administration believes in science and data," the governor's office told The Daily News in response to the Times op-ed piece. "Our agencies make permitting decisions based on the facts established through a thorough but objective review process."
The state denied a key water quality permit for the coal terminal based on what it said were nine significant impacts the project would have on the environment. The terminal, according to the state Department of Ecology, would worsen air quality, vehicle traffic, vessel traffic, rail capacity, rail safety, noise pollution, social and community resources, cultural resources and tribal resources.
Columbia Riverkeeper — an environmental protection group and intervenor plaintiff in the federal suit — also tied Fox's editorial to Cowlitz County Commissioner Dennis Weber's recent trip to Washington, D.C.
"The op-ed by Attorney General Fox is a ripple effect of Commissioner Weber's lobbying efforts in Washington, D.C. on behalf of Millennium and against Washington state's right to enforce its environmental and public health protections," Jasmine Zimmer-Stucky, a senior organizer with Columbia Riverkeeper, said in a statement Thursday.
Nearly 50 demonstrators assembled on the steps of the Cowlitz County Administration Building last Friday in protest of Weber's efforts.
When asked to respond, Weber said Thursday that he agreed with Fox.
"I think the attorney general is spot on," Weber said.
Weber added that U.S. Army Corps of Engineers officials told him on his trip to the nation's capital that the agency was within 10 days of releasing its own environmental review of the project when the state Department of Ecology denied a federal water quality certification last September.
Federal officials had already started negotiating with Millennium on how to compensate for the project's significant environmental impacts when the permit was rejected, Weber said.
"That stopped the federal process," he said. "It's just another example of Olympia playing games."
Weber also maintained that his first obligation as a county commissioner is to uphold the U.S. Constitution.
"That's what my oath says," he said.
Fox argues that the relatively low-sulphur coal mined from the Powder River Basin of Montana and Wyoming burns cleaner than "lower-quality coal" produced by other major exporters, such as Indonesia.
The attorney general also notes that Japan and South Korea have already signed contracts for Powder River Basin coal in a shift away from nuclear power.
But Clark Williams-Derry, director of energy finance at the Sightline Institute, challenged Fox's assertion that Powder River Basin coal is somehow better for the environment. Williams-Derry said that while Powder River Basin may have less sulphur, it also produces less heat when burned.
"When you adjust for its low heat content, Powder River Basin coal produces about the same amount of global-warming pollution as pretty much any other coal," he said in a Thursday email. "In terms of greenhouse gases, coal is coal."
Get local news delivered to your inbox!
Subscribe to our Daily Headlines newsletter.