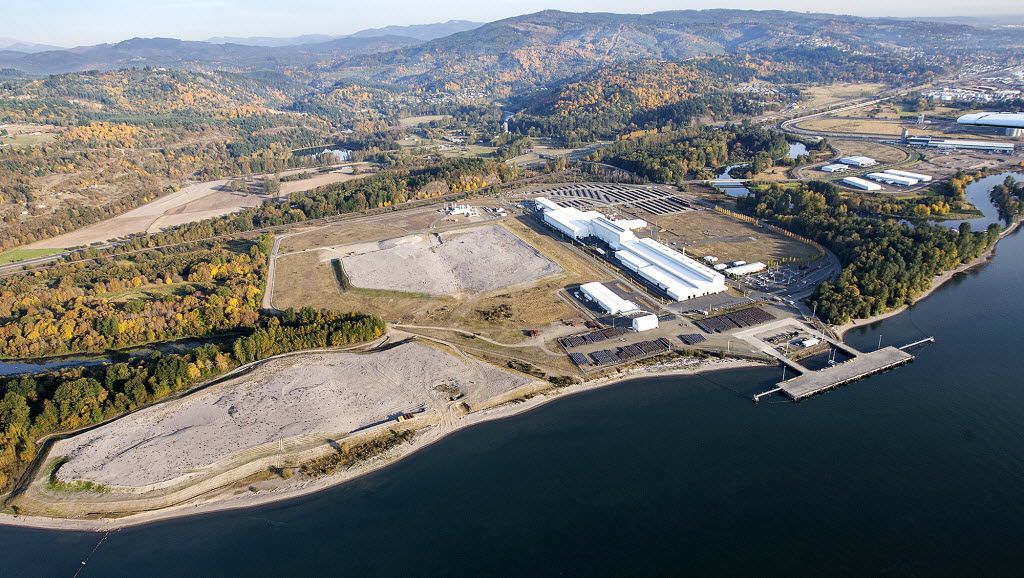 Responding to pollution concerns, the developer of the Port of Kalama methanol plant Monday announced it will switch to technology that will reduce the plant's water usage and eliminate the need to discharge any wastewater into the Columbia River.
Environmental groups had raised concerns that water used to cool plant equipment would be too warm for fish, and state Ecology officials said the discharge water may have violated tight health standards for arsenic, a potential toxin.
Northwest Innovation Works on Monday said it will adopt "zero liquid discharge technology" at the $1.8 billion plant, which it says will employ about 192 people. Cooling water will be distilled to remove minerals and other contaminants, leaving behind a "salt cake" that will be contained and disposed in a landfill. The distilled water will be recycled in the plant.
It will cost an extra $25 million to $30 million to build the new zero-discharge system, the company said.
The system would reduce the plant's water usage by about 411,000 gallons of water a day, according the company. That would leave the plant using about 4.6 million gallons of water daily, slightly less than a third of the Port of Kalama's water rights.
"We are deeply committed to protecting the environment and driving resource efficiency," Vee Godley, President, Northwest Innovation Works, said in a press release. By using Zero Liquid Discharge technology and previously announced methods to reduce carbon emissions, the company "continue(s) to make significant leaps forward in making environmentally responsible manufacturing a reality."
The new system will slightly increase the plant's power use by 1,835 kilowatts, to nearly 102 megawatts total.
"NWIW has shown great leadership by investing in new technologies that will make the Kalama facility more environmentally responsible," Ted Sprague, President of the Cowlitz Economic Development Council, said in a press release. "The decision to implement Zero Liquid Discharge technology further reinforces NWIW's commitment to building a safe, world-class facility, while also protecting our natural resources."
Critics said Northwest Innovation is introducing the changes because the state may have required it to comply with clean water standards for arsenic.
"Does it make a good project ... in our evaluation? No. But this is how the Clean Water Act protects the Columbia River," said Miles Johnson, water attorney with Columbia Riverkeeper.
Steve Eberl of the state Department of Ecology said the department did not ask Northwest Innovation to make the changes. However, the original plan would have allowed arsenic into the river beyond the very low standards set in the Clean Water Act, he said. (Those standards are actually lower than the amount of arsenic already found in the Columbia River.) Arsenic is naturally occurring in the well water the plant will use.