The ground shook as if Atlas thought the Earth was a snow globe. The ocean stretched its claws into corners of the coast that had only seen rain before. Forests sank into the sea. People died.
The earthquake at the heart of that terror occurred off the Northwest Coast 315 years ago this week. And the next time it happens could be as soon as tomorrow — or many decades away.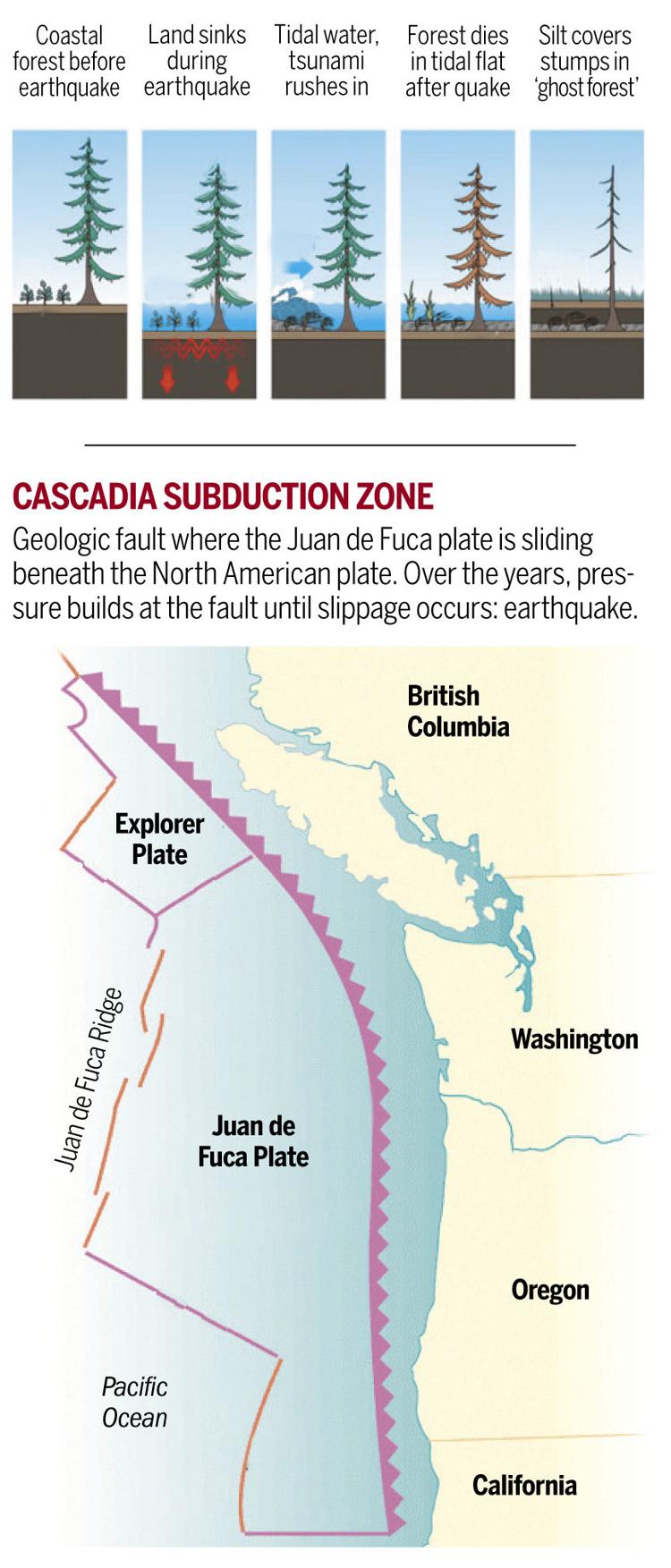 "It's probably just human nature that we have a teenager's sense of immortality, that bad stuff happens to other people but not to me," said Brian Atwater, a federal geologist whose work illuminating the last major earthquake here — in 1700 — raises the possibility that the next one is not far off.
"That's always a problem with earthquakes for a region like ours, where we don't get many. We tend to think of it as a California, a Japanese, an Indonesian problem."
But the next Cascadia Subduction Zone earthquake is possibly the greatest geological threat facing the region. Officials at the local and state level are developing plans and adapting to new knowledge and lessons from subduction zone earthquakes in Japan and Indonesia. Nevertheless, there's still no way to predict an earthquake beyond a few minutes out.
"A lot of the frontiers are in what you do with that information," Atwater said, implying that science can only do so much.
Subduction zone earthquakes, which largely strike the "Ring of Fire" around the edges of the Pacific Ocean, can reach magnitudes beyond 9.0, the most violent level. They're caused when an ocean plate slips beneath a continental plate, releasing a massive buildup of pressure. The 1700 Cascadia quake was so strong, for example, that it churned up a tsunami that swamped Japan.

These types of earthquakes and related tsunamis killed 230,000 in and around Indonesia in 2004 and 16,000 in Japan in 2011. (The Nisqually earthquake, which rocked most of Western Washington in 2001, was a different, much weaker kind of earthquake that didn't cause any fatalities.)
State emergency planners say the odds of a 9.0-magnitude earthquake happening here in the next 50 years are 1 in 10. So while gamblers might not put money on it striking tonight, there's just as much a chance it could happen in 2015 as in 2045.
The earthquake itself would present a "cornucopia of disasters," state Department of Natural Resources spokesman Joe Smiley said. Those would include building and road collapses; electrical fires and failures; floods; and communication breakdowns. But the worst of the side effects would be the tsunami waves that roll ashore.
"Unfortunately, the coast will take the brunt," said John Schelling, the state earthquake/tsunami program manager. "There's a lot of effort to get people up and down the coast prepared."
For example, Westport, in Grays Harbor County, is building a school meant to withstand a tsunami. And officials on the Long Beach Peninsula are hoping to build tall earthen berms where residents and visitors can take refuge from tsunamis. (Except for Cape Disappointment, the entire peninsula likely would be engulfed by tsunami waters.)
"I think we are getting more prepared. I think people are just becoming more aware of how dangerous the place we live can be," Smiley said.
The state wants to be ready before the next big one hits, Schelling said.
"We're looking at what needs are and potential impacts where we can plan pre-developed missions — people, medical supplies or field hospitals," Schelling said. "Once this event happens, they will already be en route."
The coast has been the focus of most earthquake planning, and a regional group of emergency planners and geologists from British Columbia to Northern California last updated its hazard assessment in 2013. Earlier assessments probably underestimated the hazards, Schelling said.
Tsunami waves now are predicted to be up to 40 feet high along the coast, where water would move inward for up to an hour following an earthquake. Tsunami waves in Japan reached as high as 130 feet in 2011.
The increased focus on tsunamis has led coastal communities to make plans for the disaster. Ubiquitous blue tsunami warning and evacuation signs now dot the coast. Cellphone alerts and sirens are in place. But emergency planners stress that individuals must prepare, too. Schelling said picking up one major emergency supply per month can make the difference.
"With just a series of small things over time, you can get ready for a 9.0 earthquake. It's going to be those small things you do that are going to make all the difference."