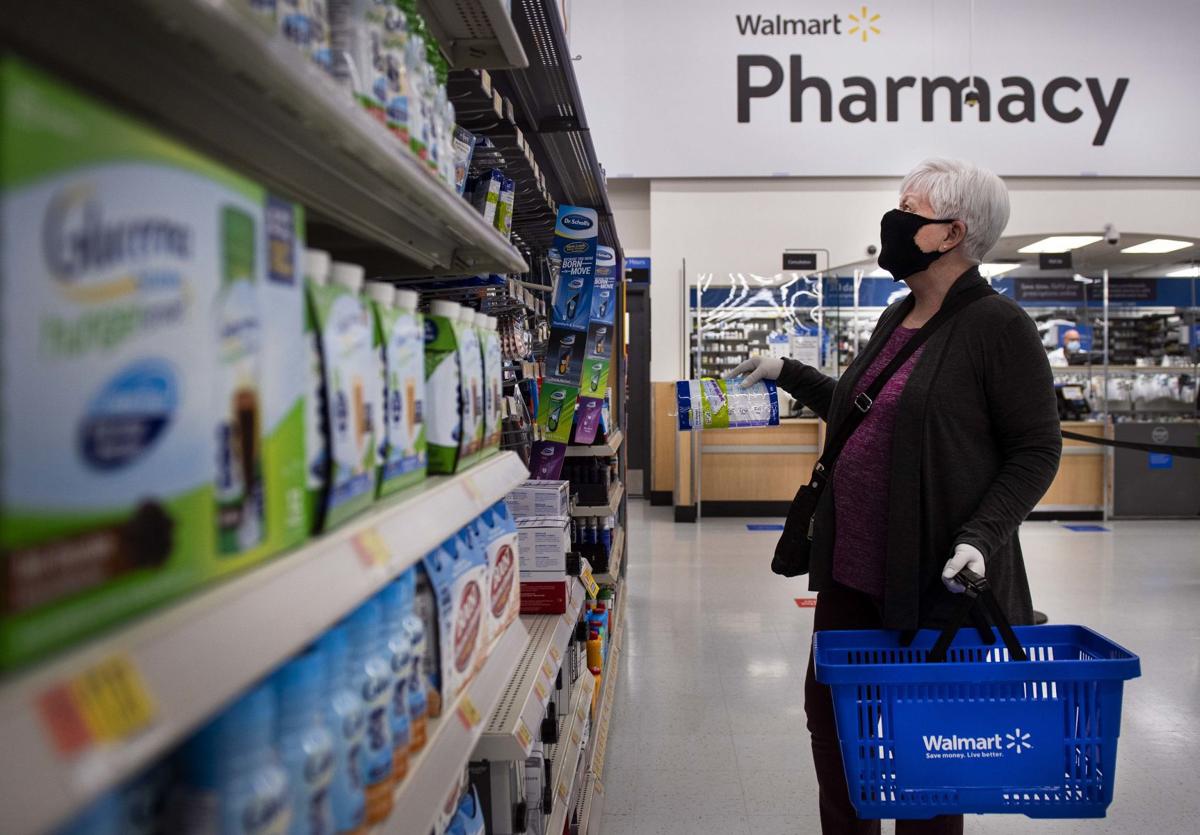 Gov. Inslee's order — and perhaps a little fear — seem to have turned the tables on wearing face masks in Cowlitz County.
The state and county's rising rate of COVID-19 infections this month prompted Gov. Jay Inslee to make wearing masks mandatory in public starting last Friday. The effects of those legal and medical realities were apparent in informal, non-scientific TDN surveys taken about six weeks apart.
An informal count at Lowe's, Walmart, Target and WinCo on Monday found 346 of 488 shoppers wearing masks, a compliance rate of 71%. That's nearly the opposite of a survey of nearly 300 shoppers at those same stores in mid-May, when 72% of the shoppers observed were not wearing masks. At the time, Cowlitz County had fewer than 70 cases of the coronavirus and was going days without new infections.
Those who wore masks Monday cited civic duty and a need to protect public health, while those who did not said they valued the freedom to choose.
A local healthcare worker shopping at Target said she wore a mask to keep her patients safe, even though she does not agree with a statewide order. She declined to give her name.
"I'm not really a fan of (the mandate), but some places do need it," she said, adding that medical professionals do recommend wearing face coverings.
At Lowe's, social distancing is easier than at a smaller grocery or convenience store, but shopper Brit Andersen said Monday he felt everyone inside the store should wear a mask.
"I think it's crazy not to," said Andersen, a masked 54-year-old Oregon resident. "To me, it's not an issue at all. My glasses steam up sometimes, but that's the least of my concerns."
The count at Lowe's found 97 shoppers wearing masks and 50 shoppers without them.
Andersen said he didn't believe it's a violation of his civil rights to be mandated to wear a mask, but "I do think it's my civic duty to wear a mask."
"We have a responsibility to other people to wear them," he added.
Jim Robinson, a 74-year-old Cathlamet resident who wore a mask at Lowe's, said it's "probably a good idea" for people to do so. He said he'll be glad when a vaccination for COVID-19 becomes available.
A count of 150 shoppers at Target showed 105 people wearing masks. Most people took their masks on and off at their cars.
However, a woman at Target who declined to give her name said she chose not to wear a mask because she felt COVID-19 is getting too much attention and because Americans are not accustomed to wearing face coverings, unlike people in some Asian and Middle Eastern cultures.
"It's just never been part of my culture to wear a face covering, and now you're telling me I have to?" she said.
She said she's concerned about losing freedoms under pandemic restrictions, saying she hopes "we don't become like those other countries we fought against to get our freedom."
Nationally, mask-wearing has become political, with Democrats more likely to wear them than Republicans, according to an April Gallup poll. The continuing expansion of the pandemic, though, seems to be increasing pressure to don masks.
Over the weekend, several people called local police to report mask violators. While callers requested arrests or citations, officers have been focusing on educating those who break the rule, according to police call logs.
"I told (the reporting party) that our goal was to educate the public about the order and why wearing masks was important," a call log report from Castle Rock said Saturday. "I also reminded (her) that the order has only been in place for two days."
Other calls to police included a man in Kelso who was upset that he was not allowed in a business without a mask even though he had a medical exemption and a Woodland business reporting that after asking a mask-less man to leave, he threatened to burn the store down and assault employees.
However, there are medical exemptions to the mask mandate, and health officials have cautioned against "mask shaming" others, as their medical status might not be apparent.
At WinCo early Monday afternoon, 83 of 110 shoppers wore face masks. Many removed their masks as they stepped outside or put them on right before entering. A handful of shoppers were wearing bandannas or scarves over their faces instead of the typical cloth face masks or surgical masks.
Meanwhile, 61 of 81 shoppers counted at at the Ocean Beach Walmart in Longview wore masks, for a compliance rate of 75%. Ashley Roggow removed her mask almost immediately after leaving the store with fellow Kelso resident Jeannie Gordon.
"I get a little bit claustrophobic. ... But if she was a stranger, I'd probably still have my mask on," said Roggow, 34. "I have three kids, so I worry what I might bring home to them."
Gordon continued to wear her mask while loading up her vehicle with groceries.
"We have to get rid of this coronavirus, so if everyone could comply and wear a mask, we could get back to normal," Gordon said. "If this is all we have to do to help the older people ... it's a pretty easy thing to do."
Gordon added that her mask doesn't bother her much.
"It just kind of becomes a part of you" after a few minutes of wearing it, she said.
Other Walmart shoppers noted drawbacks of wearing masks. Crista DeMicon, an Oregon City resident in town visiting her daughter, said it is harder to breathe in her mask and sometimes her glasses fog up because of it. Still, DeMicon kept her mask on to shop and load her car.
"It won't really protect, but it will help slow the spread," she said.
She estimated that about half of the people she saw while shopping weren't wearing masks, despite signs posted on the door explaining that masks were required to enter.
Vickie, a Clatskanie resident who declined to give her last name, said it frustrated her to see shoppers without masks.
"If there is a rule, everyone should have to follow it. And (the employees) should make sure they follow it," said Vickie, who wears her mask "only because they say I have to."
A corporate Walmart spokesperson told TDN on Monday that the stores follow all local and statewide mandates, but customers play a part in keeping workers and each other safe.
"Maintaining customer and (worker) safety remains our top priority. We encourage customers to be especially mindful of one another during this unprecedented time and adhere to recommendations and decisions made by local officials regarding the use of protective facial coverings while in public spaces," the spokesperson said.
Drew, a Cathlamet resident who declined to give his last name, wore a light surgical mask to the store Monday. Although he has asthma, which could exempt him from wearing a mask, he chose to keep his on while shopping.
"I think it's probably a good idea, considering what's going on," Drew said of requiring masks in public places. "It's a pain in the ass, but it's probably a good idea."
— Reporters Alex Bruell, Katie Fairbanks, Mallory Gruben and Marissa Heffernan contributed to this story.
Get local news delivered to your inbox!
Subscribe to our Daily Headlines newsletter.