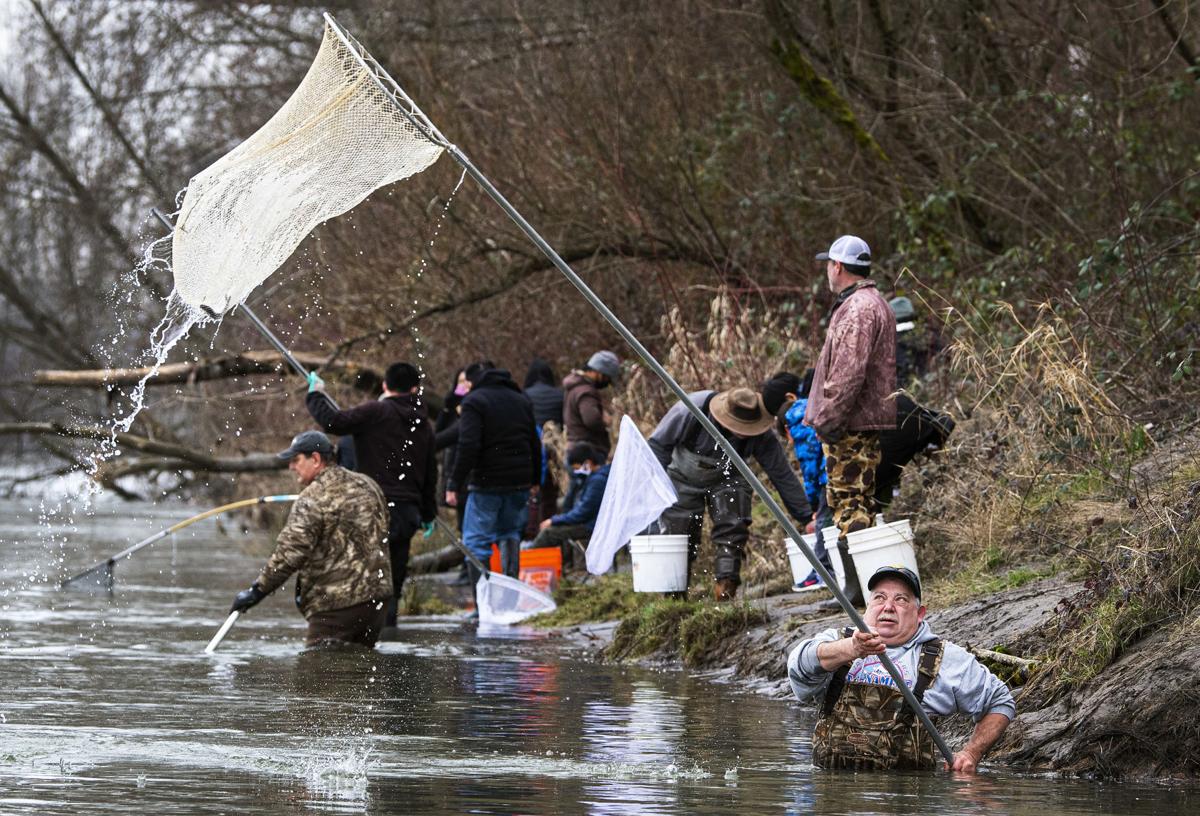 Shrieks of laughter nearly covered the rumble of passing trains down by the river at Gerhart Gardens Tuesday as people took advantage of a one-day smelt fishery.
Just before noon, about 50 people were on the Cowlitz River's banks, nets dipping in and out of the water in search of Columbia River smelt.
Sandy Aina was standing on the beach, teaching the kids in her family how to dip for smelt.
"Dip your net lower, they're closer to the bottom — there you go!" She shouted as the net came up with a handful of silvery fish flopping around inside.
Aina, from Longview, said she comes out every time every time a fishery opens, but this was the first time for the kids.
"It's good this year," she said. "Last year, the one on Valentine's Day was very good too, but the one in March wasn't as good."
After a half hour, Aina and her group were close to reaching the limit of 10 pounds of fish. She planned to head home and deep fry them, she said.
A few yards up river, Tyler Voorhees was having a little less luck.
After 20 minutes of effort, the Longview man showed off a bucket with a scattering of smelt and said leaky boots were slowing him down.
"I dipped a lot as a kid, but haven't for about 10 years," Voorhees said. "I've got leaky boots and that's cold water."
Nevertheless, Voorhees said he planned to keep at it until he got the limit or the fishery closed at 1 p.m.
Then, "I'll cook them up and enjoy them," he said.
Washington Department of Fish and Wildlife fisheries manager Laura Heironimus said overall, it was a good fishery.
She said she was a little worried this morning because preliminary data indicated commercial landings are declining, but she said the final numbers aren't in yet and the recreational fishery was strong.
People from across the Pacific Northwest flocked to the Cowlitz River Tuesday for the one-day recreational smelt dip.
"As soon as 8 a.m. rolled around people were dipping and hitting their limits in minutes," she said.
Heironimus estimated there were 30 or so anglers in the water this morning, but by the afternoon most people were choosing to dip from the shores.
"There are a lot of happy fisherman and a lot of families out, too," Heironimus said.
WDFW set up 10 stations along the open fishery, which ran from the Highway 432 Bridge in Longview upstream to the Al Helenberg Memorial Boat Ramp, about 1,300 feet upstream from the Highway 411/A Street Bridge in Castle Rock.
The WDFW staff made sure every one respected the catch limit and also collected data, like the fish sex ratio in people's catches, the number of fish per pound and if the females have already spawned. They also recorded how many people were in each dipping party and how long they dipped before reaching the limit.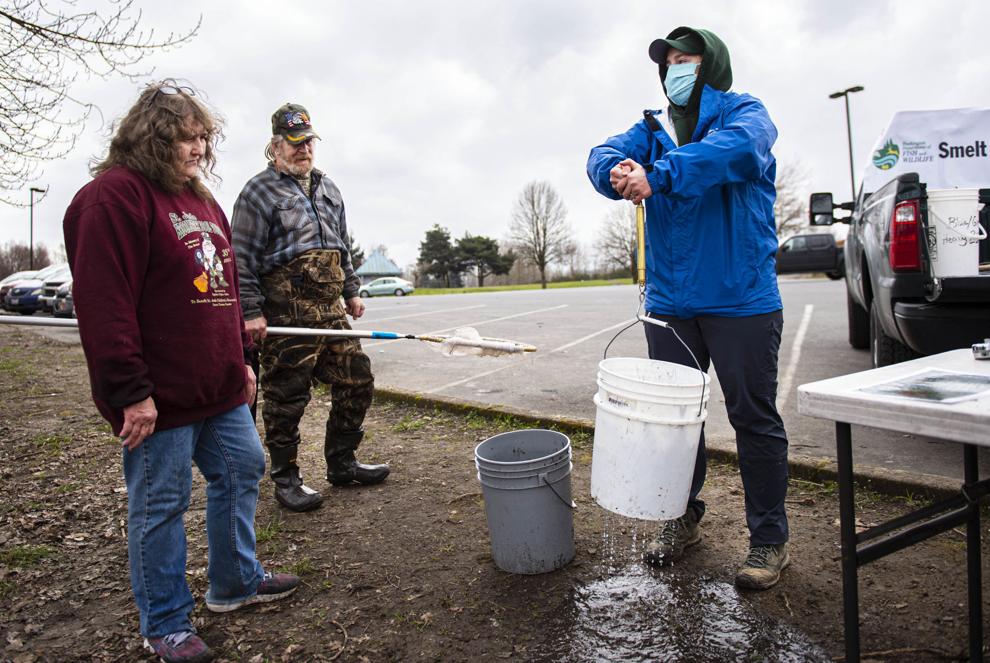 That data will help WDFW estimate how many pounds of smelt were caught later on, Heironimus said. Because of the multiple stations, she said she didn't have an estimate yet. Last year's recreational fishery sent dippers home with an estimated 35,000 pounds of smelt during the first of two fishery openings.
Heironimus said Tuesday the fish that came through her station were "looking good."
"They're mostly males, and the females that we see have already spawned, which is a good sign," she said.
As smelt spawn on beaches with coarse sand or gravel, spawning habitat loss is one of the big problems facing the fish and potentially contributing to declining populations.
Smelt have a range from Long Beach, Calif. to Chignik Lagoon, Alaska, but the Columbia River has a specific kind of smelt, also called hooligan or eulachon. Columbia River smelt are listed as threatened under the Endangered Species Act due to declines in run size in the last decade, which is why recreational fishing is limited to years in which the run size is exceptionally large.