It would be easy to picture Wilbert Winter's story as a series of sepia-toned photographs. He was a self-taught aeronautics engineer and pilot who met his wife building planes during World War II. A brakeman on Montana's Great Northern Railroad. A harsh man who never spent a cent on credit in his 91 years.
Breaking out of that vintage hue is a bright-red tribute befitting the self-made man: a flyable scale model of a Stinson Reliant he painstakingly assembled on lonely nights away from his family. But Winter's legacy won't be complete until the aircraft's tiny radial engine has the model puttering in the sky.
Despite all the hours Christle England's father spent in and around airplanes, the Reliant never got off the ground. So she's looking for someone to make it fly — as one last flight for her dad.
"I just think my dad would have liked to have it flown," said England, of Lexington. "It's been in that box in storage. It's never been flown. And it just seems a shame. It should be flown. And if it crashes and burns, it crashes and burns — and at least it's done what it was meant to do."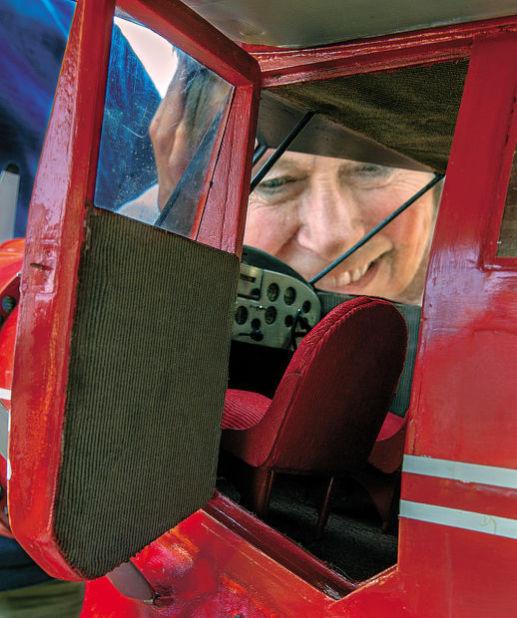 Winter put together the model plane from a kit in the 1950s, when he was a mountain range apart from his family. He built a custom box for the model and its six-foot wingspan and only took it out of its box to show it off a few times in the past 60 years.
But now that he's gone, his three daughters need someone to make it fly, or even a museum to hold it. For them, it's a memory that's waiting to be completed.
"I remember staying with him in Cut Bank (Mont.) when he was building it, and it was sitting on a table just bare bones," England said.
Her eyes welled as she told the story of her father, a child of German immigrants, a teen obsessed with planes and motorcycles while homesteading in rural South Dakota in the 1930s.
"When he was 19, he and his older brother bought an old Harley-Davidson motorcycle and fixed it up — my dad was 6-foot-4 and Arnie 6-foot-7 — and drove that motorcycle from South Dakota to Los Angeles because they wanted to build airplanes."
They found jobs at Douglas Aircraft Co. (later McDonnell Douglas, which merged with Boeing in 1997). The brothers survived on peanut butter and traded off sleeping on a single cot for a year to save up for their own plane, a Cessna — and their own Harleys.
After only a few years or work and training at Douglas, "Bill" Winter was a wing foreman.
"It's taken adulthood to realize he must have been an extremely intelligent man," England said of her father, who had only an eighth-grade education.
When the war effort kicked off, Winter stayed in California supervising wing construction, taking special interest in one of his employees.
"My mother was a true Rosie the Riveter," England said. "She would crawl inside the wings and do the wing nuts and the glue inside the wings because she was really small. And that's how they met."
At one point, Winter found himself working on the wings for the first plane built specifically for a president. Designed for President Roosevelt, it featured an elevator, but F.D.R used it just once, as he was reportedly not a big fan of flying.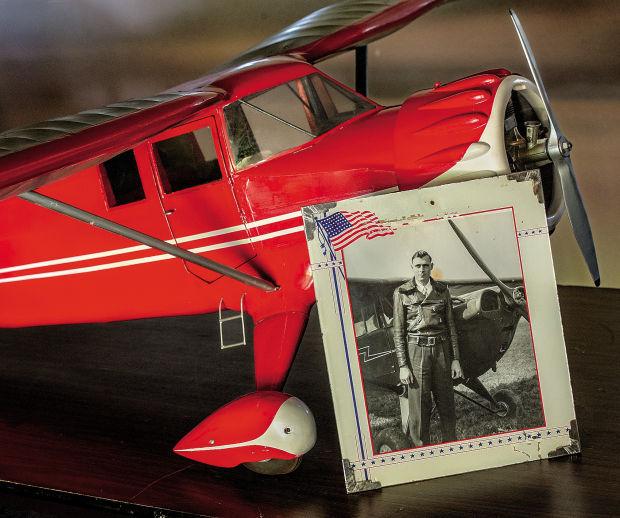 After the war was won, Winter was done building planes for lack of demand and moved closer to his wife's family. As his own family started to grow, Winter built a new and long-lasting home in Whitefish, Mont., and found work with the railroad as a brakeman, riding the Great Northern Railway alongside U.S. Highway 2.
"He had this apartment in Cut Bank (130 miles east) and didn't know what to do with his time," England said. "At home he was building a house and taking care of a family."
So he started building the Reliant from a box kit. Perhaps he missed his own plane, which he sold when he left California, or just needed to stay busy even after a hard day's work getting trains across Glacier National Park.
Like everything else he bought, it wasn't suitable as-is. He carved out extra ribbing in the wings, knowing from his own full-scale building expertise it would add to the plane's aerodynamics. And the wires used to control the plane in flight — it's a control-line model, not remote controlled — have held up over the years.
For whatever reason, though, it never flew. He built a custom box to house the Reliant and that was that.
"He's told us many, many stories but not a lot about this," England said.
And those stories were hard-won. England married and moved to Wenatchee after high school, and her father grew distant, especially after remarrying later in life. But he had always been a stoic.
"He was a very difficult man, very German down to the bottom," she said. "If it rained outside and he decided the sun was shining, then by golly the sun was shining."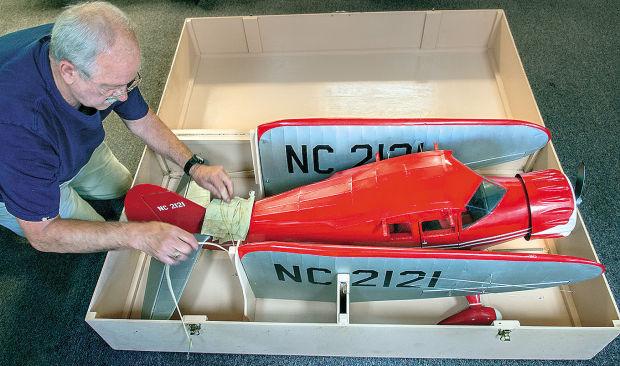 When a settlement came from the Libby, Mont., asbestos contamination, Winter threw the letter away. Rail workers and vermiculite mine workers in the town had been exposed for decades to the cancer-causing mineral.
"His lungs were like teeny tiny thumbs from asbestos," England said of her father's 20 years of problems with the toxic compound in his lungs. "But he said 'I got it, I'll live with it.' "
Her father spent the last year of his life with England and her husband in Longview, dying a month after turning 91 in January 2011.
But his determined daughter won't let him stay grounded.
"My husband and I are going to have our 50th wedding anniversary this summer," said England, who came out of retirement a second time to work with AmeriCorps. "I thought, wouldn't it be great if we flew that plane — recognizing the fact it might crash and burn — but we thought what's the difference that way or sitting in a box."
Brooks Johnson covers Longview city government, Cowlitz PUD and Lower Columbia College for The Daily News. Reach him at 360-577-7828 or bjohnson@tdn.com.