Years of searching and a few strokes of luck reunited Longview Vietnam veteran Ron Matthews with members of his unit and the daughter of his friend who died in combat more than 50 years ago.
"To us, it's a really big deal," Matthews said of recent reunions.
Matthews, 71, lost contact with members of his unit once they returned home. His efforts over the years to find the family of his friend James Castleberry, who died in an ambush, led Matthews to several other members of his brigade.
Darrell Eagan, 72, who now lives in north Texas, had the same idea as Matthews. They reconnected in 2013 and now consider each other "adoptive brothers." The pair have most recently tracked down another member of their unit, Bill Van Dyke, who was on patrol with them on the day of the ambush.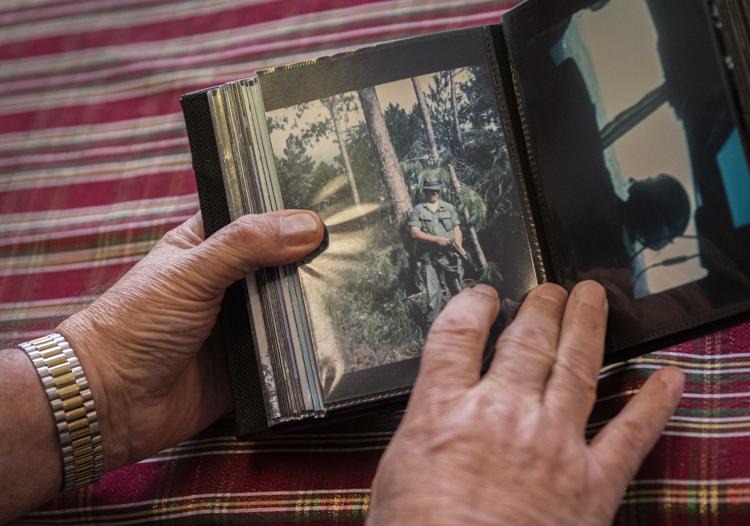 "It's like finding a gold nugget every time," Eagan said Tuesday at Matthews' Longview home, where he's been visiting during Thanksgiving.
The reunions allow the men to exchange stories and renew the comradery of their unit, Matthews said.
"When Bill came, his wife said, 'I have heard more in the last hour about Vietnam than in 18 years of marriage,' " he said.
Matthews said soldiers weren't treated well when returning home from Vietnam and didn't talk about their experiences until about 10 years ago. Talking about it now is bittersweet, he said.
"We did a lot of scary stuff, but you had to do it," Matthews said. "But we had a lot of good times, too."
Matthews and Eagan both enlisted in the Army. Matthews was in Vietnam for 19 months; Eagan was there eight months.
They trained as radio repairmen, but they ended up serving as security at a microwave hill compound.
On May 31, 1968, Castleberry died while accompanying a convoy. Matthews had been sent into town so he wasn't on the patrol, but Eagan was caught in the ambush.
You have free articles remaining.
Castleberry's wife was pregnant at the time, and his daughter Jamie Castleberry Dickey was born in September 1968.
In 2009, Matthews got in touch with Dickey through a Vietnam Veterans Memorial website that allowed users to search for names listed on The Wall in Washington, D.C., and post comments. In her post on the web site, Dickey had asked for information from anyone who served with her father. He told her that Eagan,whom he still had not reconnected with, would be the best person to talk to.
Eagan, as it turned out, visited the same website in 2013 and saw the messages from Dickey and Matthews.
"I had been trying to find Darrell for 30 years," Matthews said. "Two months later he sends me an email."
Eagan has visited Dickey and Matthews several times during the last few years. He said Dickey has "adopted" him and Matthews and sends them cards on Father's Day.
In 2018, he organized a memorial for Castleberry in Austin, Texas, where Dickey lives and is near Castleberry's gravesite. Held on the 50th anniversary of Castleberry's death, it also served as a reunion for soldiers who served at the radio site.
Eagan said the intent was to get closure for Dickey, as well as honor those who served at the site. This year, they found and met Van Dyke, who was injured during the ambush.
Matthews said he had given up trying to find Van Dyke, but Eagan renewed his efforts and tracked him down in Seattle. Although he didn't remember Eagan when he first reached out, Van Dyke agreed to meet him and Matthews. Matthews and got "more and more excited" as the date drew closer.
"Fifty years melts away pretty fast," Matthews said of the reunion in Longview last month.
Eagan said they would like to find two others who were on patrol during the ambush, but he's not sure if they still are alive. It's would be difficult to track down all those in their unit because service members came and went the entire time, he said.
But both men said tracking down Castleberry's family, as well as the members of their unit they have found, has been well worth the effort.
"Getting to meet Jamie (Dickey) and finding Bill (Van Dyke) it's all pretty amazing," Matthews said.