Dwight Murray Mason broadcast news about the attack on Pearl Harbor, piloted bombers stateside during World War II, and held leadership positions in several local industries.
And on Monday, the retired Weyerhaeuser Co. spokesman and Longview Chamber of Commerce director reaches another accomplishment: He'll turn 100 years old.
About two dozen friends joined him for lunch Friday to celebrate, many of them members of "The Jolly Boys," a social club of professionals across industry, medicine and law that meets regularly at the Longview Country Club to discuss current events and civic concerns.
For his part, Mason attributed his long life in part to the fact that he's "never done too much stuff."
"I don't care how much you're making," Mason said. "If you're not having fun, it's no good."
An only child, Mason was born Dec. 31, 1918, in Willard, Mo., but moved with his family to Kansas before he was a year old. They moved often for his father's work in the railroad industry.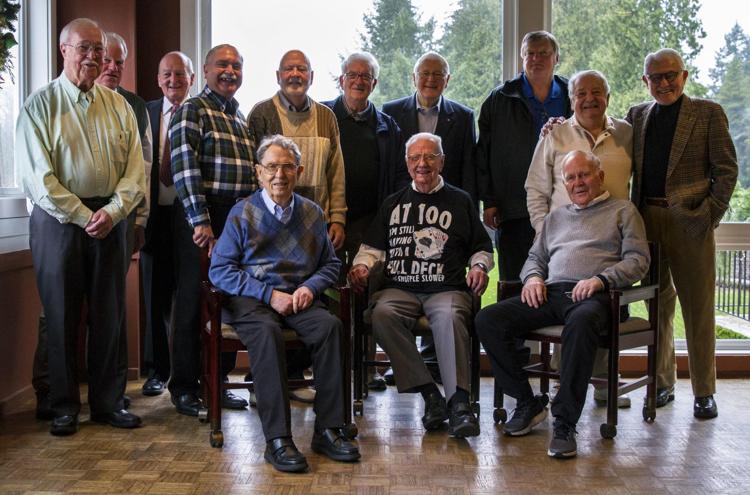 "I wanted to be an engineer, but I had a little problem with getting one and one to equal two consistently," Mason said.
So he started college at Kansas State in 1939 and soon began studying journalism. He worked at The Manhattan (Kansas) Mercury newspaper and was a business manager at his college paper.
On Dec. 7, 1941, he was broadcasting on-air for KSAL radio in Salina, Kan., when news arrived that Japanese aircraft had attacked the U.S. naval base at Pearl Harbor. More than 2,400 Americans and 64 Japanese died in the strike, which launched the U.S. entry into World War II. "I couldn't believe it," Mason said. "I thought it was like Orson Wells," he added, referring the famous 1938 "War of the Worlds" broadcast.
Mason would soon become involved in the war effort himself. He put school on hold in 1943 and served stateside in the U.S. Army corps, the military predecessor to the Air Force, where he piloted 2-engine B-25 bombers and AT-6 advanced training aircraft.
He returned to college in 1945 and finished his journalism degree the next year.
By 1953, he'd moved into Chamber of Commerce work. He worked in both Logan, Utah, and Bellingham, Wash., before eventually settling in Longview in 1962 as the executive director of the Chamber of Commerce.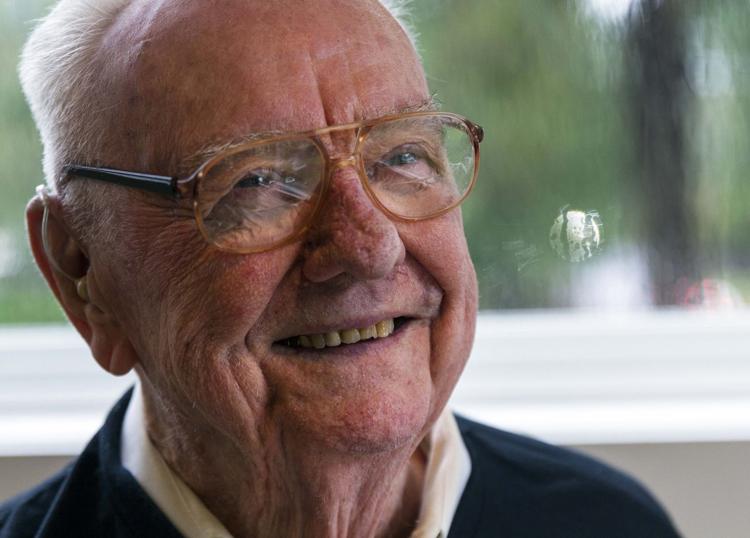 "My job was to get local people in the paper, and keep my name out," he said, "so I've gotten a little shy of publicity."
George Schwartz, a fellow Jolly Boy and former Longview Fibre Co. executive, was chairman of the Chamber of Commerce committee that recruited him.
Mason was not only a shrewd manager, but he was selfless too, Schwartz said.
"He refused an increase (in pay) the first year, because he wanted money left over to spend on programs. (And he) wouldn't let the chamber pay for his country club membership."
In 1967, Mason joined Weyerhaeuser as its local public affairs director, a position he held until his retirement just after Mount St. Helens erupted in 1980.
Around that time he joined the Jolly Boys, who were originally born out of meetings between Long-Bell Lumber Co. executives interested in civic affairs, Schwartz said. Long-Bell was the company that founded Longview, but the Jolly Boys in time grew into a diverse group of doctors, lawyers and other professionals who discussed public issues and industry.
They likely got their name from the staff of the country club, who saw the boisterous and good-natured group of men come in regularly for lunch.
"Sometimes the biggest arguments we had at lunch was over (members' insistence about) who was going to pay," Schwartz said.
Since then, it's evolved into more of a group of close friends.
"Our routine is, we get together, get a drink, and solve the world's problems over lunch," joked Jolly Boy member Vince Penta, a Longview real estate attorney.
Murray's friends described him as a thoughtful, knowledgeable optimist with a gift for storytelling, a quick sense of humor and a sharp memory.
"You can't be around this club very long without hearing about Murray," said Ben Coombs, a Jolly Boy member from 2013 to 2016. "He's a man with a great big heart."
Chuck Wiggins, former Jolly Boy and vice president of Southern Washington operations at Weyerhaeuser, recounted a time when Mason, an excellent golfer, made a crack at Wiggins for putting several balls out-of-bounds.
"Chuck, you ought to find a way to put a bell on that ball so it's easier to find," Mason told him.
Mason had two children with Sarah Elizabeth, his first wife of 35 years: David and Barbara. His second wife, Charlotte 'Pat' Patricia, died in 2006 after 31 years of marriage.
As friends gathered Friday afternoon to celebrate Mason's upcoming birthday, they couldn't help but make a few jokes of their own.
"He's my idol," Penta said. "I want to grow up to be just like him."