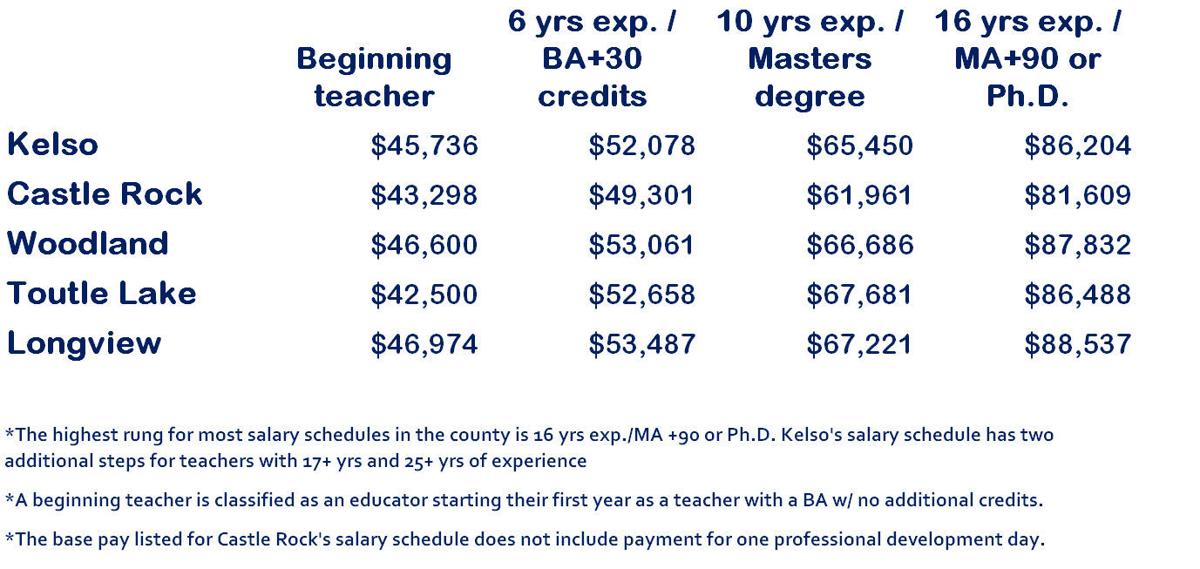 With Longview classes finally in full swing Tuesday, district officials and parents reflected on the eight-day delay caused by contract negotiations and a strike.
"I want to begin by acknowledging that the past few weeks have been very difficult for all of us at Longview Public Schools," said Superintendent Dan Zorn in a letter to the community posted on the district's website Tuesday. "At a time when we are typically focused on welcoming children back to the classroom, we've been immersed in contract negotiations and work stoppages."
The letter continues, "Now that a labor agreement has been reached and school is starting, our teams are focused on healing and returning our attention to helping children learn and grow."
Several parents dropping their kids off at Columbia Valley Gardens Elementary School Tuesday morning said they were glad school was back in session, but they said the don't have any hard feelings against the teachers for walking out.
"I firmly supported it. This is a union strong town. My mother's been a union worker and I was a union worker," said Mary Hampton, mother of two CVG students. "(Teachers) have one of the hardest jobs, and they should be compensated for it — more than fairly. They should be compensated well for what they do and how hard they work."
Hampton said the outcome means teachers "are going to feel appreciated and valued, and they are going to want to stay and work harder if they are treated fairly."
Although her perception of Zorn and the district diminished a bit, Hampton said the situation hasn't affected her support of the Longview schools because "my kids are in the hands of the teachers."
Sandra Garcia, a mother of a CVG third grader, said she felt bad for the teachers during the strike and she "thought the district was more for the kids" than it acted. However, Garcia said the strike did not change how she views Longview schools, and she will continue to volunteer at CVG.
Other CVG parents were more wary of the district's actions during the strike.
"It seemed very odd" that the school board didn't participate directly in bargaining, said a CVG parent of two students. "It probably could have been handled sooner than it was."
Contract negotiations started on Aug. 21. After the first day of negotiations, the district was offering a 6.9 percent raise while the teachers demanded 11 percent. The final settlement gives teachers a 9 percent salary boost in 2018-19. The average teacher salary will rise from $65,400 last year to $71,300 this year. That's about $1,400 more per year than the district's initial offer.
A four-year school district budget projection accounting for a 6.9 percent raise forecasts that the district will be running in the red this year, with budget deficits in the next three years that would wipe out its cash reserves without some spending cuts.
Some members of the public bristled that the conflict led to a strike, which featured conflicts about the Legislature's intent on how districts should spend $2 billion in new school funding.
"As far as I understand, the state didn't give the district any specific instructions. Not like the district could afford to sustain their raised salaries anyway," said Logan Harris in Facebook comment on an Aug. 27 post by the district.
"I'm a single mom, with a disabled child that makes it hard for me to work. 90 percent of the time I make it work on my son's SSI and intermittently paid child support. How about feel(ing) blessed you are able to work, have a career, and make a wage at all," said Stephanie Lynn said in a Sept. 7 post on the district's Facebook page. "But thanks for striking and negatively impacting my son, and many like him, who is missing out on the only peer interaction he gets."
However, the majority of the Facebook comments showed an outpouring of support for teachers, and parents of Kessler Elementary School students shared similar sentiments as those at CVG Tuesday morning.
A mother of three Kessler students who identified herself as only Megan said her children were sad not to start school on time, but she supported the teachers in their strike for higher wages.
"I'm glad they did it. I think they deserve it," Megan said. "The teachers gave themselves a voice."
Another Kessler parent who declined to be identified said she hopes the strike increases community awareness and support of teachers.
"It's a little inconvenient, but it was worth it for them if they were making a point," said the woman, who has two students enrolled at Kessler. "I think they don't get enough money and they have to pay for their school supplies and they should get more help with that."
She said she disliked the way the school district treated parents and teachers: "They dismissed anything the teachers wanted to say."
Faculty had been scheduled to take a no confidence vote on Zorn on Sunday, but the union cancelled the effort after negotiators reached a contract deal at 3 that morning. The agreement came two days after a judge, at the district's request, ordered teachers back to work.
At Monday night's board meeting, school board President C.J. Nickerson came to Zorn's defense: "I really appreciate the manner in which Dr. Zorn has conducted himself during this very hard time. ... He among us all has carried himself as a leader should."
During that meeting, Zorn acknowledged that the district and its staff will need to undergo a healing process in the coming months. He plans to increase his presence within the schools and will make himself available to "answer questions and hear concerns" from staff and community members.