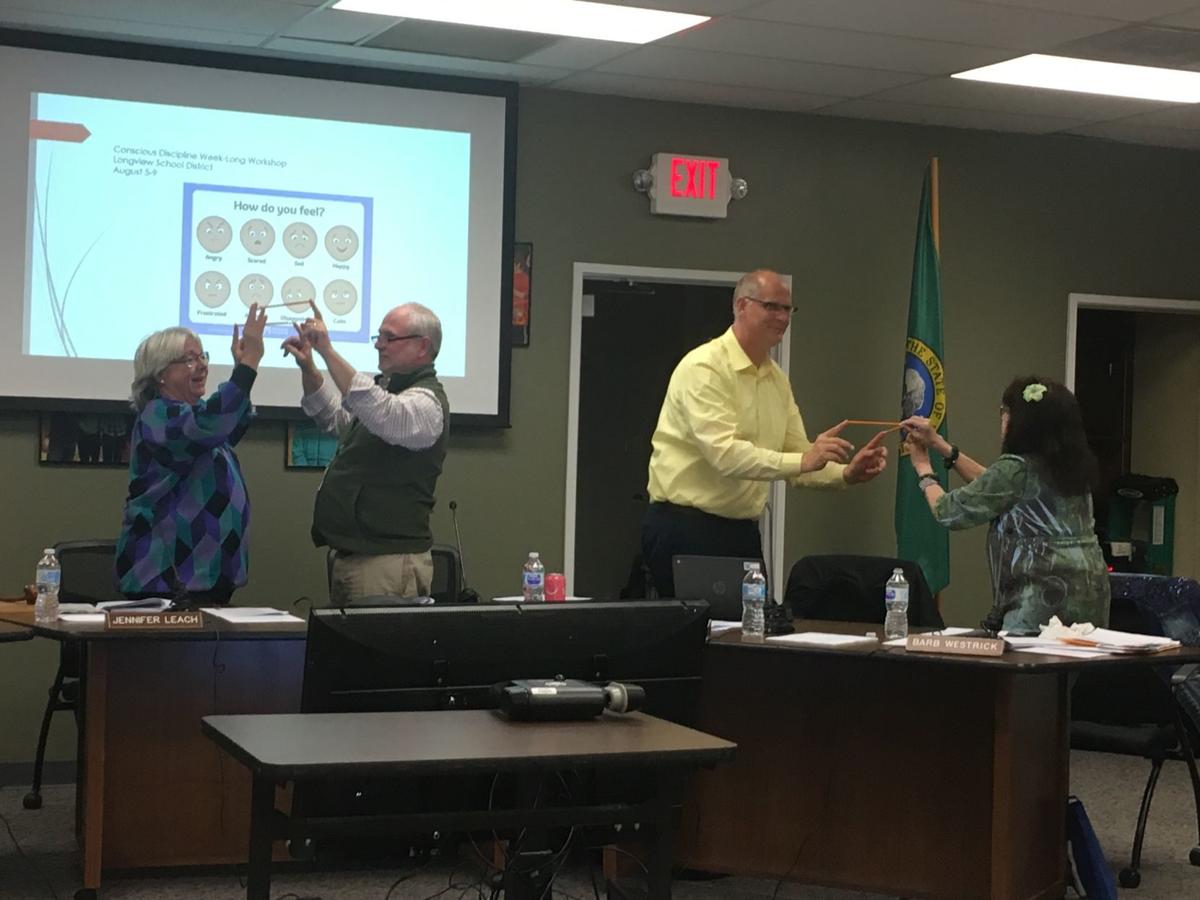 Longview School Board members danced while balancing a pencil with a partner Monday night, taking a "brain break" as part of a conscious discipline presentation, before updating the student immunization policy and appointing members to a new committee.
Noma Hudson, Kessler Elementary School principal, and Megan Shea, Broadway Early Learning Center principal, told the board a conscious discipline summer training for teachers was successful and well-attended.
Hudson said 160 people attended the August training, including 56 Longview elementary teachers and 21 Longview elementary para-educators. They learned different ways to handle students' behavioral issues that take into account emotional health and focus on solving the root of the behavior, Hudson said.
The practices, which include refocusing exercises and regulating emotions, are based on science and theory, Hudson said. She said it helps students with trauma or outside stressors connect with teachers to help them learn.
Superintendent Dan Zorn said it was a "good thing for our system."
The board also heard a report on updated student demographics from Bill Ofstun, director of assessment and instructional technology.
Ofstun told the board that the data provides a snapshot in time of school demographics. He said the number of homeless students is rising, from 128 on Oct. 1 to nearly 160 as of this week.
Zorn said that's to be expected, as the number of students compounds over the year.
Board member Don Wiitala said he appreciated that the work gives the board a view of who their populations are, while Vice President Jennifer Leach said she was concerned with the rising number of students in the free and reduced lunch program.
In the 2017-2018 school year, 60.9% of students were in the program. Last year, that number rose to 64.8%, and as of Oct. 1 this year 63.7% of students were part of the program, which Leach said would likely keep rising.
"Our free and reduced lunch number keeps going up, and that's reflecting our families who are struggling and living in poverty," Leach said. "That's something for us to keep in mind."
Board President CJ Nickerson, who attended the meeting via phone call, appointed Leach and Wiitala to the new policy committee. The policy committee, created on Sept. 23, is in charge of reviewing proposed policy changes and making recommendations to the board.
Board Member Barb Westrick will replace Leach on the Communications and Community Relations committee, Nickerson said, to help relieve some of Leach's committee workload.
The board also heard first readings on two procedures and one policy:
Board subcommittees, district standing committees and board liaisons: Procedure. Name changed from the Leadership and Learning Committee to the Curriculum and Instruction Committee.
Student immunization and life-threatening conditions: Policy. Added a section to clarify that philosophical or personal objection exemptions to immunizations cannot be used to exempt a child from the measles, mumps and rubella vaccine. The change will bring the policy into line with new state immunization laws.
Student immunization and life-threatening conditions: Procedure. Codified the district's procedure regarding immunizations, including proof of immunizations, exemptions, sharing information and how to handle students with life-threatening conditions.
Zorn said a number of families in the district had previously claimed personal or philosophical exemption, and the district is working to provide guidance to those families.
The board passed the board subcommittees, district standing committees and board liaisons procedure and the student immunization and life-threatening conditions policy. It moved the student immunization and life-threatening conditions procedure to a second reading.