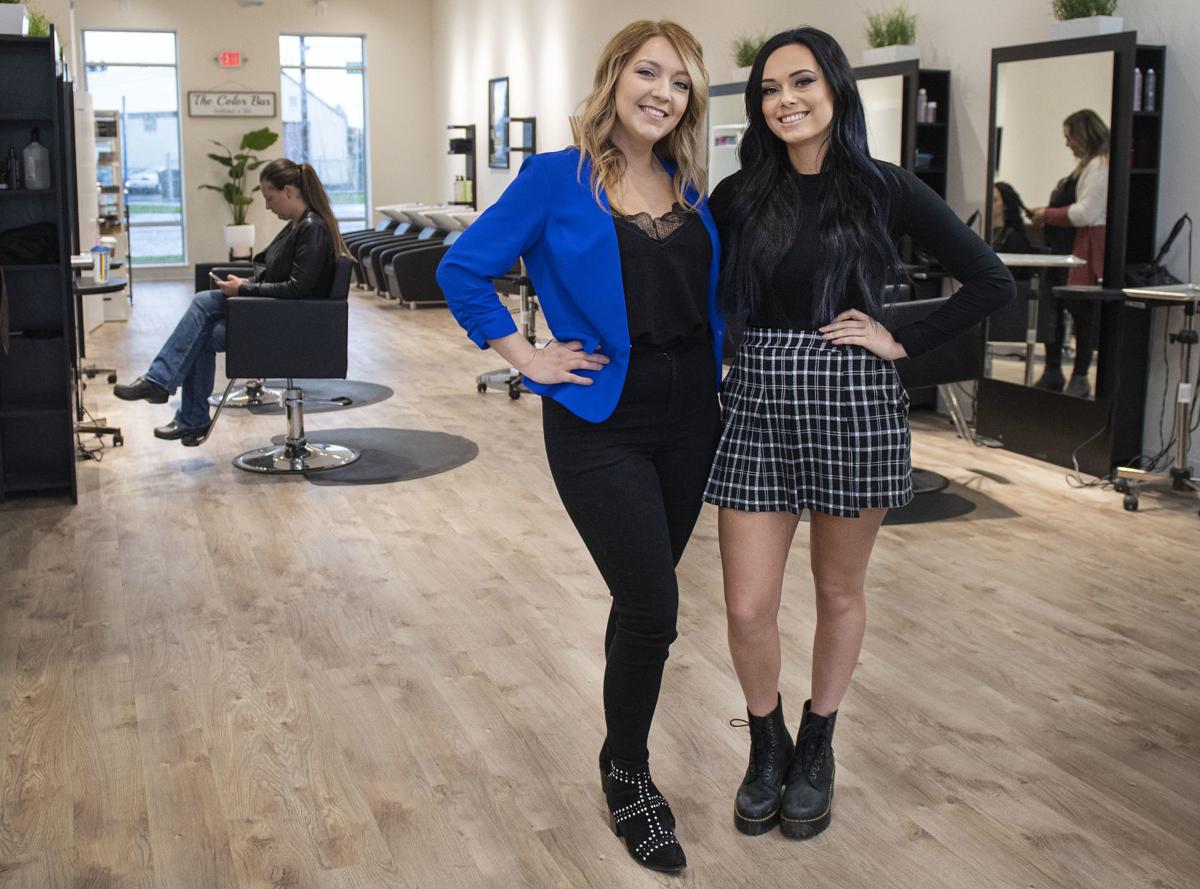 The article has been corrected to properly refer to which high school the salon owners attended. 
Jerica Lindeman and Jessica King have been friends since kindergarten, and for a student project at Castle Rock High School they wrote a paper about owning a salon together.
At first, it was just a "joke and a dream," King said. But after working together at a few salons, the two friends opened The Color Bar on Vandercook Way in October 2016. And last month, they finished their next big move: Taking the salon up the block into a new home twice as big.
The 26-year-old co- owners of The Color Bar officially opened the new location at 852 Vandercook Way on Dec. 27. The salon is dotted with plants and mirrors and has six salon chairs and four shampoo sinks. They've brought in TVs for the drying room, and they offer snacks and drinks — such as mimosas on "sassy Saturdays," King said.
"We want this salon to be a high-end, nice salon, but also super-comfortable and approachable," King said. "We want people to feel at home here. ... Going and getting your hair done can be intimidating. You're changing a big thing about yourself."
The salon's name comes from King and Lindeman's shared expertise in hair coloring: Lindeman specializes in blonding, while King "lives for" balayage-styled hair. But it's also a metaphor for what they learned at a Paul Mitchell salon.
"They believe in mixing color in front of clients to start the conversation," King said. "The color bar is out, in the open."
Along with the expanded salon area, there are four rooms for rent where independent stylists can essentially run their own private salons with a separate entrance.
Some stylists prefer working alone, Lindeman and King said, or want the freedom of working with their own space and clients.
"They get a salon without having to pay for electricity, water," King said. "They could take a client at midnight, if they want."
King and Lindeman employ a receptionist and three stylists. They're planning to hire another stylist, and in February they'll bring in an independent aesthetician for one of their private suites.
"You get to work with your best friends all day," Lindeman said. "And then a lot of your clients turn into your friends."
The two friends quickly outgrew their old salon at 803 Vandercook Way, which had no windows and limited storage and parking.
They invested about a year and about $40,000 to $50,000 getting their new space at the former Factory Power Sports motorcycle parts store ready. Then, over just three days during Christmas week, King, Lindeman and their families moved equipment and furniture to their new spot. Lindeman's mom did all the decorating, and their employees were "a huge help," King said.
Education in business and styling and staying up-to-date on trends is important to them, Lindeman said, so they'd like the opportunity to train a stylist right out of school. They also take their employees out to styling classes.
They've scheduled a grand opening celebration from 3 to 6 p.m. Feb. 22 with food, drinks and giveaways planned.
The life-long-friends-turned-business partners said they're still working out all the kinks in their new place, but so far: "It's great," Lindeman said.
Get local news delivered to your inbox!
Subscribe to our Daily Headlines newsletter.