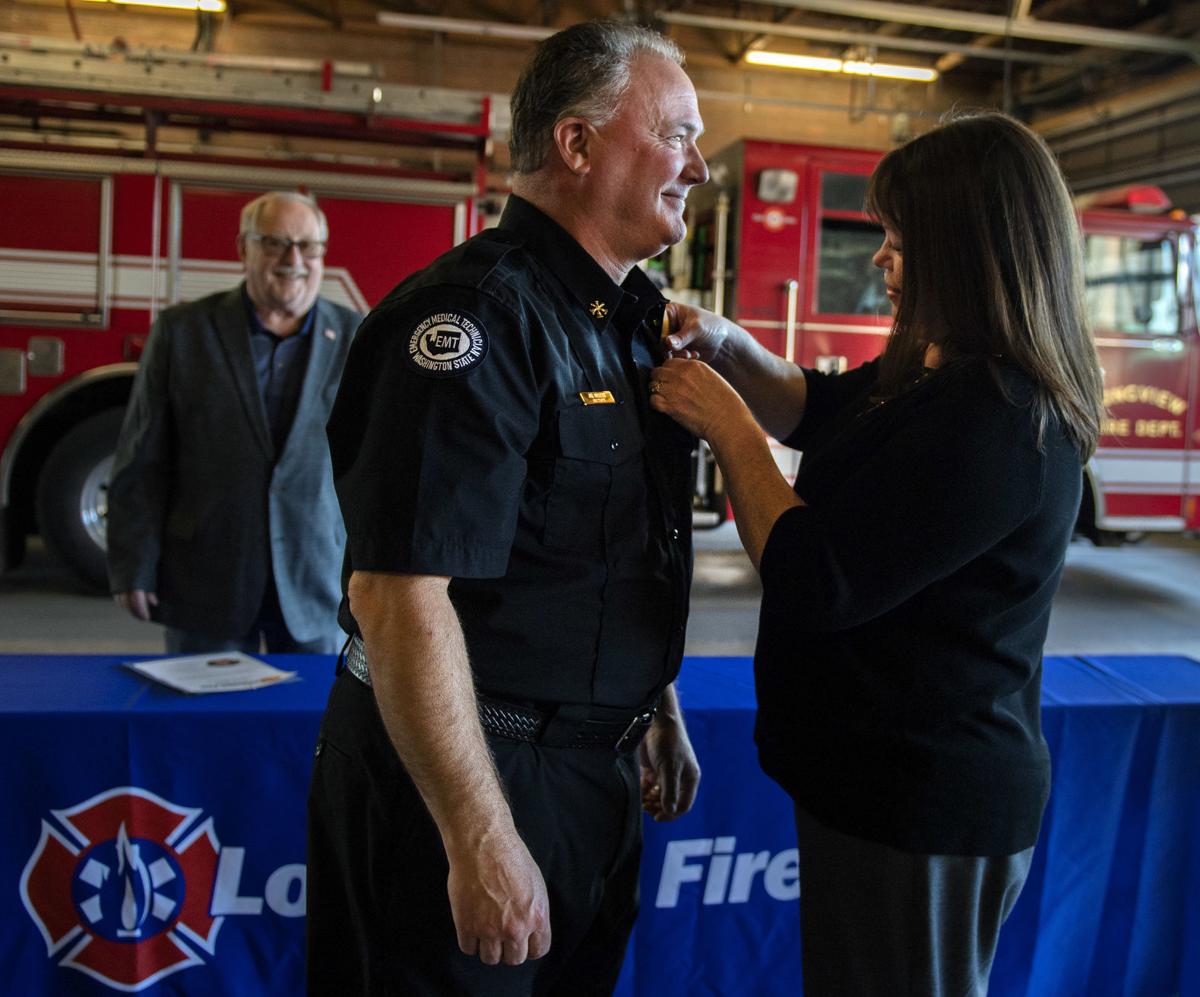 Jon Dunaway was officially sworn in as Longview's new fire marshal Wednesday afternoon, filling a position responsible for code compliance and safety inspections that had been vacant for a year.
"Everyone had been welcoming and supportive" since he came aboard on Oct. 16, Dunaway said. "It's been a fantastic experience."
Dunaway's career started as a volunteer firefighter in 1982. He's been an EMT, fire investigator for the Kitsap County fire marshal's office, Clark County's deputy fire marshal and had been Clark County's fire marshal since 2005.
Dunaway's job will be to inspect new commercial buildings for fire code compliance and determine causes of fires. His salary is $125,955. 
"It feels like I've prepared for this role my whole career," said Dunaway, 55. "Now it's like coming home and putting it all together."
Previously, Jim Kambeitz was Longview's fire marshal for about 15 years, but the position had been vacant for about a year after Kambeitz became the interim fire chief in September 2018. Kambeitz now is the permanent chief.
Dunaway said he was interested in the job because after years in fire prevention, he wanted to get back into a first responder role.
"This is the perfect place for that," Dunaway said. "I've heard good things about this fire department's leadership and the city leadership here, and that's something I wanted to be a part of."
For now, Dunaway is focusing on getting to know the department and the community. He said his focus is serving the people of Longview.
"I've been talking with firefighters to see what's working and what could be improved," Dunaway said. "Then we'll start chipping away at it."
Dunaway has a bachelor's degree in fire services administration from Eastern Oregon University. He has also taken courses with the National Fire Academy, including code management, fire and arson investigation, plans review and principles of fire protection.
Kambeitz said Dunaway is one of only 20 certified fire marshals in the state, making the department fortunate to have him. He said Dunaway's experience and top test score earned him the position.
Dunaway says he will continue to live in La Center with his wife, Wendy.
Dunaway is also the past president of the Washington State Association of Fire Marshals and still serves on its board of directors. He is also involved in several organizations, including the Washington Association of Building Officials, the International Code Council and the National Fire Protection Association.
"Jon has an excellent reputation. He's well respected both locally and across the state, as a fire marshal and just as a person," Kambeitz said. "He's a quality individual. Nice, reasonable, intelligent, the whole package. We've very fortunate to have someone with his education and experience."
Get local news delivered to your inbox!
Subscribe to our Daily Headlines newsletter.