For the 70th year, thousands of people gathered on Independence Day in Longview to watch patriotic parade participants, witness talented timber competitors and reflect on what patriotism means to them.
A parade of high-school bands, dance teams, nonprofit organizations, clowns, pirates, Ghostbusters, political candidates, veteran groups and public servants cheered and honked their way from the Civic Circle to Lake Sacajawea on Thursday morning as spectators lined the streets.
Arleen Hubble, who has coordinated the Go 4th parade for more than 30 years, said there were 115 floats and groups participating this year — the most she can remember.
Retired Longview teacher Michael McElliott attended the parade as his clown alter ego, Alfie, who is inspired by a character from My Fair Lady, complete with a Cockney accent.
The Fourth of July is important in Longview, he said, because it's a chance for the community to celebrate the country's origins.
"This is really a birthday party. We don't have fancy stuff. It's just the town coming together and being good," he said.
Fellow clown Mary VanSickle, who has attended every parade since she was 11, added that Independence Day is a chance for everyone to find common ground.
"Sometimes I feel like we've lost some unity. This is one time when we're all together," she said.
Jess McCloud and other volunteers with Royal Family Kids, a free summer camp for foster kids, dressed as princesses to represent how they treat foster kids "royally."
Independence Day is a chance to celebrate the freedom of speech, which many other countries don't enjoy, she said.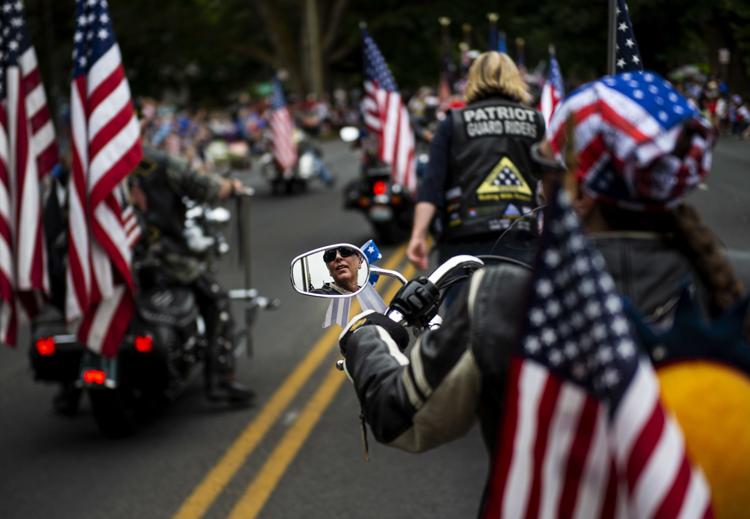 As a group of Patriot Guard Riders passed on their motorcycles, they stopped to honor Korean War veteran Hal Buck, a spectator. They handed him an American Legion coin and saluted him.
"It was a real nice thing," Buck said afterwards, grinning broadly.
Asked what patriotism meant to him, Buck responded, "Love of a country. Love of a people. Just love, I guess. I can't describe patriotism. Either you've got it or you don't."
There were a lot of politicians and political candidates in the parade this year, Hubble said.
All three 19th District lawmakers — Sen. Dean Takko and Reps. Brian Blake and Jim Walsh — were in the parade, along with multiple candidates for local city councils and port commissions.
Jihan Cottrell, who traveled with his family from Phoenix, Ariz., to visit his wife's hometown, said the Fourth of July is a time to set aside politics.
"No matter what walk of life you're on politically, this is a time when the country celebrates our union," he said.
"Patriotism is having pride in where you came from and our country as a nation," added his 14-year-old daughter, Lalei.
Fellow spectator Ludmilla Siddiqui said she moved from Germany to the United States 50 years ago. She's lived in Longview for the past 14 years.
"Every country has its own celebration," she said. "As an immigrant, you should adopt the good things about your new country, like its celebrations."
Siddiqui and her Dachschund, Baron, were decked out in red, white and blue. Her son is deployed somewhere in Africa with the U.S. Air Force, she said. And her daughter works for the U.S. Department of Veteran Affairs.
"Patriotism should be passed from generation to generation," Siddiqui said. "Patriotism means being a good person; being a good neighbor; and being kind."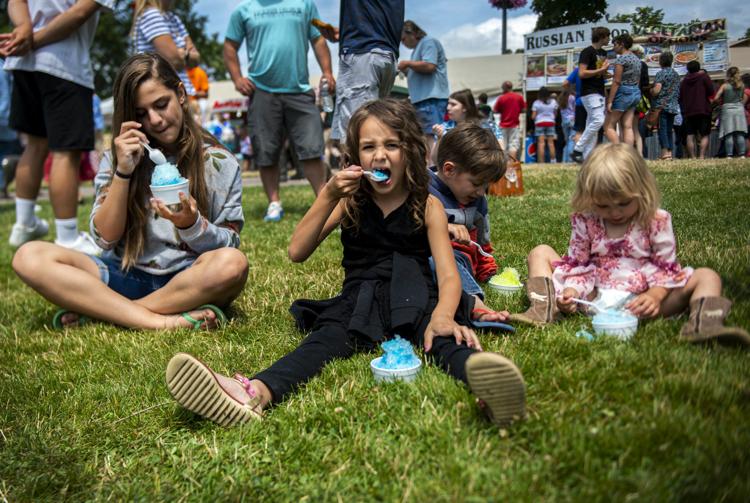 As the parade wound down around noon, attendees flooded Martin Dock at Lake Sacajawea and spilled over to the Nichols Boulevard side of the lake where vendors were selling T-shirts, hats, soaps, jams, rugs, jewelry, henna tattoos and painted disks.
Cierrah Aguas, an 18-year-old Longview resident, said she was making a painted disk for her older brother who is deployed with the U.S. Army.
Aguas, who serves in the U.S. National Guard, said Independence Day is a chance to show respect for people who serve in the military.
Longview police said there hadn't been any major incidents as of early Thursday afternoon. And the temperature in the 70s meant people weren't getting overheated and fainting, Captain Debbie Pineda said.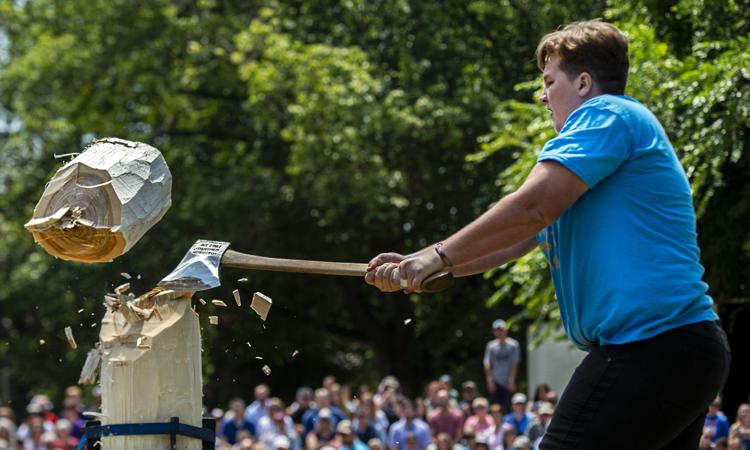 At the northern end of the lake, roaring chainsaws drowned out the live music at Martin Dock as lumberjacks competed in the annual Go 4th Timber Carnival competition.
Crowds cheered as finalists used axes, crosscut saws and chainsaws to rip through thick logs.
Longview residents Kerry and Gene Wale said they stopped by the timber competition because he had family members who used to compete in the various axe and saw competitions.
Gene Wale said he was in the U.S. Marine Corps for 22 years and served in 27 countries. He said he was frustrated that people often complain about the country but forget those who sacrificed for their freedoms.
"Whether you agree with what's going on right now, America is still the best damn one," he said.