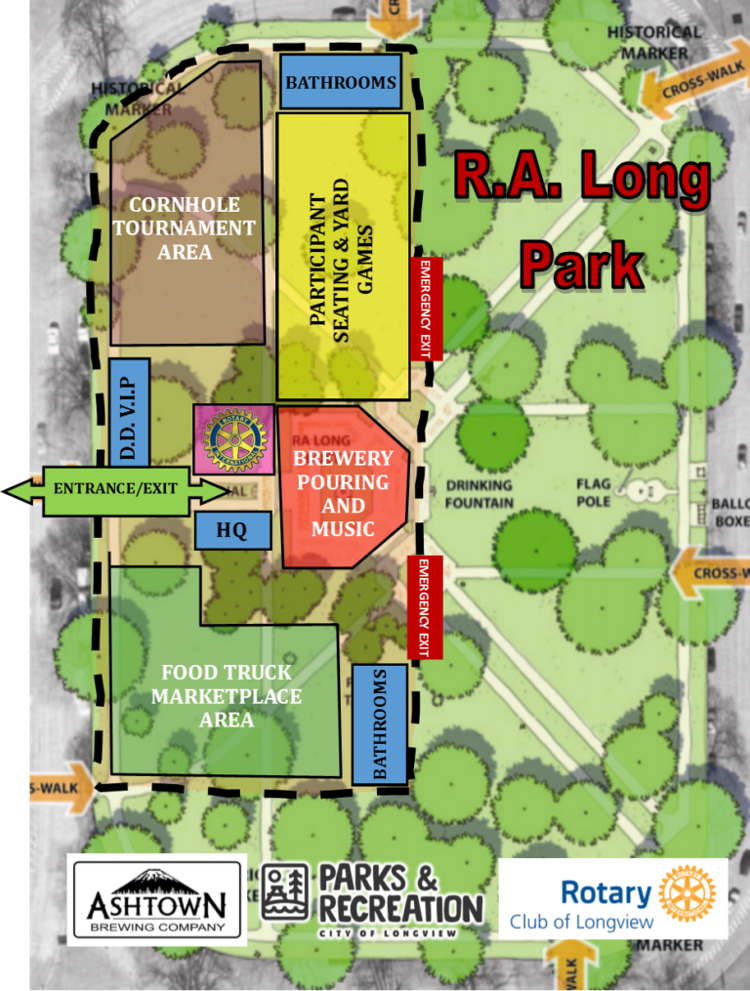 Next month, beer lovers will have a reason to flock to Longview: the city's first brewfest.
Crafted Brew Fest, to be held at R.A. Long Park on July 21, will have something for everyone. There will be beer from Southwest Washington and Northwest Oregon, food trucks, music, beer- and food-related original crafts and a cornhole tournament.
"It's something new and exciting for the locals, and something to draw people from outside the area to Longview," said Rotary Club of Longview member Lindsey Cope. "Hopefully they will enjoy the park, have some tasty beverages and have some original food, and then stay the night. We have a lot to offer here."
Plans for a beer and food event have been fermenting for a few years, but a partnership between the Longview Parks and Recreation Department, the Rotary Club of Longview and Ashtown Brewing brought the vision to life.
Longview Parks and Recreation Director Jennifer Wills said scheduling the brewfest the same day as the city's Swim Dash Splash Triathlon was a strategic decision to give the participants a reason to stay in Longview for the day. After swimming 500 meters at the YMCA, running 5 kilometers around Lake Sacajawea and then kayaking 2 miles across the lake, the triathletes will get free entry to the brewfest, she said.
Tickets for the festival will be $25 on the day and will include the entrance fee, a mug and 10 beer tokens. A 3-ounce beer taster will cost one token and a full 12-ounce beer will cost four tokens.
Pre-sale entrance tickets for the event are available online for $10 until July 13 at www.craftedbrewfest.com. (Attendees will then pay an additional $10 at the door for 10 beer tokens, but they will save $5 overall and get to skip the entrance line).
Proceeds from the entrance fees will go to the Longview Parks and Recreation Department to cover the costs of the festival, support the kids scholarship program and finance park improvements, Wills said.
All alcohol sales will benefit the Rotary Club of Longview to maintain its three parks and support its literacy programs in the city, Cope said.
"By attending, by buying tickets, by sponsoring the event, you're bringing money back into the community that helps our youth and everybody," Cope said.
You have free articles remaining.
The festival is strictly for people over the age of 21. Everyone will be carded.
To encourage safe participation, designated sober drivers will get into the event for free. They will receive special bracelets that give them access to a tent, sponsored by Guild Mortgage Company, where they can enjoy free non-alcoholic beverages. And RiverCities Transit will offer transportation from the festival to all hotels for $1, Wills said.
"The hope is that folks who come from Swim Dash Splash come for the entire day and stay in our hotels," she said. "We're working to make sure people have a really fun and safe evening out in our town. Hopefully they go downtown afterwards and see what Longview has to offer."
Five breweries are signed up so far: Ashtown Brewing Company from Longview; Heathen Brewing from Vancouver; Backwoods Brewing Company from Carson, Wash.; Dwinell Country Ales from Goldendale, Wash.; and Barrel Mountain Brewing from Battle Ground, Wash.
Ashtown co-owner Jarrett Skreen said he is working on recruiting about a dozen other breweries from around the Pacific Northwest.
During his seven years in the brewing industry, Skreen said he has learned what makes brew fests successful and popular.
While his brewery won't financially benefit from helping organize the event, Skreen said he is excited to see the festival grow and bring more people to Longview.
"I would just love to see a great turnout with everybody having a great time and being able to relax, try some beers, listen to some music and play some cornhole," he said.
Each brewery will be encouraged to bring a crowd pleaser beer and then a limited release, experimental beer, Skreen said. This will give the breweries a chance to showcase something a little different, and attendees will be able to try beers that might not be widely available. They will then vote for their favorite brew and the one with the most votes will receive a people's choice award.
Permits and plans for the festival started coming together earlier this month, and organizers say there are still applications available for breweries, food trucks and sponsors that want to participate.
Vendors will sell handcrafted food- and beer-related items like breads, oils, nuts and cheeses, or beer soap and beer bottle wind chimes. And Cowlitz County Cornhole will hold a tournament throughout the day.
The city alsoi s  talking to Antidote Tap House about holding a craft beer crash course in the weeks leading up to the festival so attendees can learn about the different ways to classify and evaluate beers, Wills said.
"I'm hoping we get a big draw from all around the Northwest," she said. "This will be a fun event in a beautiful setting. It's like going to friend's barbecue, but you get to celebrate with the whole community."