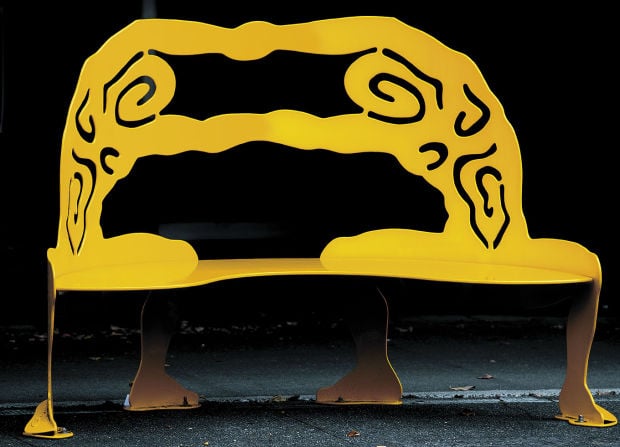 Near the corner of Maple and Commerce in downtown Longview, a giant bronze hand cradles a tiny baby. Across the street, a found-metal dog chomps a bone. A block south, a giant cartoon figure cartwheels over another.
A fresh batch of sculptures arrived at the Longview Outdoor Gallery last weekend, nine new pieces in all. The borrowed works will be on display for two years, after which those that haven't sold will be returned to the artists.
Launched in 2011, the Longview Outdoor Gallery is a rotating exhibit funded by private donations and sponsors and doesn't cost taxpayers a cent. With each new round of sculptures, the public votes on its favorite piece for the gallery to purchase and donate to the city's permanent collection.
The new exhibit includes realistic and abstract sculptures ranging from towering to diminutive in size. The smallest piece, the 12-inch-high "Heart Beat," was inspired when the artist was watching swans on still waters, task force member Jeanene LeRae said. Their heartbeats caused circles to ripple out into the water, which artist Patty McPhee depicted on the granite beneath the abstract stone swan.
One of the largest sculptures is the 10-foot-high "Ta-Dah," part of the "Happy Human" series artist CJ Rench started after his daughter was born. "Ta-dah" is a favorite saying of Rench's daughter, now age 8, LeRae said.
Another sculpture, "Beginning," also was inspired by a child. The 18-inch-high bronze by Iraq-born Sabah Al-Dhaher shows how small his son, now 19, was when he was born prematurely, LeRae said.
"Hound Dog," a found-metal sculpture, may have a vaguely familiar feel — it's by Dan Klennert, the same artist who created "See Horse," which local citizens voted last fall for the gallery to purchase.
One of the Longview Outdoor Gallery's goals is to contribute to the resurgence of downtown by promoting a new image, said Hans Schaufus, a gallery task force member. However, based on the experience of other cities with outdoor galleries, it can take 10 to 15 years to catch the community's attention and the pride to take hold, he said.
"This is not a temporary thing, and we want to be sure everyone is aware of the commitment we have for the long term," Schaufus said. "Art can be a great driver in working to bring the downtown back together again."
The gallery task force had expected to add a single piece of art from the first two-year exhibit to the city's permanent collection. Instead, four pieces were purchased, and the gallery is hoping to get a grant to buy a fifth piece. An artist donated a sixth piece. Due to this success, the task force expects word to spread among artists "that Longview would be a pretty good destination," Schaufus said.
Because so many pieces from the first exhibit remain downtown, the gallery could borrow only nine sculptures this time due to the limited number of concrete bases on which to display them, he said. The gallery hopes to raise money to add at least four new bases, which cost $400 each.
Tax-deductible donations for the Longview Outdoor Gallery may be mailed to P.O. Box 2804, Longview WA 98632.
Longview Outdoor Gallery 2013-2015 exhibit
9. "Celestial Solstice" by Dave Haslett of Lake Oswego, Ore. $15,000. www.orcastone.com
Sculptures remaining from 2011-2013 exhibit
10. "Endless Probability" by Ben Dye of Oregon City, Ore. Gallery waiting to learn if it's won a grant to purchase.
11. "See Horse" by Dan Klennert of Elbe, Wash. Winner of "People's Voice" award; part of city's permanent collection.
12. "Femme et Mistral" by Michael Raynham of Astoria. Part of city's permanent collection; donated by artist.
13. "Mancrow" by Jesse Swickard of Sherwood, Ore. Purchased by private buyer; on display in The Merk building.
14. "Northwest Rainforest Standing Stone" by Mark Andrew of Eugene. Purchased with city grant; to be moved to R.A. Long Park.
15. "Chris" by Jim Johnson of Salem. Part of city's permanent collect; purchased by donors.