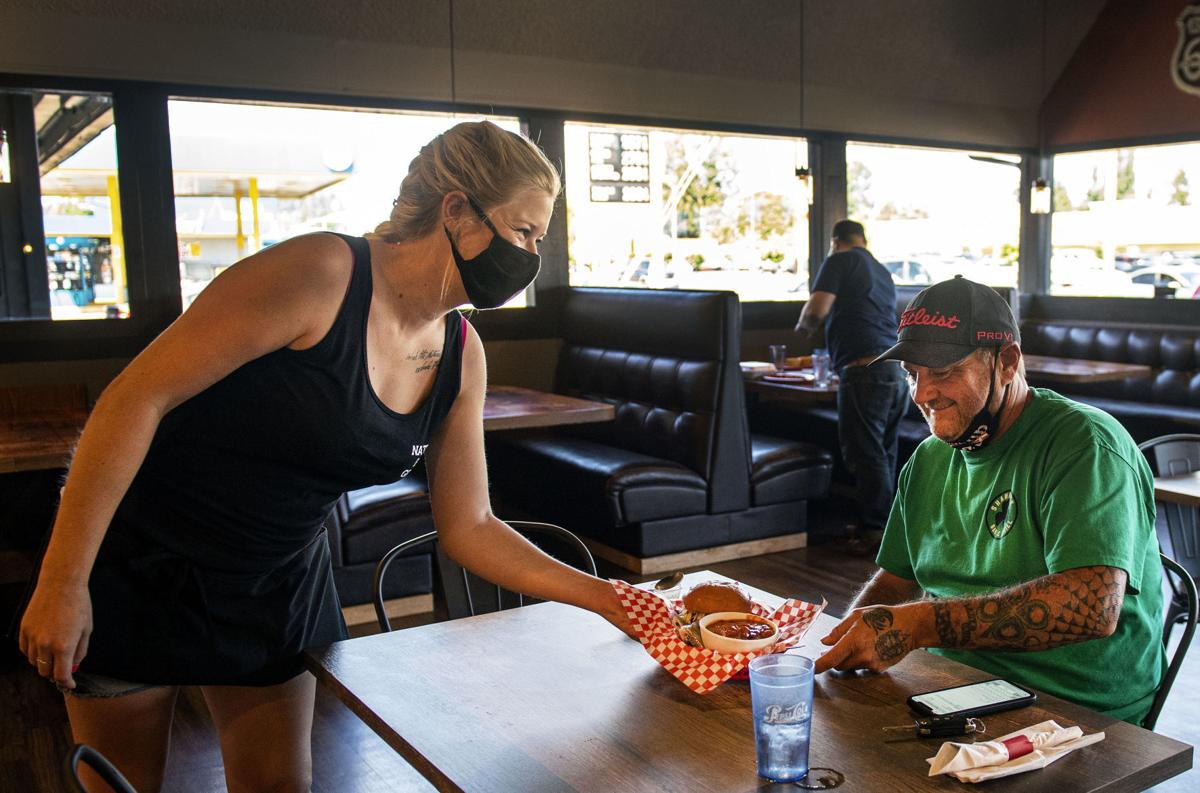 Amber Beaton's father called her crazy when she told him she wanted to open a barbecue restaurant with her friends in the midst of the coronavirus pandemic.
Thousands of restaurants have closed permanently as a consequence of COVID-19, according to Yelp's June Economic Impact Report. And even long-established business owners say they're challenged by quickly changing regulations and residual customer fear of getting sick.
But Beaton, her husband and Rich and Jenee Newman decided years ago if "the right place, right time comes along" to expand their backyard barbecue business to a dine-in restaurant, they'd pounce.
So when they heard this spring that the owners of Hung Far Low wanted to sell their Longview location, they withdrew their savings, pooled their money and went all in on their dream.
"I don't feel like this is the right time," Beaton laughed. "But it was the right location. It's right on Ocean Beach Highway, so we think we could catch people as they are driving to and from the beach."
The Beatons, the Newmans and two other couples bought out Hung Far Low's owners for about $100,000, she said. They've invested another $150,000 in renovations and new inventory, including a $10,000 smoker grill.
On Tuesday, they officially opened PNW Meatheads BBQ for dine-in customers.
"We took all of our money and put it into this, so we were able to start without debt. … We have no backup. If things don't work out, we could lose everything we've invested," Beaton said.
"Everyone asks us if we are out of our minds," she added with a chuckle.
PNW Meatheads builds on Reed Beaton and Rich Newman's long friendship. The two Longview men have known each other since high school, and the "meatheads" have been grilling together almost as long, Amber Beaton said.
For the last three years, the duo has lent their grill skills to family and friends by making food for small events. In February they started a catering company with the hope of opening a physical location.
The new owners replaced the red booths of Hung Far Low with sleek black booths. The center of the restaurant is lined with wooden tables spaced six feet apart.
Waitresses wearing "Natural Born Griller" T-shirts and face masks with witty speech bubbles (e.g. Why are you up in my grill?) embody the "sweet and saucy" attitude Beaton envisions for the restaurant.
"We want to be a destination to enjoy. … We are kind of country and hard rock. We want to have that down-home country feel," Beaton said as "The Devil Went Down to Georgia" played on the dining room speakers.
The lounge and bar remain closed for now because of the state's COVID-19 restrictions. And the virus also delayed the processing of their liquor license, so hard drinks aren't available yet.
A true grand opening celebration is on hold until Cowlitz County enters Phase 4 of the state's reopening plan, Beaton said.
The pandemic also boosted meat prices, so the restaurant is spending more than it budgeted on supplies, Beaton said. For example, a tri-tip that used to cost $3 now costs $7.
"It's really hard" opening during the pandemic, she said. "We are hoping at this point just to turn enough profit to put a little money back into the account, so we can finish doing the bar whenever that's allowed to open."
In some ways, though, timing the opening with the pandemic benefited the meatheads.
"We were able to do some negotiations for our lease that allowed us to work in here on some things without having to pay our usual monthly rent" during the mandated business closures, Beaton said.
And instead of retraining staff to wear facemasks all day and follow other COVID rules, the owners could set those expectations right off the bat. They don't have to fight old habits or pushback from employees, Beaton said.
On Tuesday, the restaurant got its first customers right when doors opened at 11 a.m. A steady stream of lunch-goers dropped in the first hour, and the phone rang often with call-in orders.
Included in the first wave of customers was Blaine Wilson of Kelso.
He said he came by on opening day because "I like barbecue."
Wilson said he liked the brisket sandwich and fries he ordered, although the style of food differs from what he usually considers barbecue. Beaton said that's the point.
"We are not Texas or South Carolina barbecue," she said. "We are Pacific Northwest barbecue."