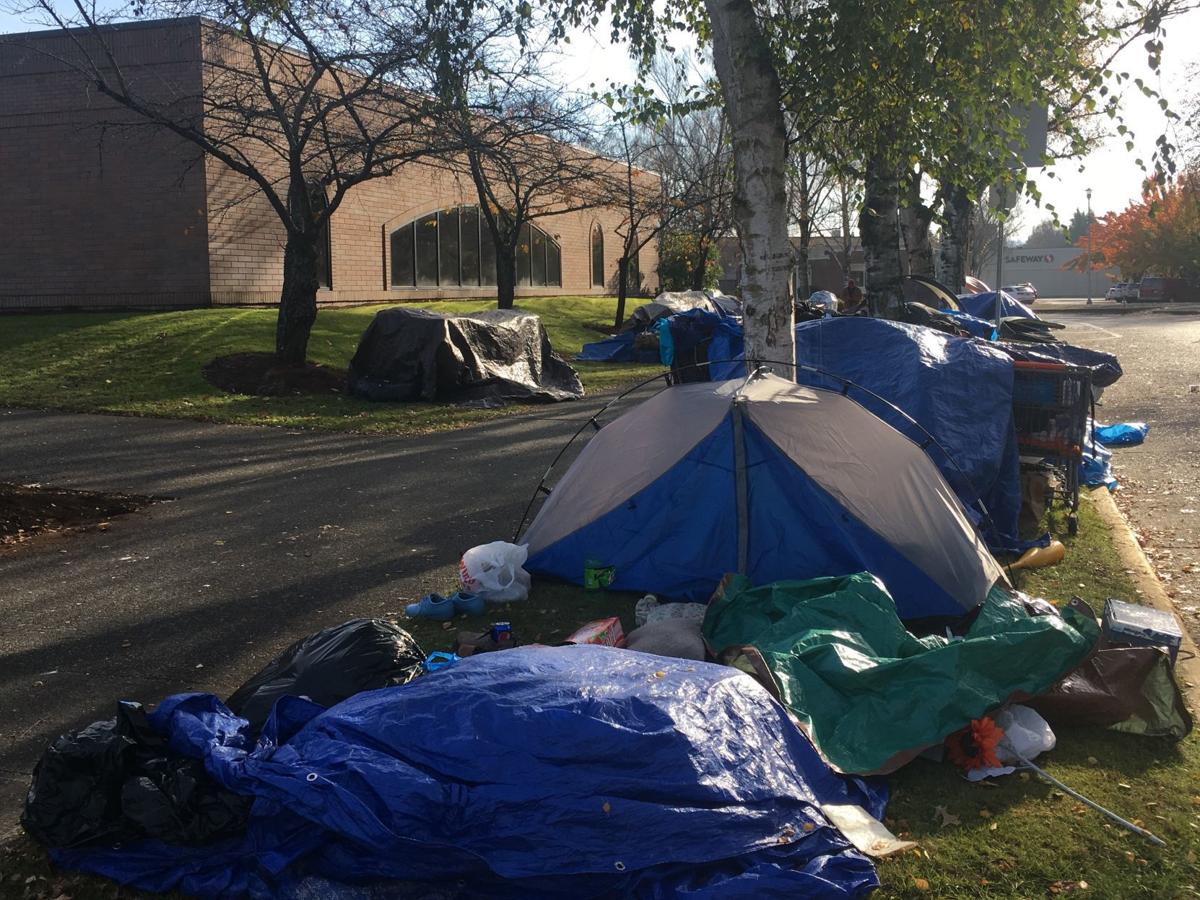 Editor's note: an earlier version of this story had an error in the headline.
To address the growing number of tents lining the sidewalks around City Hall, the Longview City Council on Thursday will consider declaring a public emergency and amending the city code to prohibit camping on the property between 6:30 a.m. and 9:30 p.m.
Camping in tents or cars and storing personal property such as camp "facilities" or camp "paraphernalia" in any park or publicly owned land, parking lot or other maintained areas between 6:30 a.m. and 9:30 p.m. would be a violation of city law.
The proposed ordinance "preserves public access" to City Hall and the surrounding areas between 10 p.m. and 6 a.m. Monday through Thursday, and between 10 p.m. Thursday and 6 a.m. Monday, according to council documents.
Dozens of homeless campers have blocked entrances to City Hall during evenings and over the weekend, according to council meeting documents, "making access to City Hall a challenge and posing a danger to those in the parking lot."
The makeshift camp poses both a traffic hazard because drivers can't see oncoming cars behind the tents; it also presents a public health threat because campers who don't have access to bathrooms have urinated, defecated and littered on public property, according to the city.
The tents also inhibit the city's ability to mow the lawns, remove leaves, sweep the streets or irrigate plantings, according to council documents.
"A key function of local government is to protect its population," City Manager Kurt Sacha wrote in council meeting documents. "As Longview City Hall has been designated as the City's Emergency Operations Center, it is necessary to preserve access to the building and surrounding parking areas 24 hours per day, seven days per week for elected officials, administration, public safety, other key staff and emergency personnel."
Sacha did not immediately return requests for comment Tuesday evening after the proposal was added to the City Council meeting agenda. The council meeting will begin at 7 p.m. Thursday in City Hall.
Longview police last month escorted city parks employees as they attempted to clean up around the gazebo in R.A. Long Park, across the street from City Hall. One camper at the time told The Daily News that she and others set up their tents near City Hall at night because there is a curfew in city parks. They then wake up around 5:30 a.m., she said, and move to the gazebo.
The Kelso-Longview Ministerial Association plans to open a temporary shelter at First Christian Church on Kessler Boulevard, but the shelter can only operate when the city declares a severe weather emergency with temperatures below 32 degrees.
Get local news delivered to your inbox!
Subscribe to our Daily Headlines newsletter.