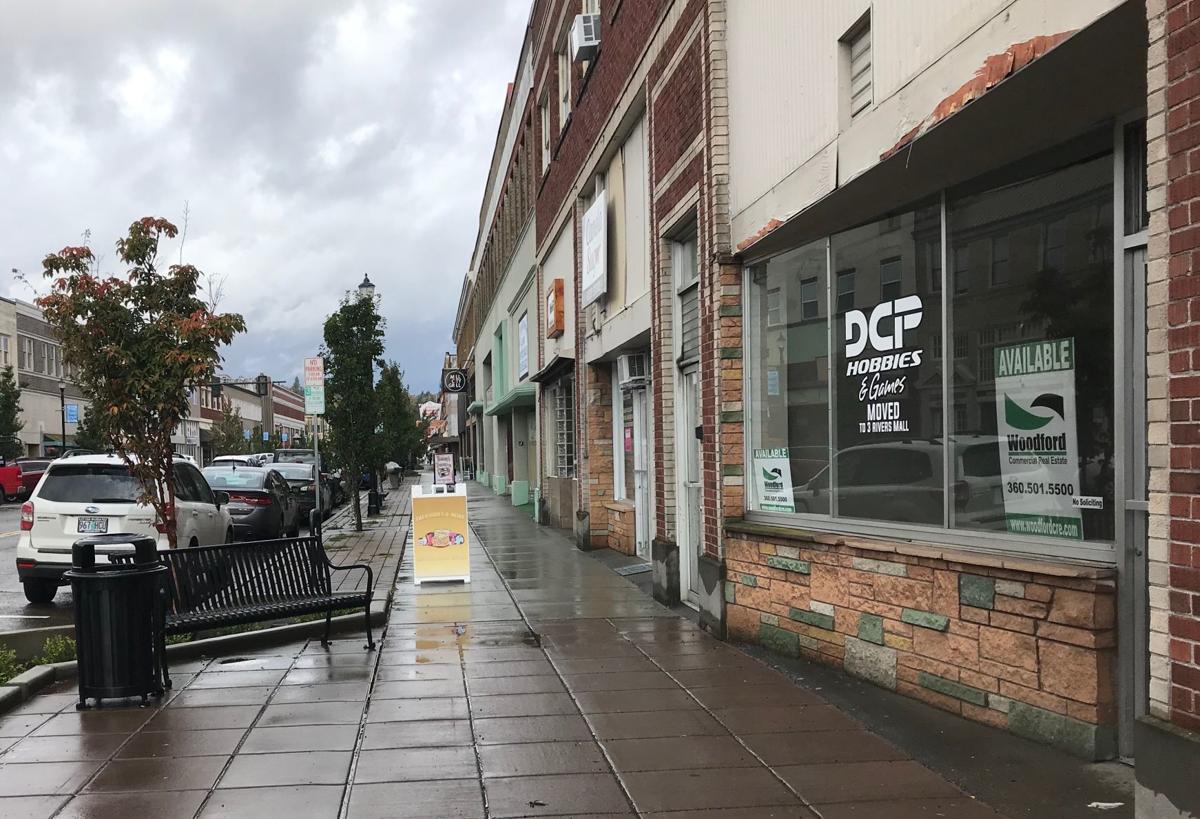 The effort continues the trend of improving downtown vitality, while also allowing area businesses to find a compatible store to add to the current shopping mix, said Longview Downtowners President Lindsey Cope.
"You can't wait around for people to fill those vacancies. You have to make them attractive, and you have to let people know they are there," Cope said. "And you can't complain about what businesses go in if you don't actively recruit."
"It's no different than sharing your neighbor's house when it's listed," Cope added.
Though not uncommon in the business world, the strategy has become "more of a focus" for Downtown Longview in recent years, said Cope, who also works with the Cowlitz Economic Development Council. A visit in February from downtown expert Becky McCray drove home the importance of recruiting to fill vacancies, she said.
"(The Downtowners) know of the people who are looking for somewhere to move a business out of their garage or off their kitchen table. … Our businesses have a sphere of influence with other business owners who might be ready to take that leap" to a brick and mortar shop, Cope said.
"By putting that (vacancy) out there and in our members' hands to help recruit for it, we can hopefully fill some gaps and get businesses that are complementary."
The former site of a game and hobby shop at 1234 Commerce Ave. is leasing for $1,000 per month plus utilities, according to the Woodford Commercial Real Estate listing. That puts rent for the 2,200-square-foot shop at about 46 cents per square foot — about half the rate of other storefronts listed for rent. (A 3,000-square-foot shop at 1248 Commerce Ave. is leasing for about $1 per square foot, and another storefront on the 1400 block of Commerce is listed at about 90 cents per square foot.)
"It's quite a bargain, as far as real estate goes in the downtown area," Cope said.
Lynn Brewer, who owns the ice cream shop next door to the vacant store, said she's seen a lot of people eyeing the space since it opened up in May. In her 20 years as its neighbor, she said she's rarely seen the shop stay vacant long.
"Normally someone grabs right on," she said.
And in recent years, Commerce has been "probably the busiest I've seen it," Brewer said. "When I opened 20 year ago, it seemed there was nothing here. It's not the same way anymore."
Wendy Kosloski has also owned a shop downtown for 20 years. In her time operating Teague's Interiors, she's seen the 1200 block of Commerce Avenue with as many as eight to 10 vacancies at once, she said.
But now the "vitality and the business mix is very good," Kosloski said. (There's only two stores posted for rent on the block right now, including the old hobby shop.)
If prospective business owners stop in to Teague's to ask about openings, Kosloksi said she points them in the direction of vacant shops like the one at 1234 Commerce Ave.
"Downtown is a great place for people who have an independent business at home and have outgrown that space. … It's nice to be able to let people now there is space available here," she said.
As for what type of business fills the spot, Kosloski and Brewer aren't all that picky.
"I would welcome anyone and everyone that wanted to bring something down," Brewer said. "It can be something new, or something the same (as what we have). Competition can be good."
McThread's Art Works owner Linda McCord said she is also "open to anything, rather than an empty building across the street." However, if she could pick a new tenant, McCord said she would like to see some sort of gift shop.
Customers like boutiques and gift shops, she said, but downtown Longview is lacking the latter.
"The more we can have going on downtown, the more customers we will attract," McCord said.
With an influx of new retail stores this year, it would be nice to see a service-based business or restaurants open downtown, said Marnie Harris, owner of Wander boutique at Tibbetts Mercantile.
JoAnna Asplund, owner of JoJo & CoCo clothing and Harris' business partner at Tibbetts, said she wants "local. We are looking for someone from the area" to join the other shops on the block.
At-home business owners might be "afraid to take the leap" and open their own store downtown because they are "worried about what's going to happen with the economy," Harris said. But they can look to Tibbetts Mercantile as an example.
"We are finding out it does work in Longview. … I think people see the success that can be here, and they want to jump on board," Harris said. "That's what Commerce (Avenue) is about."
Get local news delivered to your inbox!
Subscribe to our Daily Headlines newsletter.