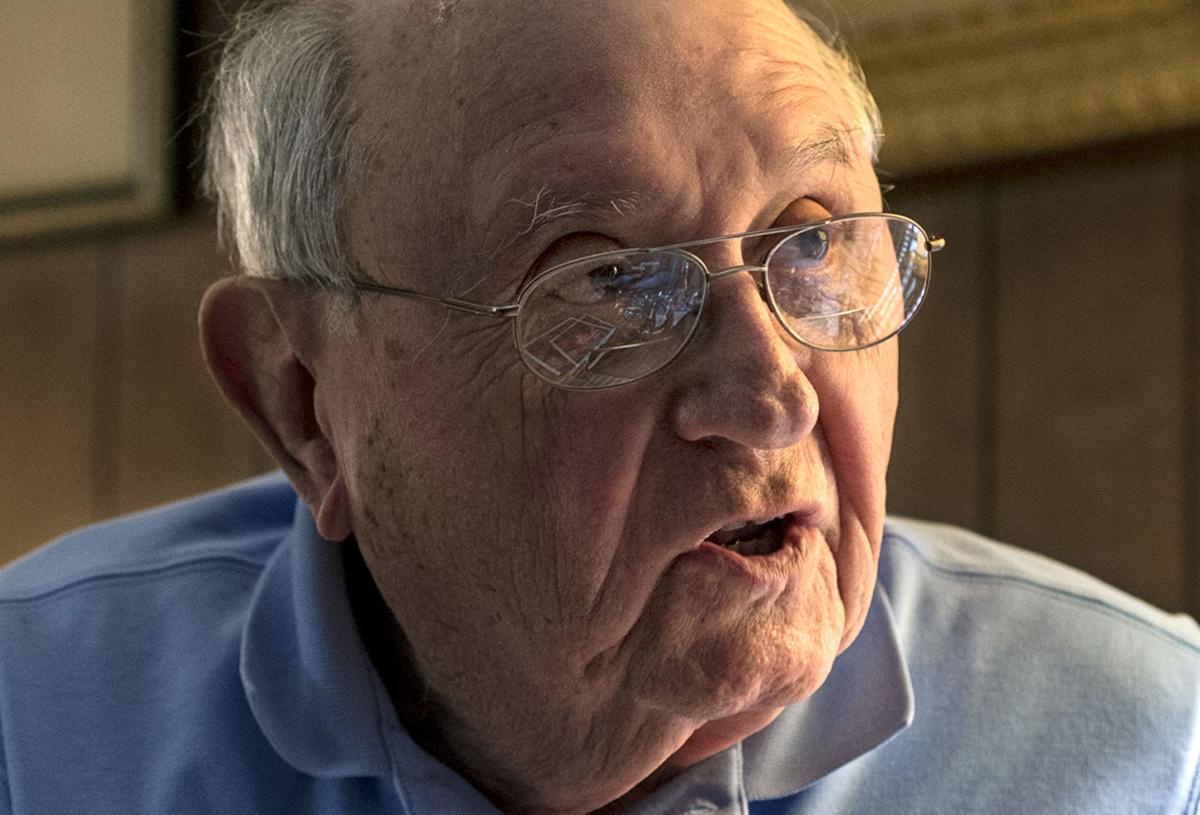 Longtime Longview doctor and World War II Army veteran Donald Fuesler died last week at the age of 96, finishing a life rich with heroism, fun and friendship.
Fuesler passed away at Community Home Health and Hospice on July 31 after suffering a stroke several days earlier, his daughter Margretchen Fuesler said.
"He kind of started to lose his memory, but you do at 96," Margretchen said. "(And) he fell and broke his hip in November, so he struggled with that. Other than that, he was healthy."
Fuesler was well-known for his military service in the second World War, which included landing at Normandy, liberating the French town Metz and freeing prisoners who were being sent to Nazi camps.
But Fuesler also blossomed into a respected Longview doctor and philanthropist after the war was over. He worked for more than 40 years as a general practitioner, performing surgeries, setting fractures and delivering an estimated 1,000 babies.
"He was an excellent doctor," Margretchen Fuesler said. "Probably one of the best in town. He cared very deeply for his patients."
Fuesler is survived by his wife Margaret, and the two have been generous supporters of Cowlitz County organizations supporting the arts, education and health such as CASA, The Columbia Theatre and the Southwest Washington Symphony Orchestra. In 2019, they were given the Lifetime of Giving Award by the Community Foundation for Southwest Washington.
Fuesler was also a member of the "Jolly Boys," a boisterous and good-natured social club originally born out of meetings between Long-Bell Lumber Co. executives interested in civic affairs.
Fellow Jolly Boy Keith Larson, who retired as human resources director at the City of Longview in 2014, moved here with his family in 1995. They became Fuesler's next-door neighbors, friends and travelling companions.
Fuesler was principled, honest and stubborn, Larson said. He made friends wherever he went, and he could hardly go anywhere in town without someone telling him he'd delivered them or their family member as a baby.
And after Fuesler retired in 1992, the public came to learn the quirky, humorous side of the doctor who had for decades maintained a serious but polite bedside manner.
Fuesler began writing terse, sometimes risque letters to the editor at The Daily News: "This surgical penis enlargement business? Frankly, I don't see it as any big thing," he wrote in May 1995.
While the letters may have surprised some readers, Fuesler's taste for adventure, and occasional monkey business, dates back to his early years.
He grew up in Norfolk, Nebraska, where he often got into mischief with his friend Johnny Carson, who would achieve late-night TV fame as the iconic host of The Tonight Show.
The pair sneaked into fields to steal watermelons and ran from the police together. On one occasion, when they were 14 or 15 and ice skating on a river a few miles out of town, Carson rescued Fuesler when he fell through the ice and briefly became trapped.
On Dec. 7, 1941, Fuesler and Carson were working as ushers at a Norfolk theater when the projectionist rushed over to tell them Pearl Harbor had just been attacked. The friends agreed that the war would probably be over in a few weeks.
But after graduating High School, Fuesler joined the Army and Carson entered the Navy, both beginning roughly three-year careers in the service.
Fuesler was only 19 years old when, weighed down by military equipment, he nearly drowned off the beaches of Normandy.
A Coast Guardsman opened the ramp of their landing craft well short of the beach, dropping the infantrymen into 12 to 15 feet of ice-cold water. Fuesler shucked off 110 pounds of equipment, swam to shore and dodged German minefields.
It was his first day in the Normandy invasion of 1944.
That winter, the infantrymen's overcoats were taken away after too many soldiers were mistaken for Germans and killed by friendly fire. They had nothing but "flimsy field jackets" to stay warm, and winter clothing didn't arrive until April.
Fuesler's troop liberated a man from a Nazi holding camp the day before he was to be sent to the Auschwitz Concentration Camp. That man's granddaughter would go on to become a family friend when they reunited decades later.
Fuesler was awarded the French Legion of Honor — that nation's highest honor for military service — for his service in the 95th Infantry Division of the 378th Regiment of Gen. Patton's Third Army in World War II, the infantry that liberated Metz from Nazi Germany.
After the war, Fuesler returned to his hometown in Nebraska, where he went to medical school and married his high-school sweetheart. He finished his medical residency in Portland and moved to Longview in the early 1950s, where he started his medical career.
But "the misery" of war stuck with him, Fuesler said in a 2016 TDN interview. Even in his 90s, he still occasionally woke from nightmares screaming in bed.
Fuesler came from a generation that generally avoided talking about depression or mental illness in favor of stoicism, Margretchen said in a 2019 interview, and it took Fuesler decades — and his daughter's help — to finally admit he had Post-Traumatic Stress Disorder.
But Fuesler was always "a real upper to be around," said John McClelland, a former TDN feature writer whose grandfather and father ran The Daily News for the first half-century of its existence.
Fuesler was funny and positive, and despite his military prestige, "Don did not brag ever," McClelland said.
"On top of everything else, he was a compassionate person. He cared about his patients, his community and his family."
Get local news delivered to your inbox!
Subscribe to our Daily Headlines newsletter.