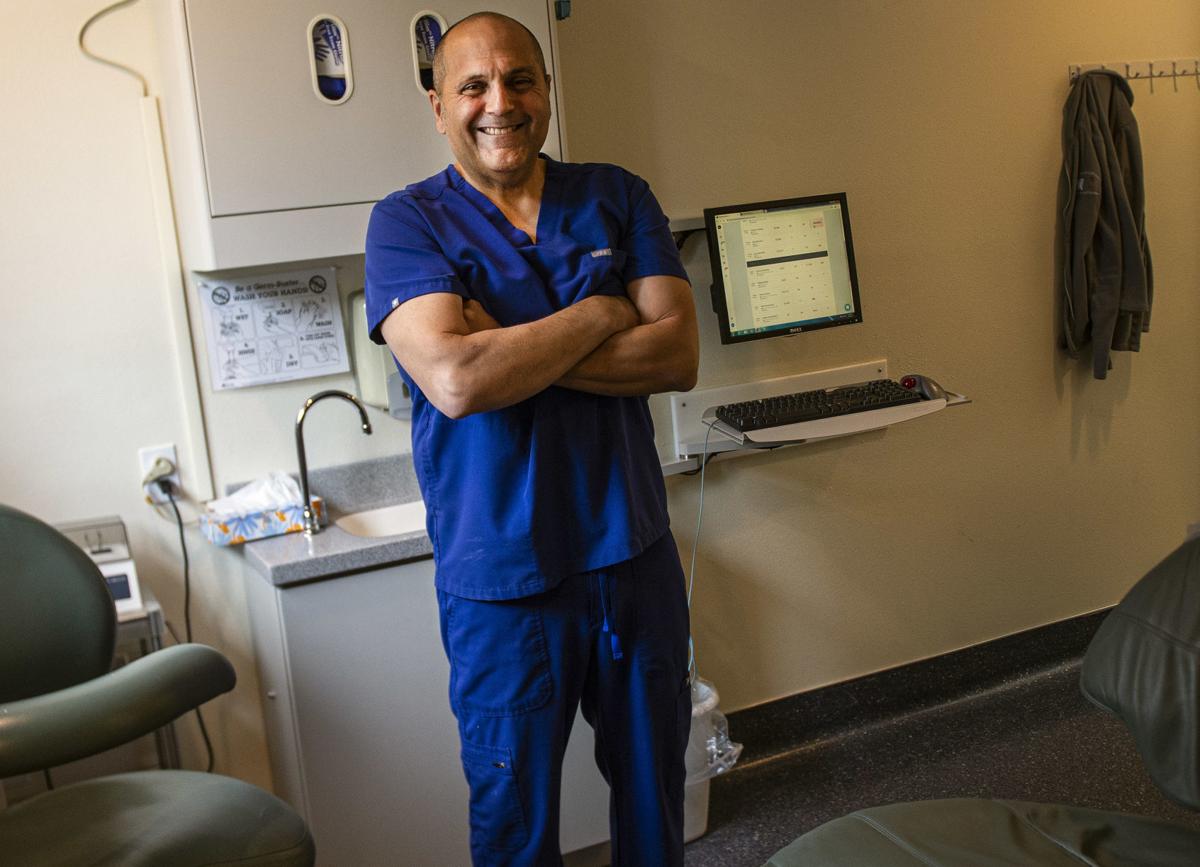 When Daniel Haghighi moved to Longview in 1995, he planned to use his dental practice to pay for a "West Coast lifestyle" focused on outdoor recreation.
As he prepares to move back to Ohio 24 years later, Haghighi (pronounced ha-GEE-gee) is leaving behind a dental practice deeply embedded into the community with a reputation for charity care, as well as taking on medically complex patients.
"If you told me I'd be where I was six months ago back in 1995, I would have laughed," he said Monday. "I did a lot of community service on top of the private practice. I think it all goes together. You're taking care of people."
Haghighi, his wife, Amy, and two teenage children are moving to Ohio to help take care of his parents.
Sam Wise is taking over the practice and has been managing the office since mid-April. Wise has three masters' certificates and is certified by the German Association of Dental Implantology and the American Board of Orofacial Pain.
"He's a nice boon for the community," said Haghighi, 56.
Until he leaves at the end of August, Haghighi said he is mostly working on emergency cases and helping with the transition.
He will be taking a new position with a large group practice in Cleveland, where he will be splitting his time between practicing and clinical mentoring.
"It will be a good thing to step into and a new place to grow," Haghighi said. "I'm hoping once I get there I'll have another 20 years to build something else."
Haghighi graduated from Cleveland's Case Western Reserve University School of Dental Medicine in 1990. He then completed a year-long hospital-based residency program in New York and a geriatric dentistry fellowship in Cleveland.
In 1995, Haghighi moved to Longview and took over Lower Columbia Oral Health.
"A wonderful surprise was this area. The people here are very warm and welcoming," he said.
Haghighi said when he first came to Cowlitz County, he was single and didn't expect to be involved in the community, but his service work grew over time. Although he and his family still enjoy outdoor activities, Haghighi said a lot of his time spent recreating fell away to "better pursuits."
When Haghighi took over Lower Columbia Oral Health, he wanted to make it more like a medical practice. He said he started working with patients that previously were only seen at the hospital, including special-needs patients, those with medically complex problems and children who needed to be sedated or required specialty care.
Unlike many dental offices that send after-hours patients to the hospital, Lower Columbia services are available 24/7 for emergencies, Haghighi said.
"We really pride ourselves in running a practice like that," he said.
In the last several years, Cowlitz Family Health Center's dental program has stepped up to the plate to take on some of those emergency department patients, Haghighi said. The practices have worked together over the years, he said.
Haghighi said his work at the PeaceHealth St. John Medical Center was the gateway to doing more for the community because many agencies that offer support services are tied to the hospital.
"Once you're in that circle and people find out you're willing to help out, it slowly grew from there," he said.
Haghighi said it became the norm for his clinic to perform work for free for uninsured patients, especially when Medicaid dental benefits were more limited.
Dental benefits for adults are not required by federal law so states can choose to offer emergency-only, limited or extensive benefits. Washington suspended covering dental services for adults in 2011 due to budgetary constraints but resumed in 2014. It now offers extensive coverage.
Newer dental providers are still not as inclined to accept emergency calls or take Medicaid patients, Haghighi said.
Dentists with hospital privileges are even more rare, he said, because it requires specific training not required by dental schools.
Although Wise had advanced training, he does not have hospital-based training, Haghighi said. As far as he is aware, there are no other dentists in Cowlitz County who can work in the hospital.
The emergency department will continue to see patients and refer them to clinics, Haghighi said.
"The support network we have here for an area our size is incredible," he said. "A wonderful group of people that manage that."
Haghighi said he is the only dentist in Southwest Washington that had hospital privileges to care for special needs patients. Many of those patients who are also on Medicaid may have to travel to Seattle to find a dentist, he said. According to the Washington State Dental Association, the closest clinic to Cowlitz County within the state that takes special needs patients is in Morton.
Haghighi said his departure and the need to replace his services may open up an avenue for a qualified dentist to move into this area.
Haghighi has also been a longstanding participant in the free dental clinics held multiple times a year at Kaiser Permanente. In the clinics, University of Washington dental students provide treatment to low-income patients under the supervision of local dentists.
Although not all the dentists in the area are as tied into community service as Lower Columbia, Haghighi said Cowlitz County has a nice and hard-working group of providers.
"If I called anybody and asked them as a favor they would see anyone for free," he said.
That includes Wise, who is planning to continue connections with community organizations and charity care, Haghighi said.
Wise also wants to add two or three more dentists to the practice and give them extra training in specific fields to have a variety of specialists, he said.
"He's really added a lot of technology quickly to the practice," Haghighi said. "We had a very modern practice before and he's just enhanced it. … I think people can look forward to continued good care."
Get local news delivered to your inbox!
Subscribe to our Daily Headlines newsletter.