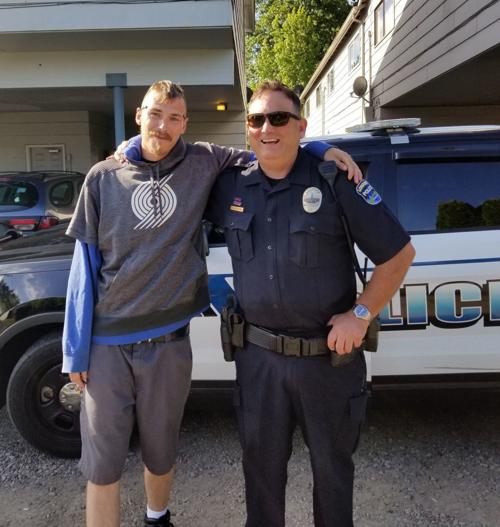 By the time he left Longview for Oklahoma six months ago, Garrett Remster "was very well-known by all of Longview police force," the 25-year-old recalls of his time growing up here.
"I was into drugs really bad. Heroin, methamphetamine. In and out of jail. I was as bad as they get. Plus, I had a lot of mental illnesses going on at the time that weren't really helping out."
His mother, Donna Jones of Longview, put it even more succinctly: "Garrett was an ass."
But today, he's sober, reconciled with his daughter, happily married and steadily employed. He's happier and healthier and just bought a new car. And in his wife's words, he's "the man I fell in love with."
His family, his wife and the corrections system were partly responsible for this transformation. But he owes his reform to two other surprise factors: his decision to move away, and his friendship with veteran Longview patrolman Scott McDaniel.
Her son "didn't respect the police," Jones said, "but he did respect officer McDaniel."
McDaniel, an officer with Longview PD for nearly three decades, said he got to know Jones and Remster, then a teenager, about 10 years ago when he was working as a community officer in the Highlands neighborhood.
"(Garrett) was struggling, and I got to know him and his mother at that time," McDaniel said. "I arrested him on occasion. Police officers (often) interact with people that might be in a crisis, at a low point. Police are in a unique position at that moment to offer some advice, because they kind of have a captive audience."
He'd frequently stopped to chat with Remster to check how he was doing. He helped Remster's wife, Sara Remster, make missing posters for her husband when he briefly disappeared.
One Christmas, Jones recalled, McDaniel bought Remster a pie and a wallet with $20. He told her son, "Succeed, bud. You've got it in you."
"McDaniel was always the first to arrest him and the first to say 'Hey dude, you can do better,'" Jones said.
McDaniel had hope for Remster when things were hopeless, she said. He and another Longview officer, Nick Woodard, "saw in Garrett what I couldn't see anymore."
Remster said McDaniel became "like a father figure" to him in the absence of his biological dad, who separated from Jones when Remster was just a year old.
"I'm really grateful, honestly," Remster said of McDaniel. "There were a couple times he was supposed to arrest me and he let me go, where I should have ended up in trouble. He gave me the chance to learn from my mistakes. ... He came to me as an equal every time."
A traumatic brain injury at age six was the beginning of Remster's challenges, his mother said. It happened when he hit himself in the head with an ax while trying to chop up a dead snake.
With misdemeanor convictions dating back to when he was only 11, Remster was in trouble early in life. He could be violent on a daily basis.
"It's not that I didn't love him," Jones said. "But it was so hard. And unless you're in that situation, you don't understand that. ... Love shouldn't have a 'but' with it."
Child Protective Services representatives said Remster was "too much" to put in a foster home, so Jones quit her job to take care of her son herself.
Garrett met his future wife, Sara, while they were teenage underclassmen at R.A. Long High School. Sara, 26, remembers clearly the day they started seriously dating in December 2011, while hanging out at the Archie Anderson park playground.
"He told me: 'If you push me one more time, I'm gonna have to kiss you.' So of course I pushed him."
It was an amazing relationship in the beginning, she said. They moved into a home in the Highlands and began building their life together, but Garrett was getting involved with drugs.
"It went from, he was gonna sell drugs to help with money, to him smoking meth every now and then, to him smoking meth every day and doing a bunch of nonsense," Sara Remster said.
After a year they ended up "basically homeless," she said.
They eventually moved in with Sara's parents, and things were good for a while. But he was arrested and sentenced for a drug charge in late 2015 and placed on Department of Corrections supervision for a year.
McDaniel said probation gave Remster some structure in life.
"During that period of time, I think he was doing well," McDaniel said. "You can just tell by looking at somebody that they're doing a lot better. He was no longer living in the area where he grew up. It was all positive."
The couple moved into a new home in the St. Helens neighborhood, but Garrett got involved with dealing drugs again after his DOC supervision expired.
McDaniel said he became concerned when he saw Remster start to slide back into bad habits. Sara Remster said he started dealing drugs out of the house's shed.
"I think that a lot of people who are in his position have the best of intentions, but for whatever reason, there's just too many triggers, and it's just too easy to slide back into that lifestyle," McDaniel said.
McDaniel recommended that Remster move away from those influences. Jones set her son up with a friend in Oklahoma who could help Remster hit the ground running, and Remster says he realized he had to leave before he ended up dead or in prison.
It was "nerve-wracking," he said, not knowing what they were getting themselves into. He moved with Sara and their daughter from a previous marriage about six months ago. The couple has been married for two years.
"McDaniel said anywhere is better than coming back and knowing I would slip up again," Remster said. "I figured the best way to see if I can actually make it is start all over."
In Longview, she said, he couldn't hold down a job, but in Oklahoma, he's thriving.
'This kid, who the hell is he?'
While they now live nearly 2,000 miles apart, McDaniel and Remster still talk over the phone about once a week. And in early September, Remster drove 30 hours to visit his family and McDaniel.
His face was fuller and he was sporting a full-on mustache. (Remster, who stands six-foot-three-inches, had been skeletal before moving away.) His own mother didn't recognize him.
"I looked at him three times and I said, 'This kid, who the hell is he?' And then I said, 'Oh my god.' "
McDaniel was struck by how different Remster looked.
"I thought, 'Oh wow, he looks like a man,' " McDaniel said. " 'He's no longer a boy.' "
He's "a totally different person" now, said Sara Remster, who works at a restaurant and marketplace in Oklahoma.
"He's so much healthier. He used to come home all the time angry. Now he's always smiling, he's always joking. ... I can actually picture our happy little family now. Two years ago, I saw us spiraling into a black hole. Now, we're doing OK."
McDaniel said he's "really impressed" with Remster's progress.
"Escaping the clutches of drug addition, it's not easy," he said. "In my opinion, it's really shown some true grit and resilience. He moved across the country, got a job. He's starting a new life. He kinda stood up to the addiction on his own, and basically said 'enough is enough.' "
Remster's relationship with his daughter Gabby, too, has come "all the way around." Gabby, 10, is much happier now and enjoys spending time with him.
"We actually went on vacation a couple months ago to Oceans of Fun in Missouri," he said. "It was a blast. She was a little scared of the rides, but it was a blast."