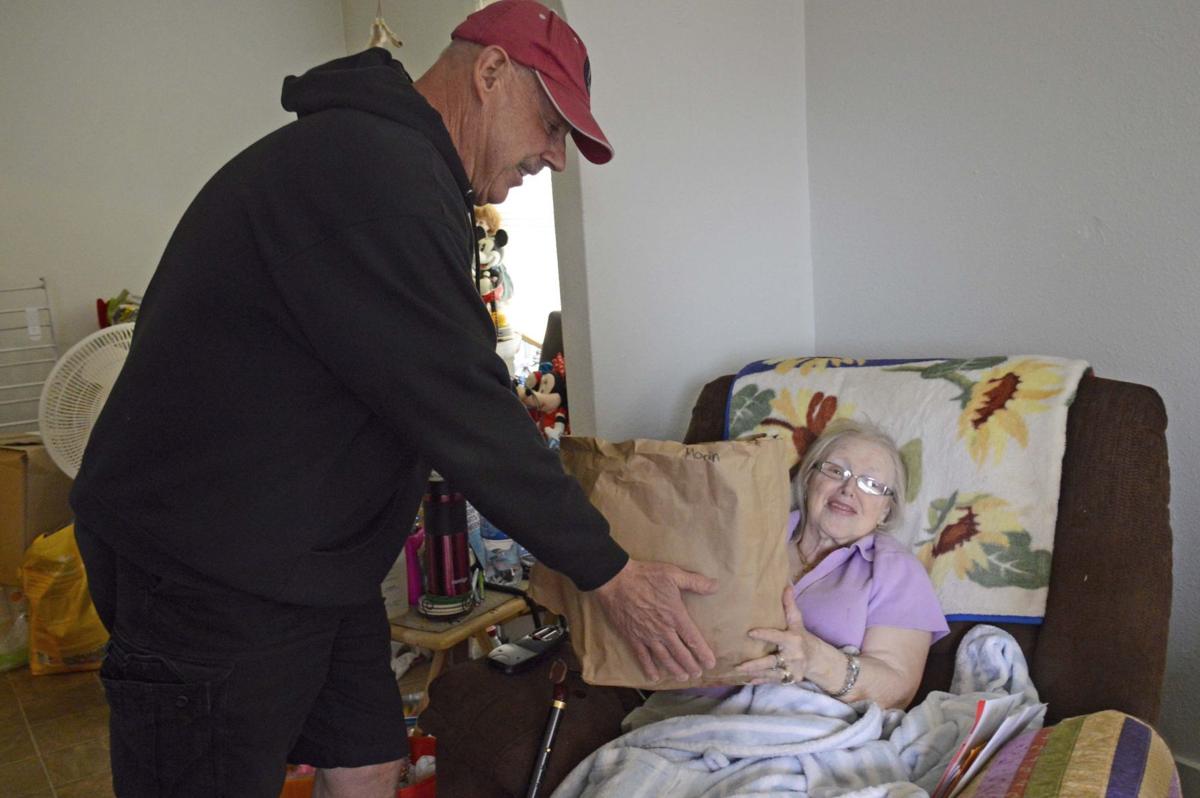 At least three days a week, Russ Neely loads up his truck, turns on the Grateful Dead and spends his morning delivering meals to housebound seniors.
On Wednesday, the retired Cowlitz 2 firefighter made his 100,000th Meals on Wheels delivery to Longview resident Doug Havird. Neely said reaching the landmark was exciting and humbling.
"My thing is, people shouldn't be hungry," Neely said. "Any way I can help is a good thing."
Neely has been delivering meals to Havird for years. The 70-year-old was a co-worker of Neely's at International Paper Co. in the 1970s.
"We go back a lot of years and we get along really good," Havird said. "He's a hell of a good guy."
Neely, 67, has volunteered for Meals on Wheels since 2006 and has driven more than 31,000 miles for the program.
Before Neely retired from Cowlitz 2 in 2012, he delivered meals once a week. He now delivers frozen meals on Mondays and Wednesdays and hot meals on Tuesdays. Right now, all Neely's meal routes have around 16 stops. Neely said he would make 30 or 40 deliveries if he needed to.
"I feel like I can't do enough," he said. "There's such a need for the meals."
Lower Columbia CAP has run the Meals on Wheels program for Cowlitz and Wahkiakum counties since 1979. It serves about 150 people. A person must be 60 or older and housebound to qualify for the program. Eligibility is based on need, not income. The program suggests a $3 donation per meal but no one has to pay, Neely said.
The program delivers an average 23,000 meals per year, aid Tammy Davies, program manager. So Neely's 100,000 meals are the equivalent of over four years of deliveries, or one for nearly every Cowlitz County resident. Neely delivers in all weather and also substitutes for other drivers.
"He's just a really nice guy that loves to help out in the community," Davies said. "He's an important part of the team, and we are lucky to have him."
You have free articles remaining.
Neely was born and raised in Castle Rock and has lived in Kelso most of his adult life. He said his job as a firefighter helped familiarize him with the area.
Wednesday's delivery route sticks around Longview, but Neelys rounds stretches from far West Longview to the Delray Mobile Home Park on Tennant Way. Monday's route serves Kelso and a bit of Longview and the hot meals route weaves through both cities. The distance doesn't bother Neely.
"I love to drive," he said. "I can drive around and deliver meals and listen to the Grateful Dead, and I'm happy."
Most days, Neely's yellow Labrador Buddy will ride along with him. Neely said he'll bring Buddy in to see some of the clients if they ask, and one woman even gives him dog treats each week.
Instead of Buddy, Neely's wife, Karen, rode along on Wednesday to see her husband deliver the 100,000th meal.
"I think it's pretty cool," she said of the landmark. "It gives him purpose, and he enjoys it a lot."
Wednesday's route had a mix of new and old clients. Neely said he's been delivering meals to one of the last people on the list, Donna Morin, for a couple years.
"He's the best. We really like him," Morin said.
Neely said that the hardest part of volunteering for the program is when clients pass away.
"You get attached and talk to them every week. It's losing an acquaintance. That's the tough part."
Volunteering for Meals on Wheels is Neely's passion right now, and he's delivered meals to thousands of people over the years.
"Sometimes I'm the only person they see in a week," Neely said. "To see them get that smile, that's what it's all about."