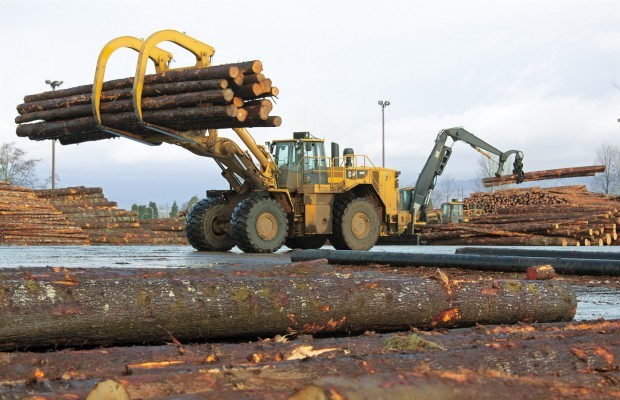 After a moderate slip in 2012, log exports are heating up again on Lower Columbia docks in response to demand from growing Asian economies.
In February, Port of Longview dock workers are expected to load about 90,000 metric tons of logs on vessels bound for Asia, more than a fivefold increase from all of February 2012, according to the port. January's log exports also outpaced the numbers from the same month the previous year.
"Everybody that I've talked to in the logging industry indicated we're going to have a strong year, compared to last year," Laurie Nelson-Cooley, the port's marketing director, told port commissioners during a business meeting last week.
The uptick in activity at the docks is good news for longshoremen, timberland owners and loggers throughout the Lower Columbia region, although increased foreign demand for logs could put the pinch on the area's lumber producers, since the price of logs tends to rise during periods of high demand. Weyerhaeuser Co. officials say they expect more activity at their Longview dock, the company's largest on the West Coast.
During the recession, the Chinese market was a savior for Pacific Northwest timberland owners, who were suffering through a nationwide, domestic housing collapse in the U.S.
Analysts say the China boom couldn't last forever.
"Chinese imports of softwood lumber just went on an incredible run for the last few years. Anybody would tell you that just can't continue. It has to level off. It didn't plumment and fall off the cliff. It leveled off," said Pete Malliris, editor of Random Lengths International, a Eugene-based journal which tracks log and lumber sales.
Last year, Chinese log imports fell 15 percent from an extremely hot 2011, with most of the slowdown occurring at the beginning of the year, according to Wood Resources Quarterly, a Bothell-based timber industry trade publication. In the second half of year, Chinese imports from the United States grew by 20 percent, Wood Resources reported.
Hakan Ekstrom, president of Wood Resources, said China is also boosting imports from New Zealand, which will likely remain a strong competitor to U.S. logs.
Malliris added that timberland owners in the Pacific Northwest began to see greater interest in 2012 from domestic lumber producers, who are less expensive to supply. At the same time, he noted that demand from China and Japan is picking up, leaving industry experts wondering about potential shortages.
"Everybody's wondering, where's the (wood) fiber going to go this year? Is there going to be enough to meet the demand (in Asia) and in the U.S., too?" Malliris said.
If supplies fall short of demand, analysts say prices could see an upward push. Last month, Western Washington Douglas fir prices were at $549 per thousand board feet after ranging between $505 and $515 per thousand board feet for much of 2012, according to the state's Department of Natural Resources.
According to Weyerhaeuser's annual earnings report released in late January, log exports at the company's Longview docks began picking up during the last three months of 2012. The company expects log prices to increase in 2013 as a result of increased Asian demand.
Weyerhaeuser officials said they have seen growth in log-export demand from China, but that Japan continues to be the company's largest foreign customer.
Get local news delivered to your inbox!
Subscribe to our Daily Headlines newsletter.