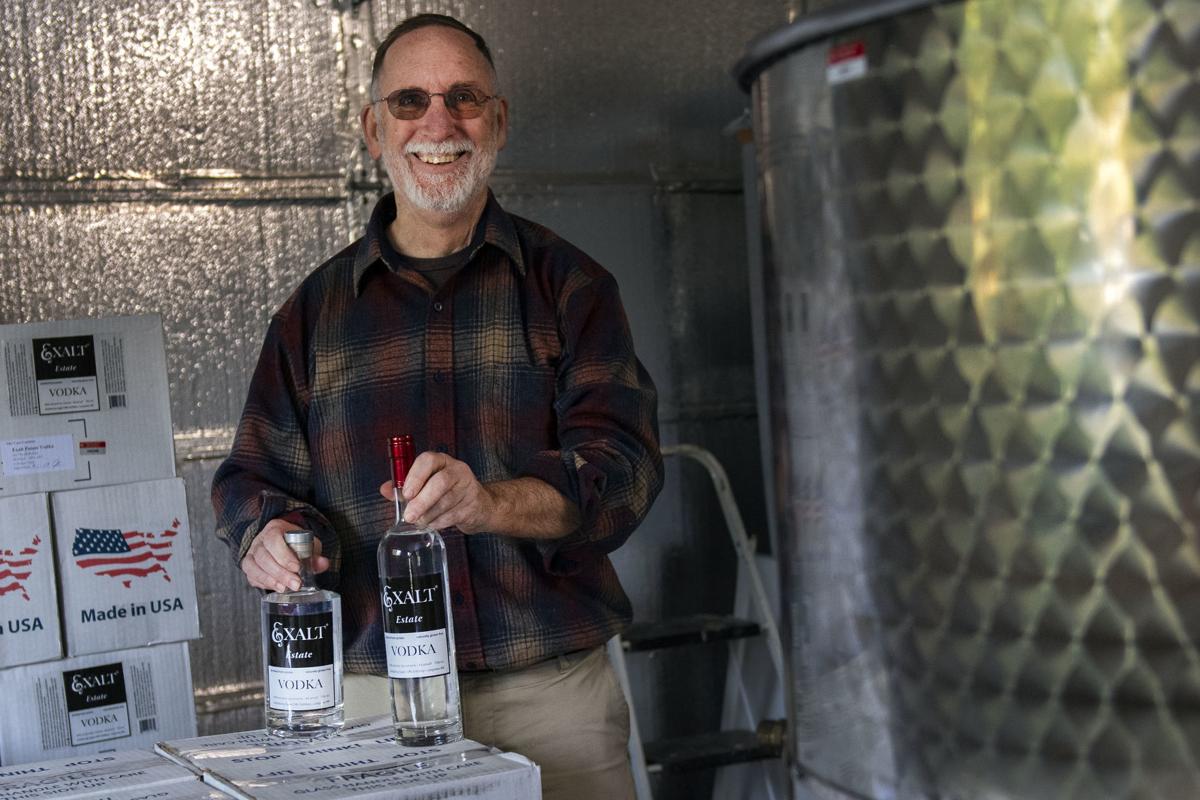 But now — though it's difficult for him to bid the business goodbye —Koehler, 68, says he is shutting down Eagle Cliffs Distillery, which he's operated out of his garage near Mill Creek for almost a decade. Customers have until the end of the day Dec. 31 to buy his Exalt Estate potato vodka.
He cites financial hardship, state regulations and a nearly non-existent distribution channel for craft distilleries as the main driving forces behind his decision. He said he's lost nearly $300,000 trying to keep the business afloat during state rule updates and a monopolized liquor sales market.
"I'm paying the penalty of thinking I was smarter than the average bear," Koehler said.
While COVID-19 plays a small part in Koehler's decision, state regulation proved the biggest obstacle for the local distillery. Koehler said changes in state law have allowed one distributor to claim nearly 85% of the sales market, while also effectively pigeonholing craft distilleries operating models.
"The only way I could have stayed open is if I decided to open up a tasting room in Vancouver and become a bar owner," Koehler said. "I'm an engineer. I don't have that social personality, and I really don't have interest in becoming a drinking establishment business man. But at this point, that's the direction the industry has taken in the state. That's the way those that will be successful can continue."
The operating challenges date back almost as long as Koehler's distillery, which opened in 2011. That same year, voters in Washington approved Initiative 1183, which allowed grocery stores to sell liquor.
Before then, hard spirits were sold only at state-run liquors stores. The initiative essentially privatized liquor sales.
The measure was backed and financed mostly by Costco, according to reporting by the Seattle Times.
"It wasn't the state's fault. The initiative was financed by Costco. They paid people to go out and collect signatures," Koehler said. "They spent the money promoting it. They sold the idea that if we would vote for this, that we would have cheaper liquor in the state. … It was a complete lie."
The change also allowed distributors to offer discounts for large-volume sales. If a store bought three cases of liquor, for example, a distributor could offer a better price. However, distributors could not offer special deals to regular customers or on small volumes.
"That means whoever has the most liquor to offer the stores has the lowest distribution costs, and they get to dominate the market. As a result, Southern (Glazer's Wine and Spirits), which had a really small footprint in the state when we were (state-run) liquor stores, now has 85% of the market last time I looked at the market reports," Koehler said.
Another large distributor holds about 15% of the market, and the rest "amount to a rounding error," Koehler said.
"The high regulation of the industry is supposedly intended to prevent any monopoly. Washington regulations mandate a monopoly," he added.
Small distilleries could try to self-distribute to the grocery stores, but typically that requires a large supply of stock, Koehler said. Safeway, for example, asks liquor distributors to sell products to all of the stores in a region.
"I have one product, my vodka. That's it. … My entire sales are driving 25 miles and coming in and checking with you for a one-bottle sale. Where Southern comes in and says 'Everything you have on your shelf other than that one bottle is mine. How many do you want?' "
He focuses his attention on small liquor stores, instead. The remnants of the state-run model, small, privately-owned liquor stores, are rare these days. Cowlitz County has just two: Boondox Liquor on Ocean Beach Highway and PHR Liquor in the Triangle Shopping Center.
Those liquor stores tend to be low-volume outlets compared to grocery stores, so Koehler's product gets less exposure and has less reach, he said. That makes it hard for him to grow profits and expand.
The smaller sales volume also means the stores are less likely to buy in bulk — but Koehler can't cut a deal with a customer unless they do.
"I would love to be able to go into a small liquor store and just say, 'We can set up a program where I can stop in every two weeks and I'll check your inventory. If you have less than six bottles on the shelf, I'll make up the difference,' " Koehler said. But because of the way the law is written, "I could not go to them and offer them any kind of a significant discount because everything had to be based simply off of volume. So if they were a loyal customer year after year, it wouldn't matter. If they wanted just one bottle today, I have to sell them that one bottle at the same rate I'd sell a one-off sale to someone I'd never heard of before."
Koehler had built his business plan to fit the pre-privatized sales model, in which customers could special order his liquor in Cowlitz County, forcing the state to stock it in liquor stores here. He envisioned slowly expanding to other rural community liquor stores, building cash flow, then finally hitting the larger communities in the state.
"Then the state initiative came along and took the state out of the market," Koehler said.
Still, he decided to take a shot at navigating the new marketplace. In 2016, he started commercial sales of his potato vodka. He assumed it would be a "long, slow process" of learning how to be a salesman and make a new market model work.
"I spent about two years on my own trying to learn the lessons of what would work and what wouldn't work. Trying to get into places like ilani, and discover road blocks existed in places like that," Koehler said. "I was about ready to give up, but then I teamed up with a couple of very good sales people. … They had a million ideas" but eventually exhausted their creativity after two years of failed attempts at solutions.
"They told me, 'We couldn't find a viable approach to selling, to distributing the product either,' " Koehler said.
Koehler said he was just getting a foothold for sales at regional farmer's markets. He could make "not great, but good sales," on a seasonal basis. But that solution became void this year in June, when a new state law took effect that prohibits the sale of liquor at farmers markets.
As a trade-off for lost sales opportunities, the state now allows craft distilleries to open two off-site tasting rooms in addition to the previously OK'd on-site tasting rooms. Koehler expects some craft distilleries to take advantage of the tasting room option. But for his business a tasting room has never been part of the plan.
"They cut my legs out from underneath me in order to get tasting rooms established, so that was kind of the final straw. I can't sell to liquor outlets, and now you've taken away my farmers markets for me," Koehler said. "The only thing I can do now is make a new kind of tavern … and that was not an attractive effort for me."
Exalt Vodka also will be available at the two liquor stores in Longview until supplies run out. Eagle Cliffs Distillery also has about 800 liter-bottles of vodka left on-site, and Koehler hopes to sell as much as he can before the calendar turns.
He will have to pay the state and federal liquor taxes out-of-pocket for any bottles he doesn't sell by the end of the day Dec. 31.
"This is just trying to get it out. Whatever we sell, the sales price covers the taxes. … We don't want to have to dig too deep into our pockets to go out of business."
Customers and liquor licensees can call the distillery at 360-501-6085 to place a special order. Most bottles and cases are offered at a "going-out-of-business" sale price.
"With once over 200 licensed craft distilleries in the state, there is no distribution channel available for these businesses. … The Washington Attorney General office needs to take a look at the industry," Koehler said. "For our little craft distillery, it is too late."