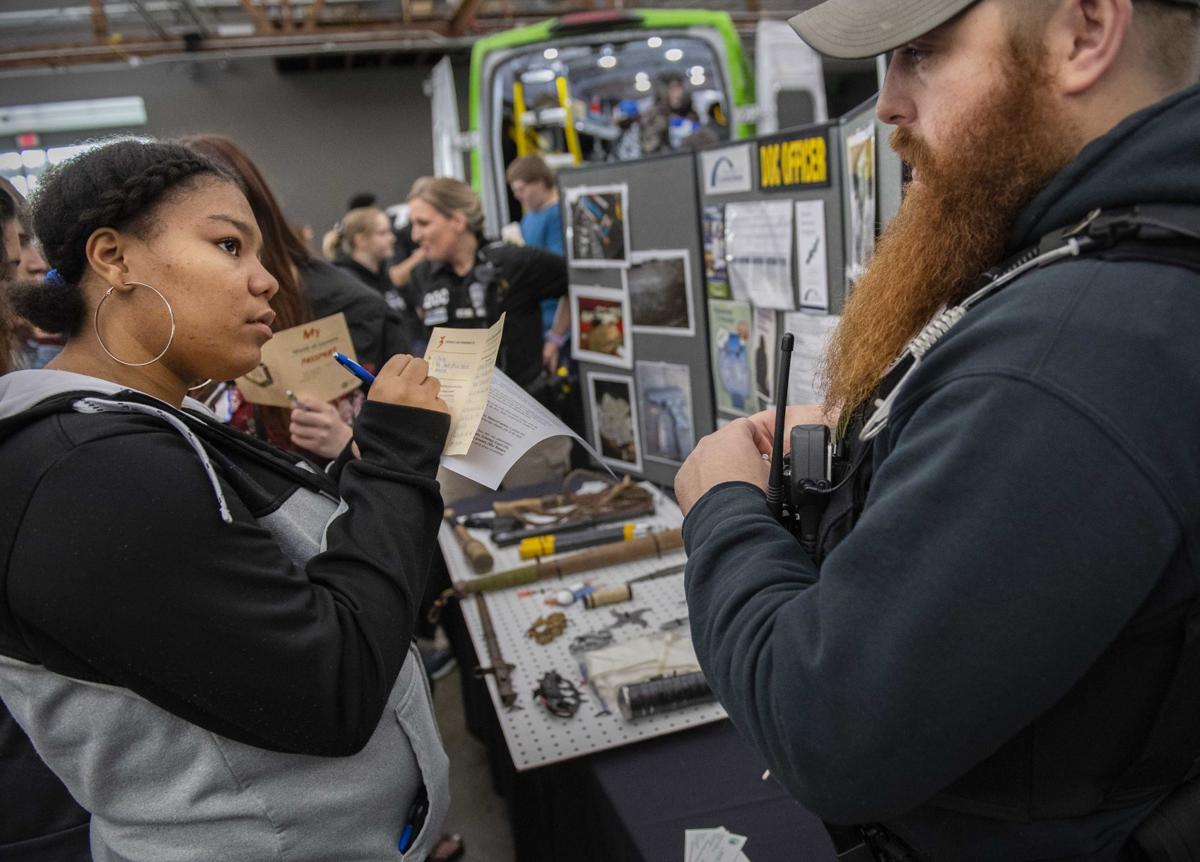 Mark Morris sophomore Felix Alvarez wants to be a chef.
Castle Rock eighth grader Michael Blythe wants to be a corrections officer.
And R.A. Long sophomore Miranda Loma wants to go into business.
They were among 2,500 Cowlitz County school students who converged on the Cowlitz County Expo Center on Thursday to learn how they can pursue and choose careers and job opportunities in the Lower Columbia Region.
The Cowlitz and Wahkiakum Counties Career Expo drew local employers together with eighth, ninth and tenth graders from across Cowlitz County, according to Bill Marcum, president of the Kelso-Longview Chamber of Commerce.
"The schools all have a lot of career fairs and job fairs and things like that, and I always get questions from our (business) members, 'Well, which one of these should I go to? I can't go to all of them,' " Marcum said.
Marcum said the career expo enabled business owners to meet many students at once, and students could get a big picture view of work opportunities close to home.
"You're going to need to replace people at your business. ... And businesses' No. 1 complaint is they can't find people to replace the people they're losing," Marcum said. "Most of the time they blame education, that these kids are not skilled enough to work. Well, you need to cultivate your own work force."
The Kelso-Longview Chamber of Commerce worked with Educational Service District 112, the Southwest Washington STEM Network and local school districts to organize the event. The ESD and STEM Network covered the costs except for student transportation.
"If we can do this every year, that's three years of interaction (for students) with 70 or 80 businesses that have come together," Marcum said.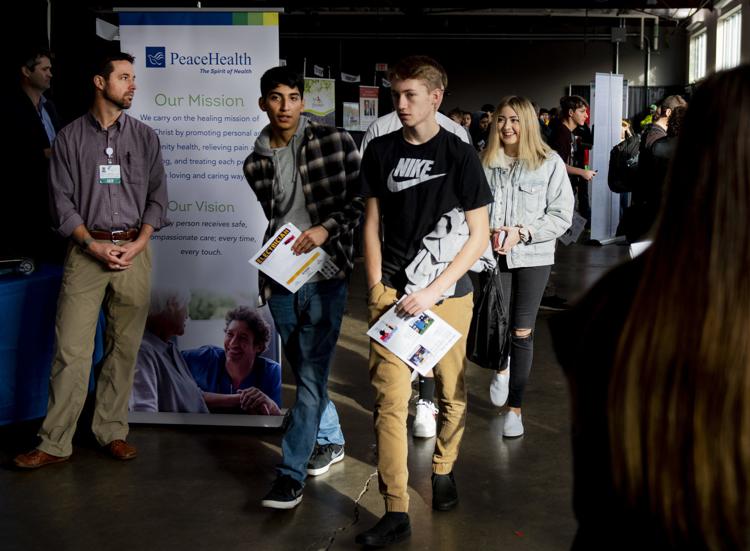 Felix Alvarez, aspiring chef, said the expo helped him learn a lot about that career, but he also learned about other careers
"I'm learning everything I need for this career, but I'm also finding other ones I could do if I want to, like welding or caring for old people," Alvarez said.
Michael Blythe, the Castle Rock eighth grader, said the expo was a neat opportunity to learn how to be a corrections officer and what it involves.
"I'd like to be a corrections officer to help other kids and people get better and prosper and succeed," Blythe said. "The (corrections booth) really showed me ... the things they do and what could happen. Like you could get shot, and that would be bad."
Miranda Lomax, the RAL sophomore aspiring to a business career, said the expo gave her a chance to network.
"I wanted to talk to people about business, like how to get one started and how the marketing works," Lomax said.
Bob Beal, a Longview State Farm agent, said he doesn't usually get speak with this age group, so he saw the expo as a great chance to expose students who might not have any experience with insurance as a career.
"They'll see what my company has to offer, because a lot of kids don't think about insurance as a job," Beal said. "But we have lots of options. It's been great to see younger kids and talk with all of them."
The expo was also useful for those seeking more popular career paths, such as health care. Tiffany Stephens represented Community Home Health and Hospice at the expo and said she wanted to let students know they could start in the profession as early as 18 by becoming a certified nursing assistant.
"To start out in health care as a CNA, it's a great way for them to get into the field," Stephens said. "They can continue on and become a nurse. It's a great opportunity right when you're 18 to start a career."
She said her booth had a lot of interaction, as students interested in health care came by to learn more about hospice care.
"I'm sure I'm going to be hoarse by the end of the day," she said.
Get local news delivered to your inbox!
Subscribe to our Daily Headlines newsletter.