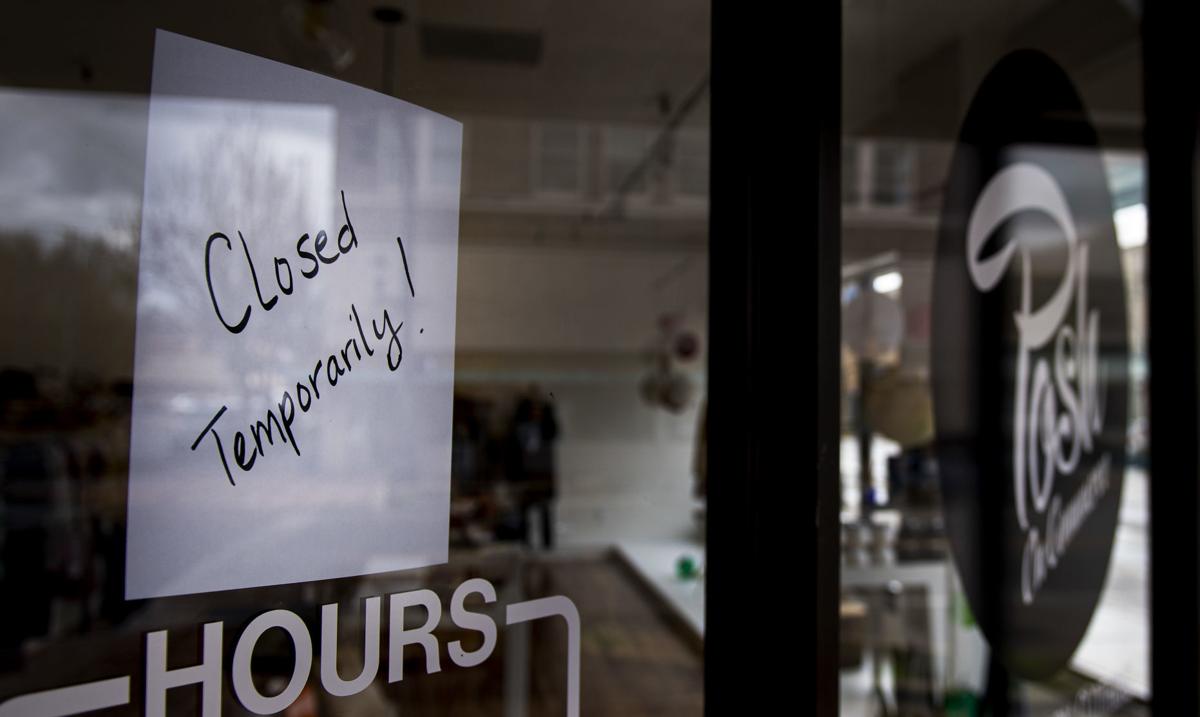 Gov. Jay Inslee's "stay-at home" order shuttered retailers across the state for two weeks, leaving downtown Longview with rows of darkened storefronts.
Although some retailers closed ahead of the order, all must now close as a safety measure. Even some local restaurants, which can continue takeout and delivery under the order, closed up.
"Generously we've been operating at 50%, but this will knock us down to 20% or less," said Lindsey Cope, president of the Longview Downtowners.
Declining revenues will make it hard to pay bills and could make reopening difficult for some, but many of Cowlitz County's small business owners remain optimistic their shops will weather this time of troubles, partly through online sales. That is, as long as the mandatory closures don't drag on for months.
"I think the majority of businesses are going to come through this, I think not without some scraps, bumps and bruises, but I think the majority are going to get through," Cope said.
Michelle Philbrook, owner of Posh on Commerce, said her shop could withstand up to two months of a closure. She frequently talks to her landlord about how they can work together to be "just temporarily closed, not closed forever."
Posh is usually a "strictly brick and mortar," so she's hopes to have an e-commerce sales platform ready to start next week.
"Definitely having the online platform is a huge safety net," she said. "For us older folks, we need to learn how to be a little more tech savvy. It's a learning curve, but times force you to do these things."
Keeping the business going is like saving a dream, she said.
"We put everything into it to become a business. When everything stops for something crazy like this … your dreams aren't given a chance," she said. "You just have to learn how to fluctuate through the times."
About 20 miles away in Castle Rock, Jennifer Engkraf at Vault Books and Brew also is expanding her digital platform.
"It's not optimal. I don't like any of it, but I will work 20 hours a day selling books online if it means I can bring my employees back, and I'll have the store for people to gather in" once the outbreak winds down.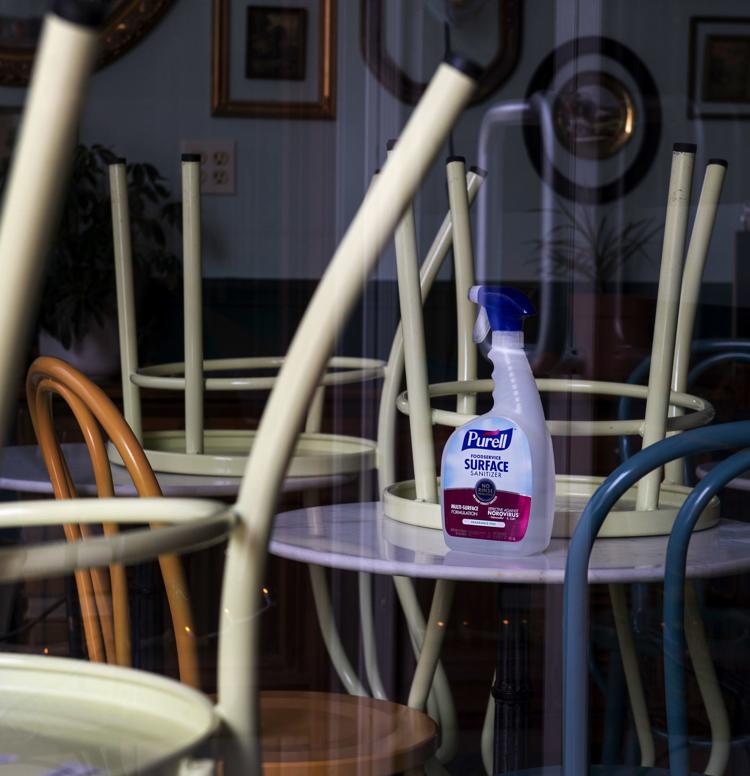 Vault also serves coffee and some food, so Engkraf could stay open as a restaurant. But she decided Monday afternoon to close to foot traffic. "I'm not comfortable exposing my employees to the public, and I don't want to tempt the public (out of their homes) with my delicious goods."
She plans to rehire her workers whenever the store can reopen. She's prepared to weather at least two weeks, but "I'm not getting in the mindset that if it goes one day longer than two weeks, I'm out."
Her advice to other business owners?
"Find new ways of doing things. Find things you never thought you would do," she said. "I'm not super techy. I don't want to sell stuff online, but if I want to stay in business, I need to do that."
The COVID-19 pandemic is a "crazy time ... none of us expected," said Britney Collings, owner of Jade Ann boutique in The Merk in downtown Longview. But Collings expected to "face challenges and have hiccups" as a small business owner.
She has switched completely to online sales, reverting back to the boutique's roots.
"Our business started in the garage, and it was primarily online. We got creative and made it work, then we moved to the storefront," Collings said. "We will just have to get creative again and make it work. ... I think that's what a lot of businesses are doing right now."
However, the majority of Collings' sales usually come from in-store purchases, so revenue is down, as customers become wary of spending money if they're not working for two weeks.
"It's just on the forefront of everyone's minds: 'Do I need to buy that top, or should I save it for my bills?' " Collings said.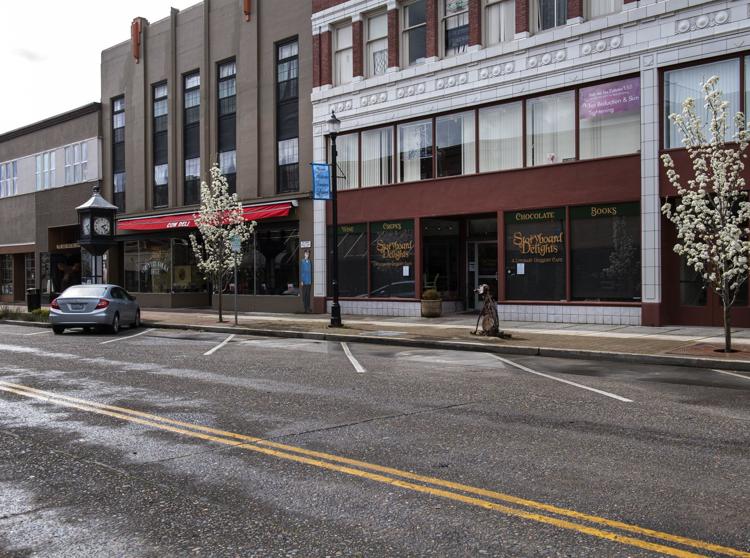 Long-time shoppers have tried to support Jade Ann however they can, she said. And fellow business owners share social media posts to encourage customers to continue buying.
"Every single person who has opened a business, this is their dream. This is what they've been pushing for. I can't see this odd hiccup stopping us from continuing that dream."
For Jen Albright-Burns, the viral outbreak occurred during the infancy of her store, Forest, Stone & Sea, which opened in The Merk a month ago.
"I'm going through that whole range of the grieving process, as strange as it sounds. … When you haven't even been open very long and then you're like, 'Oh. We have to close,' it's soul crushing," she said.
She worries customers aren't looking to buy stones and jewelry during the pandemic. But she's upping her online presence nonetheless.
"I'm not anticipating that people will be buying tons, but I still need to function just like they were because I know when we are able to get back to business, I am confident I will be supported (by shoppers) then."
She estimates her shop can hold on for at least two months. To keep the business going that long, she will have to use "more out-of-pocket than business funds" to operate the store, she said.
"I just have to take it day by day and really hold myself accountable to still keeping that normalcy. I can sit and cry about it, which isn't going to do anything. Or I can be like, 'I've got this time. What can I do with it?' "
Cope, the Downtowners president, said businesses shouldn't see the stay at home order as a "final nail in the coffin."
"If you do, you have mentally committed yourself to that outcome," she said.
Instead, retailers can use the lull in business to improve their online platforms and update their business plans. Those "silver linings" don't negate the severity of the situation, she said, but they will help retailers pull through the challenge.
"You can pretty it up however you want, but at the end of the day, the situation sucks. People are hurt and people are dying and people are afraid for their friends and their families and their businesses," she said. "But we will adapt, and we will overcome to the best of our ability and hopefully come out better prepared, in case there is a next time."
Concerned about COVID-19?
Sign up now to get the most recent coronavirus headlines and other important local and national news sent to your email inbox daily.