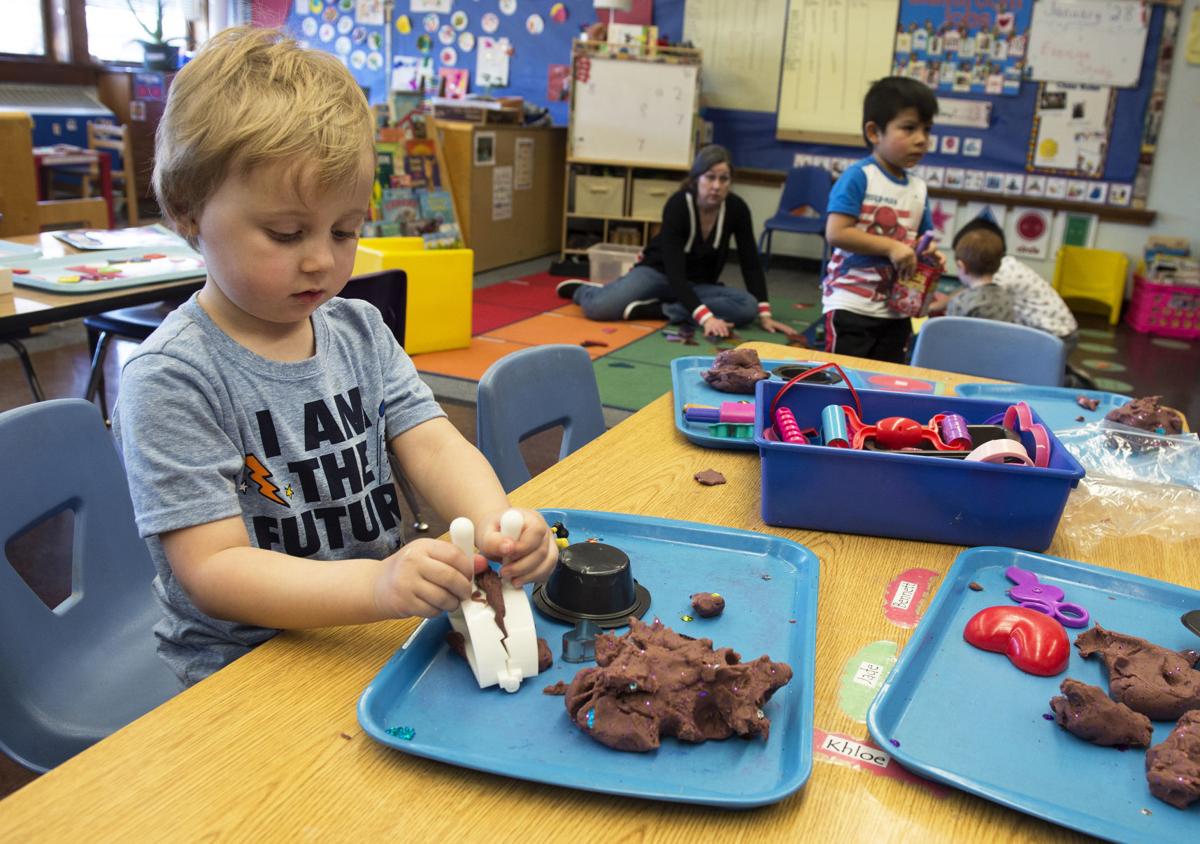 Even with two full-time incomes, Bianca Linares' family doesn't make enough to send her 3-year-old daughter, Natalie, to preschool.
The average monthly childcare bill for a family in Cowlitz County runs $650, according to Child Care Aware of Washington, a statewide resource and referral program for childcare. And that price is "just not affordable for us," Linares said.
But Linares and her husband make too much to enroll Natalie in the same free preschool program their eldest daughter, Leah, attended for the last two years.
The family qualified for the Early Childhood Education Assistance Program (ECEAP) before Linares secured a full-time job in Woodland, she said. The program provides free preschool classes for families that make 110 percent of the federal poverty line or less. That's an annual income of $28,325 for a family of four, like the Linares family.
"With Natalie learning and seeing what her sister was doing in school, she really wanted to go," Linares said. "Losing the program was tough for us, having had it for my older daughter."
Linares' family might be in luck next year though, because ECEAP representatives across the state are pushing state legislators to change the eligibility requirements for the program to accommodate a broader range of incomes. Proposed bills in the Senate and the House suggest changing eligibility from 130 to 200 percent of the poverty line, or $33,474 to $51,500 annual income for a family of four.
"I have no problem doing that. I've always been a big supporter of Head Start/ECEAP programs because studies have shown what you do in the early years really pays off in the long run," said Sen. Dean Takko (D-Longview), a co-sponsor of the Senate bill.
"I think across the board there is a lot of support for doing something in early childhood education, but it always comes down to what you want to do and what you can afford to do," Takko said. "We want to raise the threshold but we have to be able to back that up financially."
The total cost increase associated with the Senate bill was unavailable last week, though Longview ECEAP spokesman Paul Youmans said increasing eligibility from 110 percent would not increase overall program costs because the same number of preschools spots would be funded.
"The only difference (is) that more would be eligible to receive the services. Cost would only go up if the Legislature and state government approved additional classrooms for our program," Youmans said.
Other legislators did not return request for comment last week.
Mindy Leasure, director of Lower Columba College ECEAP, said the organization's mission is to serve the most vulnerable children. It does this by providing high-quality education for 3- to 5-year olds, Leasure said.
Every year, more than 22,000 low-income children in Washington are not ready for kindergarten, according to the Washing State Association for Head Start and ECEAP. (Head Start is the federally funded version of ECEAP.) However, a low income child is 20 percent more likely to be ready for kindergarten if they have attended ECEAP, the association says.
Opening eligibility to more families would allow the program to have a greater impact in local communities, Leasure said.
Because of the stricter eligibility requirements, "quite a few families" are likely already unable to enroll in the program, said Katelyn Blaylock, secretary for the local policy council, a group of parents responsible for strategic planning and design for ECEAP.
Blaylock herself would have been ineligible this year if her son didn't qualify for the program as a special needs student, she said.
At the beginning of the school year, ECEAP had about 17 unfilled preschool spots, which is highly unusual for the program, Leasure said. ECEAP officials suspect some of the vacancies were caused by families that lost eligibility after the state minimum wage increased in Washington.
A raise at work can push a family out of the program, but it doesn't always leave them more financially stable than before, said Josh Carter, policy council president.
"When you get a raise at work, you can lose state assistance," Carter said, noting that more of a family's income would then have to be directed to paying for services previously subsidized by the state. "The net gain is negative for doing a good work at your job."
For Linares, adding a second income to the family left them better off overall, but it still wasn't enough to afford quality private childcare, she said. Instead, she feels stuck in the middle of keeping her family financially stable and providing Natalie the highest quality preschool education, she said.
"I thought about maybe if I quit my job, my husband and I will make less as a household and qualify for the help, but that's not what we want," Linares said. "We want to succeed, and we want to do better … so that wasn't an option for me. Plus we need the income."
Linares said her family has friends and family in Longview who can watch Natalie while she and her husband are at work. But not all families are lucky enough to have that kind of support, she said.
Plus babysitters often can't offer the level of education and socialization as ECEAP preschool, setting Natalie behind for kindergarten, Linares said.
"Of course, the increased income has helped us a lot … but you trade off some of the benefits you receive so you can do better for yourself on your own," Linares said. "I try to look at it like that. The increased income might not give (Natalie) the education Leah got, but we do have other positives."
The House bill to raise eligibility to 130 percent of the poverty line passed in committee earlier this week, but it still awaits its final fate on the house floor. The Senate bill has yet to leave committee.
But Leasure, Carter, Blaylock and other ECEAP advocates are continuing to pressure lawmakers to approve the change.
"The biggest resource you have is a good education, so if that's your long-term goal, it only makes sense to double down on programs like this," Carter said.
Get local news delivered to your inbox!
Subscribe to our Daily Headlines newsletter.