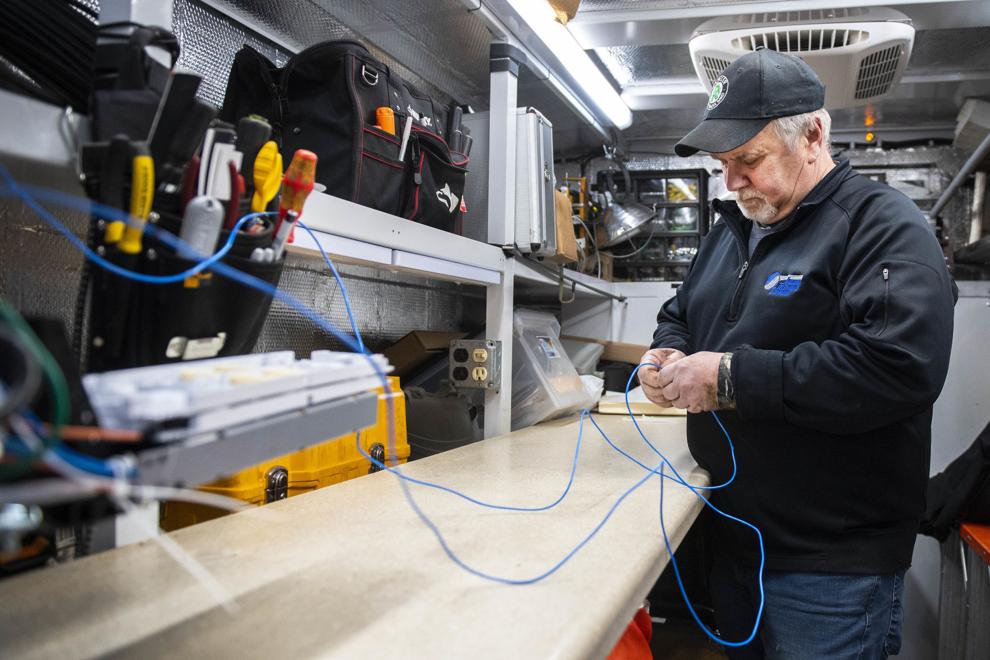 When the coronavirus pandemic sent most people to Zoom meetings, Port of Woodland Executive Director Jennifer Wray-Keene learned that one of her commissioners was still using dial-up internet.
"I said 'Paul, why don't you have Comcast?' And he said 'Well, it doesn't go upriver,' " she said of Commissioner Paul Cline.
That highlighted a problem that Wray-Keene, and plenty of others in the legislature, and public and private industry, had been chipping away at for a decade: the lack of high-speed internet service in Cowlitz County and other smaller population centers. Impatient with Olympia and big private cable companies, the state's ports are taking the lead in accelerating the spread of broadband service to rural areas.
While about 95.4% of Cowlitz County has broadband coverage according to BroadbandNow, Wray-Keene said coverage numbers can be misleading because they don't take quality into account.
"There was a lot of talk that we were served, because of satellite and different things," she said. "But we actually weren't served to a sufficient level."
That's why the Port of Woodland decided to take matters into its own hands and start laying fiber cables. Wray-Keene said the port will have lines to rural Woodland areas and up to Ariel and Cougar live by this fall, after a decade of planning.
While by law the port cannot "light" them – meaning the port cannot be the one to actually provide the internet service – the state legislature does allow ports to lay "dark" fiber and then have someone else provide the service.
By laying the lines, Wray-Keene said the service cost will be "far much more price friendly than what people have experienced up there" and will also connect community hubs like the Lelooska Cultural Center, which "is going to have a big effect."
Distance versus dollars
Part of the reason rural areas have such a difficult time getting high-quality internet is the cost of laying fiber lines that serve a small amount of people is too high for larger companies to find attractive, Wray-Keene said.
"When you're in a rural community or 25 miles from Woodland, upgrading copper wire to fiber optics gets costly when you take that on a huge scale," she said. "Companies don't see return on investment that shareholders want (with that), but public entities can defer the return on investment for longer."
Woodland is far from the only port that "sees that the private industry isn't going to be the one to fix this," Wray-Keene said. Woodland has gotten help from the Port of Whitman, which she calls the "grand pappy" of laying fiber in Washington.
The collaboration with the Port of Whitman allows Woodland's project to have a superior level of service, Wray-Keene said, as Woodland can now easily work with internet companies like Ziply Fiber to negotiate standardized service "and make sure we get into these rural communities effectively and efficiently."
Ports helping ports
Last year, the ports of Whitman, Kalama, Ridgefield, Bellingham, Skagit and Pasco formed Petrichor Broadband, LLC, to help ports extend internet service to rural areas, just like Woodland.
Port of Kalama Executive Director Mark Wilson said the largest obstacle to laying fiber is the level of expertise needed, which is why the LLC is so useful.
"The idea was that the Port of Whitman has a couple folks who had developed a lot of expertise, so to take that expertise and make it available to all of the ports and other public entities in the state," he said.
The resulting consulting service covers everything from a baseline analysis of what a community needs to securing funding, developing construction documents and contracting with a private sector provider, Wilson said.
He added that the internet question has a different answer in each community. For example, the Port of Kalama is not laying any line itself, because the local Kalama Telephone Company has been charging ahead with its own project.
"A lot of this will have to be solved locally because each place is different," Wilson said. "The whole thing behind the (LLC) is to bridge that gap, not to compete (with private providers)."
Local companies stepping in
While larger internet companies might not want to pay to extend fiber to rural areas, local companies are happy to fill the gaps.
Spokesman Rick Vitzthum works for Scatter Creek Ltd, which owns the Kalama Telephone Company and Tenino Telephone Company. He said Scatter Creek decided to start replacing all its copper lines with fiber before the pandemic, as well as adding new lines. However, reaching everyone in the 120-square-mile service area takes time due to COVID-19 related equipment production delays and the rocky soil.
"We're concentrating on new developments or areas we've had issues in or lot of customer demand or there is a concentration of customers," he said.
Viasat Satellite Internet Service has also been working to connect rural customers as demand soared, according to CMO of Global Broadband Services Steven Mesnick.
"The more rural areas, the harder to reach places in the world, that is what we take pride in being able to connect," Mesnick said.
While Viasat started off mostly servicing the U.S. military and Kalama Telephone Company started off with simply telephone service, both have grown to embrace the need for consumer broadband for both work and play.
Mesnick said with the internet replacing other forms of entertainment and the pandemic forcing a sudden need to work and attend school from home, there are now more potential customers than Viasat has capacity for.
"Making sure they have the best experience possible is very important," he said, which is why they don't oversell to a specific area and have focused on prioritizing certain applications like Zoom.
"We don't want (a data cap) to impede a child's learning," he said.
Vitzthum said by working with the Federal Communications Commission and the state utilities transportation commission, he can subsidize the end cost for customers.
"For those of us that don't mind being regulated and going through the hoops to do it, it helps to have additional support," he said. "I might have to charge a customer $200 a month just for service to make up the cost or higher than that, but we're able to reduce that back down to somewhat reasonable amount."
Mesnick said that while satellite can be more accessible to rural areas and sometimes cheaper, because "once its up in the air, we've made that investment," the hard part is trying to be fair, especially in a pandemic.
"We're not a free service, we're still a business, but still we're doing things to keep costs down as much as possible," he said. "We have a desire to make the internet as available to as many as we can, keeping in mind that we want it to be a good experience."
Legislative help
Equitable access to broadband has been part of legislative sessions for years, but the pandemic injected a new urgency. There are several bills working their way through the legislative process this session that deal with broadband access.
One of those bills, House Bill 1263, was introduced by Rep. Peter Abbarno, R-Centralia. It would create the Rural Infrastructure Assistant Account to provide grant funding, not a loan, for up to $10 million rural infrastructure projects like sewer, water, storm water, recycling facilities and broadband, according to a press release.
"When you are in a distressed area of a county and are looking to create economic development through an infrastructure project, the last thing you want is a loan," Abbarno said. "This would create a grant program large enough that would truly ignite growth, economic development and important jobs."
That's a situation the Wahkiakum County PUD found itself in this past year. General Manager Dave Tramblie said while they applied to the Washington State Public Works Board to do a $5.5 million broadband project to connect homes in the eastern part of the county, they were offered a roughly $800,000 grant and the rest as a loan, which "was too large for a bet for our little utility to take on," he said.
The PUD plans to apply again, Tramblie said, and "we're hoping that state legislature will allocate more resources to either the Public Works Board or CERB (the Community Economic Revitalization Board)."
Abbarno's bill will have a second hearing in the House Committee on Community and Economic Development at 8:30 a.m. Feb. 5.
'They're demanding it'
Wray-Keene with the Port of Woodland also emphasized the need for broadband to bring in jobs.
"We're starting to see ... if we're going to create jobs, our industries use internet and we have to provide it," she said. "They're demanding it and if you don't have it, its like not providing them power."
She said businesses will go to ports that offer internet, and Woodland doesn't want to miss out. That includes making sure there are no "drop-off" spots along the I-5, because "people are talking about autonomous vehicles and trucks, but hold on a second, we don't even have cell phone service" all the way along the I-5, Wray-Keene said.
After the Port of Woodland finishes the current first phase of fiber, Wray-Keene said they're thinking about laying fiber into Clark County or going up toward Kalama to make sure "we do not leave people behind anymore."
The future of local service
Vitzthum said Scatter Creek is about 20% done with its overall project, and hopes to be at 50% in the next five years because "the future ... revolves around fiber."
Mesnick with Viasat said no matter what, satellite "will continue to be the best solution for the hardest to reach places."
"You're never going to be doing a fiber line to the airplane during my lifetime," he said, which is why the company is building and launching three more satellites, one per year.
Wray-Keene said lately her office has been "shaking because of vision." She thinks the Biden administration will make a "real push for broadband funding at a national level," and that the port-to-port method will be duplicated throughout the United States.
"This is not a competitive effort," she said. "This is more about connecting each other and lifting each other up."